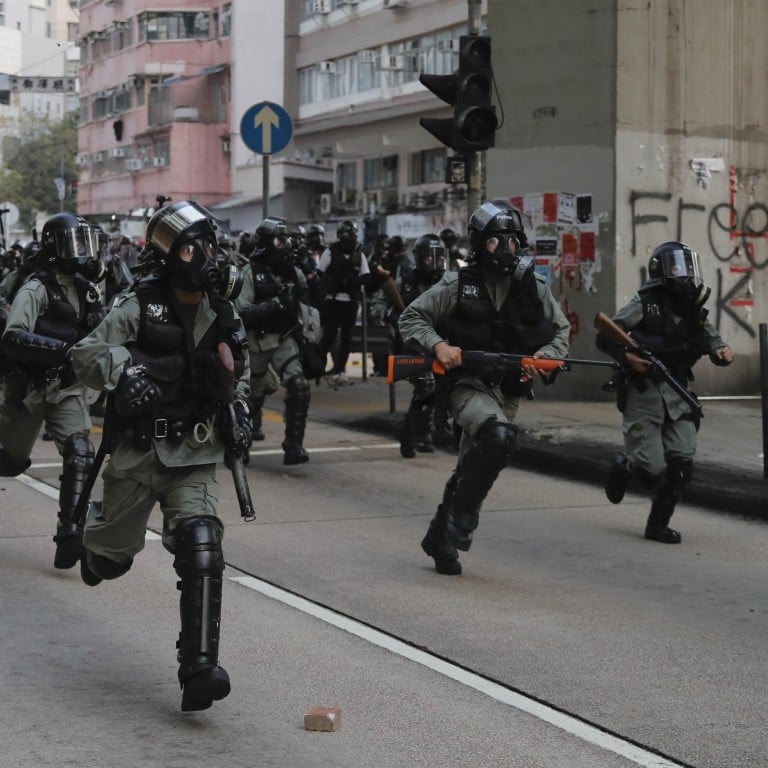 Hong Kong police have 'unwavering support', Beijing says after remark by city's leader Carrie Lam
People's Daily says calls by Hong Kong residents for the force to be disbanded mean being 'taken on the evil path of anti-China'
City's chief executive had said in weekend interview her backing of police was not 'blind support' and she condemned all violence, including by officers
Beijing has underlined its support for Hong Kong's embattled police after the city's leader opened the door to further action if a watchdog's probe of officers' conduct did not satisfy the public.
Commentaries by Communist Party mouthpiece
People's Daily
and a prominent mainland blogger offered a staunch defence of the police, with
anti-government protests
in the city continuing and allegations of misconduct against the force a central point of contention.
People's Daily published a commentary on its website on Wednesday morning making clear the central government's "unwavering support" for Hong Kong police in their "fight against violence and restoration of order".
The newspaper did not explicitly mention the remarks made by Hong Kong Chief Executive
Carrie Lam Cheng Yuet-ngor
in interviews with public broadcasters in the city on the weekend.
On Saturday, Lam told broadcaster RTHK that support for Hong Kong police did not mean "blind support", and vowed to act on any unlawful or violent behaviour, including by the police.
Asked whether she would condemn alleged police brutality, Lam said: "The government will not tolerate any unlawful or violent act, including by the police … But Hong Kong's rule of law also relies on people obeying the law, and the public should condemn people's attacks on other residents, and vandalism of shops."
In an
interview on Sunday
with TVB, Lam also underlined her support for an existing investigation into officers' conduct by Hong Kong's police watchdog, and signalled that further measures could be taken if Hong Kong residents were not satisfied with its findings.
Lam's statements followed an open letter published by Chinese University Vice-Chancellor Rocky Tuan Sung-chi, in which he agreed to condemn ­police for "any proven case" of brutality or violation of human rights and called on the government to ­"constructively address" public demands for the establishment of "an independent commission of inquiry to try to get to the root cause of police-civilian conflicts".
Four Police Force Council Staff Associations issued a joint statement yesterday, hitting back at Tuan's statement, saying they could not agree with the way in which he allowed his students to participate in illegal violence and sabotage, without stopping them.
The statement said "CUHK is gradually turning into a Hong Kong independence power base", and Tuan's public support of the arrested students, "undoubtedly set a very bad precedent as other arrested students and supporters will continue to exert pressure on other university presidents to get away with the riot charges".
The People's Daily piece opened with an impassioned description of the cries of an officer it said was wounded by corrosive liquid during a protest, and called officers "worthy heroes" who had "stuck by their posts and fulfilled their duties, without fear and in spite of slander" to enforce Hong Kong's laws.
A more pointed blog post by influential Chinese commentator Ren Yi hit back fiercely at Lam's weekend comments, in which he said she "should have given unconditional support to the Hong Kong police, but she actually tried to keep a distance from the police force".
"A normal politician will not be impartial in this case and put law enforcement [officers] – who maintain social order while facing threats to their personal safety, tremendous psychological pressure and social isolation – on the same level as the thugs," Ren, who writes under the online alias Chairman Rabbit, said.
Ren, who is widely read on the mainland and has a following among Chinese officials, argued that the police should be "empowered with a mandate" to use any necessary force under protection of the state.
"During an extraordinary period when the government is threatened, that government must give the police the greatest level of political support, mandate and trust as a mechanism of the state and public power in order for them to be effective," he wrote.
People's Daily hit back against a recent rallying cry among some protesters to dismantle the police force.
"[Such calls are meant to] cause the collapse of the guardians of Hong Kong's order, destroy this important pillar of governance for the [Hong Kong] government, completely disrupt Hong Kong, paralyse the [city's] government and take over the governing power," the commentary said, claiming that anti-police sentiment had been manipulated by "opposition and radical forces" spreading rumours and inciting hatred.
"If Hong Kong citizens fall into such a trap, they will be taken on the evil path of anti-China led by the opposition," the commentary said. "It is equivalent to tearing down the cornerstone of Hong Kong's security, stability and harmony."
Lam
addressed the same calls
to disband the police force during a Facebook live session on Thursday, responding to internet users' comments on her governance. She expressed support for the police and called the demand "puzzling" because the force was necessary to maintain public order and safety.
"Police are playing a very important role, and we must support them in law enforcement," Lam said.
Actions by members of Hong Kong's 30,000-strong police force have become a critical flashpoint in the protests, which were triggered in early June by mass opposition to a now-withdrawn
extradition bill
that would have allowed the transfer of criminal suspects to mainland China's opaque legal system.
An independent inquiry into allegations of police brutality, separate from the investigation by watchdog the Independent Police Complaints Council, is one of the protesters'
five core demands
.
Public animosity against the force has been fuelled by officers' use of tear gas and rubber bullets, failures to display identification, allegations of mistreatment at a detention centre and the police's late arrival to deal with a violent gang's indiscriminate attack against protesters and civilians at Yuen Long subway station. There have also been rampant claims that the police have covered up evidence, including about unsubstantiated rumours of protest-related deaths.
The latest mainland commentaries are part of a larger campaign by Beijing to support Hong Kong police. This has included inviting Hong Kong officers to Beijing's celebrations marking the 70th anniversary of the founding of the People's Republic on October 1.
One of the invited officers, Sergeant Lau Chak-kei, has become a
celebrated figure
on the mainland after he pointed a shotgun at anti-government protesters, who threw objects at him, during a stand-off in July.
On Monday, Lau joined the voices criticising Lam,
saying on Weibo
– where he has amassed more than 867,000 followers – that the chief executive's decision last month to hold dialogue with the public, including protesters, was "unimaginable".