Taiwan
Get more with myNEWS
A personalised news feed of stories that matter to you
Learn more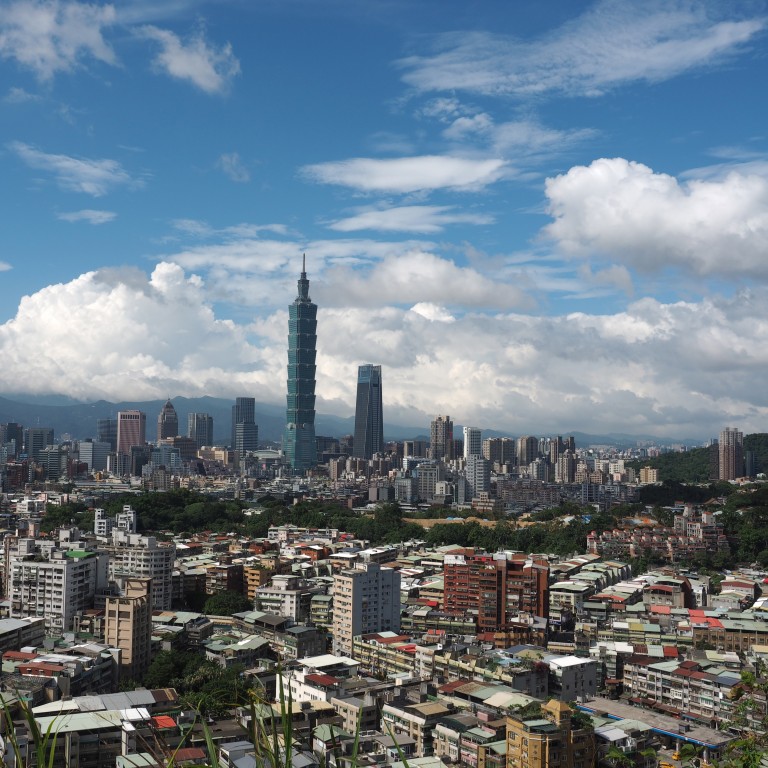 Beijing extends sweeteners for Taiwanese weeks before Taipei election
Latest measures grant island's people and enterprises more equal treatment with their mainland counterparts
Package in March last year was dismissed by Taiwan's Mainland Affairs Council as an attempt to buy political support
Beijing announced a series of sweeteners for Taiwanese businesses and individuals on Monday – including participation in its 5G research and allowing Taiwanese to use mainland consular services – only two months before
Taiwan
's critical presidential election.
The latest 26 measures drawn up by 20 government departments, including the State Council's Taiwan Affairs Office and the National Development and Reform Commission, are designed to attract more Taiwanese to live and work in mainland China, despite worsening cross-strait relations.
But Taiwan's Mainland Affairs Council criticised the move as an attempt by the Chinese Communist Party to "divide Taiwan internally, and was a further reflection of attempts to try to interfere in and influence Taiwan's election".
It follows a similar package of
31 measures
unveiled by Beijing in March last year
,
which included tax incentives, preferential land-use policies for Taiwanese businesses on the mainland and benefits for Taiwanese individuals in studying or living on the mainland.
The latest measures to grant Taiwan-funded enterprises more equal treatment with their mainland counterparts include offering access to research and development in 5G technology, investment in passenger and cargo air services, the establishment of microlending and financing companies and the right to apply for financial guarantees from local government funds.
Taiwanese individuals will also be officially entitled to mainland Chinese consular protection abroad, will be treated the same as their mainland counterparts when buying residential property on the mainland, and will be able to train in Beijing for the 2020 Olympic Games.
Beijing claims sovereignty over self-ruled Taiwan, and has not renounced the use of force to take the democratic island into its fold. Beijing's ruling Communist Party has stressed its intention to promote "peaceful reunification", pledging in its communique from the
fourth plenary meeting
of the party's elite last week to "deepen cross-strait integration and development" while opposing Taiwanese independence.
The latest measures from Beijing came ahead of Taiwan's presidential and legislative elections in January. Relations across the Taiwan Strait have been frozen under the administration of independence-leaning Taiwanese President
Tsai Ing-wen
, ostensibly over her refusal to accept the "1992 consensus", or the understanding that there is only "one China" – something that Beijing considers a prerequisite for any talks with Taipei.
Taiwan's Mainland Affairs Council said on Monday that the roll-out of the 26 measures one year later was intended to "cover up" the fact that the 31 measures had not been executed properly, and reflected administrative problems on the mainland amid slowing economic growth.
"Even more than that, it also reflects that during this period Taiwanese people have rejected 'one country, two systems' and do not agree with the results of the Communist Party's united front divisions," the council said.
"We urge the Communist Party officials to specifically implement protections for Taiwanese businesses and Taiwanese people in their investments and lives."
Joseph Wu, Taipei's foreign minister, also responded with a tweet written in simplified Chinese – which is used on the mainland – rather than the traditional Chinese used in Taiwan.
"China's Taiwan Affairs Office came out with 26 measures and last year there were 31 – it looks like there are so many measures," he wrote. "But we in Taiwan do not need one country, two systems, so there is really no need to be so polite. Giving your people more freedom is also good!"
Ongoing
anti-government protests
in Hong Kong – which is semi-autonomous from Beijing under the one country, two systems model – have highlighted for many Taiwanese voters the threat from Beijing to the island's sovereignty.
The latest polling by the MAC found that 89 per cent of respondents opposed the one country, two systems framework that Beijing proposed for Taiwan, up from 75 per cent in a similar survey in January.
Edward I-hsin Chen, a political-science professor at Chinese Culture University in Taipei, said the impact of the 26 measures on the election would depend on how they were implemented, but that one country, two systems was clearly not palatable for Taiwanese voters, whether they supported Tsai's Democratic Progressive Party (DPP) or the mainland-friendly Kuomintang (KMT).
"Taiwan, of course, will not accept one country, two systems, so these policies will need to be more long-term. Mainland officials did not handle the Hong Kong issue very well, so it will be very hard for one country, two systems in Taiwan – blue and green will both reject it," he said, referring to the party colours for the KMT and DPP. "But it is good for Taiwanese people and businesses to be able to take part in the 5G sector, and there will be more cooperation in the future."
Lin Chingfa, former chairman of the Beijing-based Association of Taiwan Investment Enterprises, said he believed the new measures were intended to appeal to Taiwanese youth.
"A very important direction for cross-strait cooperation nowadays is to bridge the opportunities available in mainland China for young people who feel deprived from the slow Taiwanese economy. Some of these policies should be especially appealing to them because it shows that the country hopes to make it more convenient for young Taiwan people willing to come," Lin said.
He said this approach was especially obvious in the measures that were introduced to provide equal treatment for Taiwan people on the mainland – for example the opportunities for Taiwan people to apply for scholarships and the expansion of places for Taiwanese students at universities.
Additional reporting by Kinling Lo
This article appeared in the South China Morning Post print edition as: beijing extends sweeteners for Taiwan before election