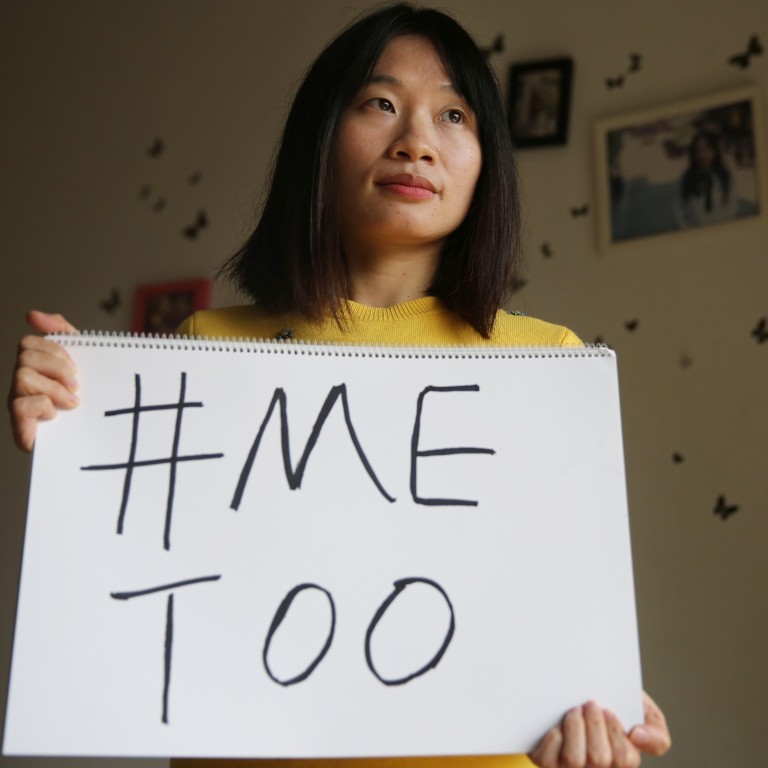 Support for Hong Kong protests in China has consequences for some mainlanders
Huang and other mainland supporters of Hong Kong's protest movement are finding there is a heavy price to pay for speaking out
Key figure in China's #MeToo movement was detained last month for 'picking quarrels and provoking trouble'
Feminist activist and freelance journalist
Sophia Huang Xueqin
– who was detained last month in southern China – has been put under residential surveillance, apparently for supporting anti-government protesters in Hong Kong.
The outspoken activist was first taken into police custody in mid-October but has since been moved to an unknown location and denied access to lawyers or visits by family members, according to sources in the activist community.
Huang, 32, a key figure in China's
#MeToo
movement who has also written extensively about the Hong Kong protests after spending six months in the city earlier this year, was accused by police of "picking quarrels and provoking trouble" – a vague charge that is frequently used to detain activists and dissidents.
Chinese law generally restricts criminal detention to 30 days, so Huang's transfer to residential surveillance appears to be a means of extending her detention.
Three fellow activists, two of them based in Beijing, said Huang had been transferred to residential surveillance in an unknown location. She was previously held at the Baiyun District Detention Centre in Guangzhou, where she was not allowed visitors.
A source familiar with her situation, who declined to be named due to the sensitivity of the issue, said Huang was detained because of essays she had written about the Hong Kong protests and posts support the movement she had made on social media platform Weibo.
Huang is one of a number of mainland activists who have got into trouble for sympathising with or supporting the Hong Kong protests which broke out six months ago, triggered by a now-withdrawn extradition bill to handle fugitive cases. Since then, mainland authorities have imposed strict controls on any discussion and reporting of the unrest in the city.
Police had been keeping a close watch on Huang since August, when her passport and Hong Kong travel permit were confiscated after she returned to mainland China from a six-month academic tour of the US, Taiwan and Hong Kong. As a result, she was unable to study law in Hong Kong as she had originally planned.
According to sources, she was arrested when she went to collect her travel documents – as instructed by the police – at the Guangzhou Public Security Bureau.
A source said the escalation in severity of Huang's case may be due to a variety of factors, including sensitive information collected from her overseas visits as a freelance journalist which may have led to an accusation of collaborating with foreign forces.
Suspects held on such a charge can be detained for up to six months according to the law, but in practice this period can extend for much longer.
As well as Huang, businessman Lai Rifu was detained for 31 days in Guangzhou from September 15, two days after he posted videos from his ancestral village on his WeChat profile which expressed support for the Hong Kong protesters.
One video of firework celebrations was captioned with a message of support, while the other featured mountain scenery and the popular protest anthem Glory to Hong Kong .
On his return to Guangzhou, Lai said several police surrounded his vehicle and forced him to the ground in front of his child during his arrest.
"I was being classified as a supporter of Hong Kong independence when I was at the detention centre," he said. "The centre was terrible. I only posted a video of fireworks and a song, how could this lead to so much trouble?"
Lai also claimed that police harassed his relatives and threatened his wife into agreeing that he was a Hong Kong independence supporter. He added that police also tried to hurt his business by harassing his clients.
"The night I was arrested, police found clients I had financial dealings with and harassed them. Since then, no clients want to do business with me," he said.
"I asked the police at the detention centre why they had to go after my clients, who are just ordinary people. They said they would carry on finding them. I said they wanted to destroy my livelihood."
Lai was charged with "picking quarrels and provoking trouble" – the same offence as Huang – and later released on bail.
Even those who have voiced support for mainland sympathisers of the Hong Kong protesters say they have been affected by a spreading climate of fear.
A middle-aged businessman from the southeastern province of Fujian – who preferred to use the pseudonym Yang Yong for safety reasons – said he experienced several days of constant phone harassment after publicly supporting Niu Jie, a law professor at Nanchang Hangkong University who was the target of a nationalist backlash when his group chat messages expressing sympathy for the young protesters were leaked online earlier this month.
"It's so ridiculous. I couldn't bear [seeing them doxx Niu] any more, so I decided to do something to support him," Yang said, adding that he had previously not dared to make online comments about Hong Kong as he knew the risks.
By speaking out in Niu's defence, Yang got caught up in the online storm and had his personal information leaked too. Like Niu, he also became the victim of vicious trolling and harassment, receiving hundreds of spam messages and calls to his mobile phone.
Nanchang Hangkong University has given no updates on Niu's employment situation since announcing that he would receive "severe punishment". Niu could not be reached for comment.
Not everyone is brave enough to speak out and risk the potentially harsh consequences. There are believed to be many more sympathisers on the mainland who dare not voice their opinions in the face of a hostile national climate.
A schoolteacher in Henan, who also preferred to remain anonymous, said she was too scared to express her sympathies in case she lost her job. For the same reason, she said she no longer taught her students things about China's turbulent history that could not be found in the heavily vetted official textbooks.
"I have been feeling increasingly suffocated. You can't say anything. And you can't even trust the people around you," she said.
This article appeared in the South China Morning Post print edition as: Heavy price awaits those who back HK protests