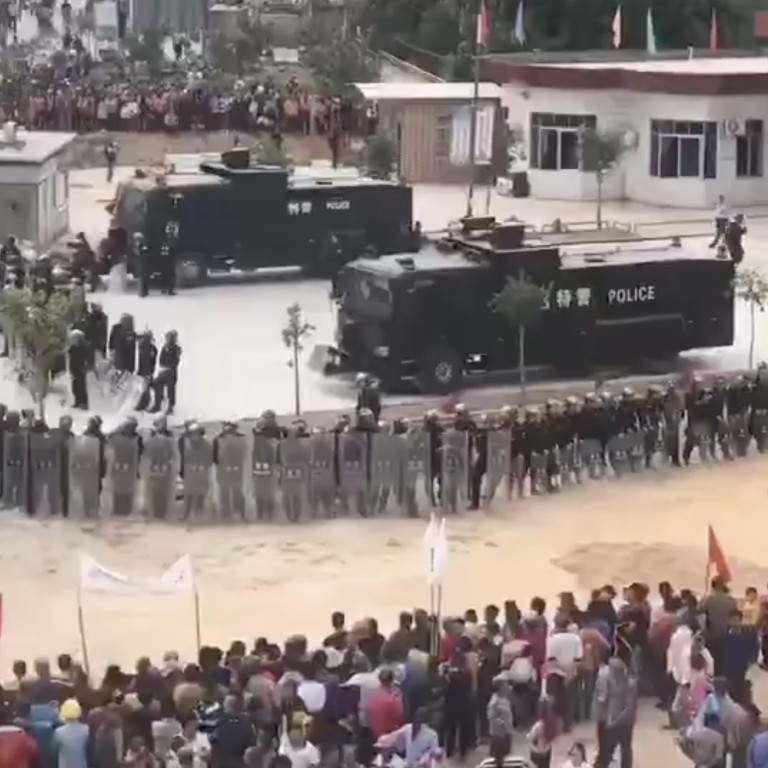 Chinese city halts crematorium plan but stand-off between police and protesters goes on
Huazhou government says it will consult the public on 'different views' to proposed development in town of Wenlou
Dozens hurt and up to 100 detained following two days of protests, locals say
Authorities in a south China city have suspended plans to build a crematorium following two days of clashes between riot police and locals that saw dozens of people hurt and as many as 100 detained.
Authorities in Huazhou, Guangdong province, issued a notice late on Friday saying they would suspend the project in the town of Wenlou pending consultation with the public as people held "different views" about it.
Despite the announcement, hundreds of people continued to protest outside the township government's offices on Saturday.
A video obtained by the South China Morning Post showed police and protesters locked in a stand-off in front of the building with two armoured vehicles blocking its entrance.
A local shop owner said that although police had stopped firing tear gas and detaining protesters, there had been no communication between officials and the public.
"Nobody has been detained today and there's been no tear gas," she said. "There are a lot of police outside the government building but they've not beaten anyone up today."
The clashes in Wenlou, which is about 100km (60 miles) north of Hong Kong, began on Thursday when hundreds of locals tried to march on the town's government offices in protest against plans to build a crematorium on land they believed had been set aside for a park.
But police intervened, firing tear gas and using batons to fend off the crowds. Dozens of people were injured and scores more were detained, witnesses said.
Videos and pictures of police officers beating protesters sparked widespread criticism on social media platforms based outside China – they were blocked on the mainland – and drew comparisons to the unrest in Hong Kong that has been raging for almost six months.
The Huazhou government has not released any information about the number of people injured or detained, but said that anyone caught damaging public property or looting would be punished.
Another local woman said that at least 100 people had been detained since Thursday, some of whom were released on Saturday.
She said the public had no confidence in the government as it had agreed only to suspend the crematorium project rather than cancel it.
A notice from the Wenlou government in late October said the land would be used for a park along with offices and a canteen. But in a statement published online on Thursday, it said a funeral home would instead be built on the site.
The protest broke out after some people said they had been told the new development would also include a crematorium.
Another woman said people in the town, which has a population of about 60,000, were concerned that a crematorium would lead to pollution that could taint the water supply.
"The [site] is close to housing and the source of our drinking water," she said. "We're afraid of pollution. We don't want money or compensation, we just want the crematorium project scrapped."
The woman who said the public had lost confidence in the government added that local officials "thought the town was poor and its people stupid".
Police had also been preventing reporters from getting to the scene of the protest, she said.
This article appeared in the South China Morning Post print edition as: Project axed following protest in Guangdong