Xinjiang
Get more with myNEWS
A personalised news feed of stories that matter to you
Learn more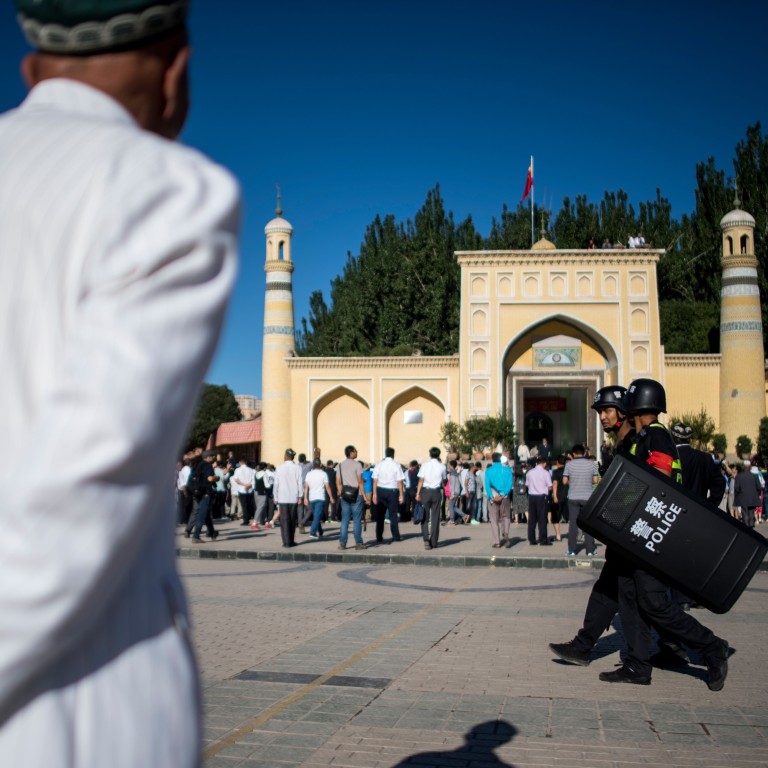 China says it will 'normalise' Xinjiang camps as Beijing continues drive to defend policies in mainly Muslim region
Chairman of regional government says facilities – which Beijing insists offer education and training – will be opened up to school leavers and farmers
Comments come as Beijing continues defence against claims of human rights abuses in region, where up to a million Muslims are reportedly detained
China will move to "normalise" mass internment facilities in Xinjiang, the chairman of the regional government said on Monday as he criticised a US "smear campaign" highlighting allegations of human rights abuses.
Shohrat Zakir took aim at foreign media and Western governments at a press conference, accusing them of misrepresenting the nature of what he called counterterrorism operations in the far western region, where a million mainly Uygur Muslims have reportedly been detained in re-education camps.
China has defended its use of the facilities, insisting they offer "vocational education and training". Zakir said all of those involved in the programme had "graduated", adding that the facilities would be opened up to school leavers, farmers and officials who wanted to gain new skills.
The US House of Representatives recently voted in favour of a bill calling for sanctions against officials accused of human rights abuses in the region.
But Zakir, himself an ethnic Uygur, said: "The US is getting restless and has launched a smear campaign against Xinjiang. But no force can stop Xinjiang's progress toward stability and development."
Over the weekend Yang Jiechi, China's most senior diplomat, also attacked the US House vote, telling Secretary of State Mike Pompeo on Saturday that the US should stop interfering in China's internal affairs.
The UN has estimated that up to a million members of Muslim minority groups are being held in the camps.
Zakir did not directly address this claim but he insisted that allegations they held more than a million people were "baseless", adding that the numbers in question were "fluid and dynamic, some going in, some going out".
He said the facilities, which Beijing describes as "vocational education and training centres", were used to "save" those who had "committed petty crimes or minor offences while involved in terrorist and extremist activities".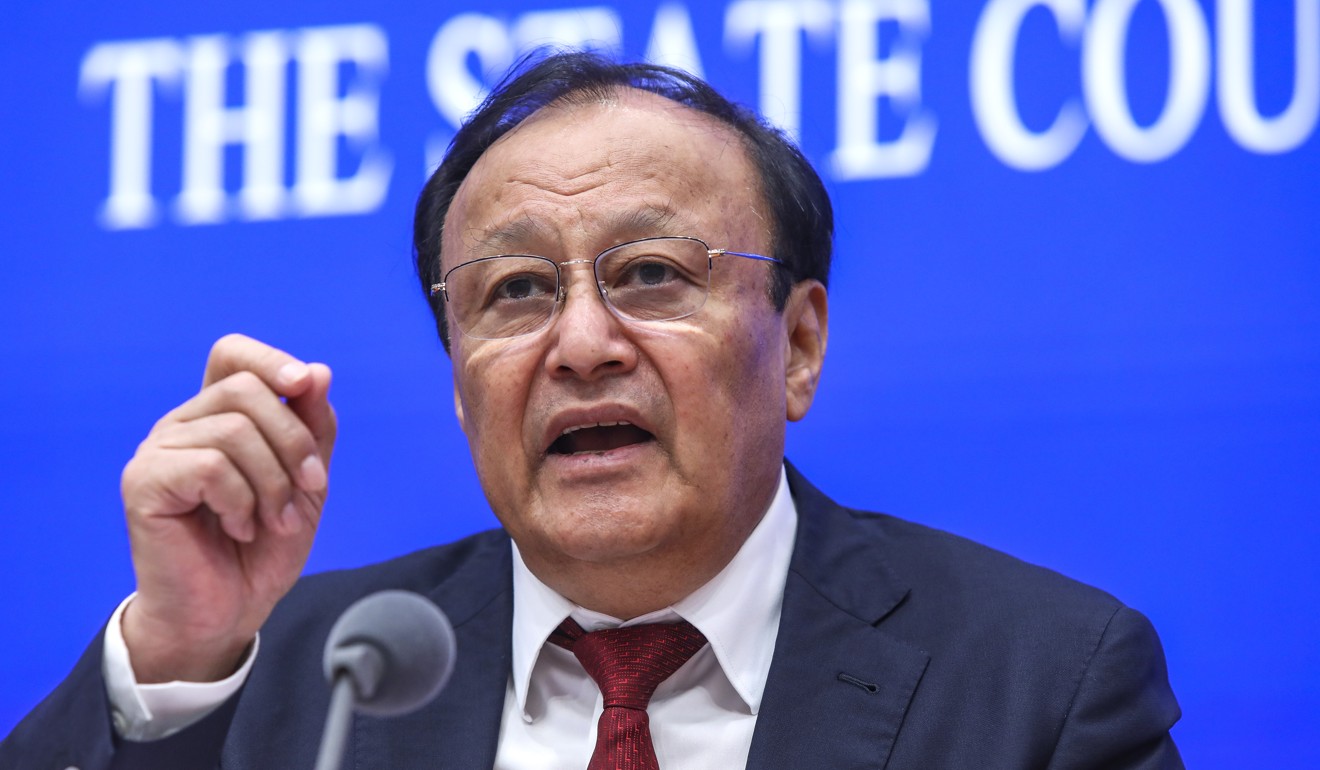 Zakir said that participants in the "deradicalisation programme" had "graduated" and found jobs, but did not say whether those people were free to return home.
"All trainees [studying the national common language, law vocational skills and de-radicalisation courses] have graduated, and with the help of the government they have found stable employment, improved the quality of their lives and started happy lives," Zakir said. 
But some human rights monitors have expressed concerns that those who have left the facilities are still being coerced.
"There's an extremely high risk that people who have supposedly been employed after being subjected to the re-education camps are now at risk of forced labour," said William Nee, an analyst at Amnesty International in Hong Kong.
"Based on Amnesty International's extensive research and other media reports, however, there is no evidence to suggest that people placed in 're-education centres' have been sent there as a result of a court ruling, and it's impossible to independently verify whether their employment is voluntary."
Zakir said that the next steps for the facilities would be to open them to unemployed school leaders, party members in rural areas and farmers and herders for "daily, normal and open" training. He added that participation would occur based on freedom of choice and the principle of free movement.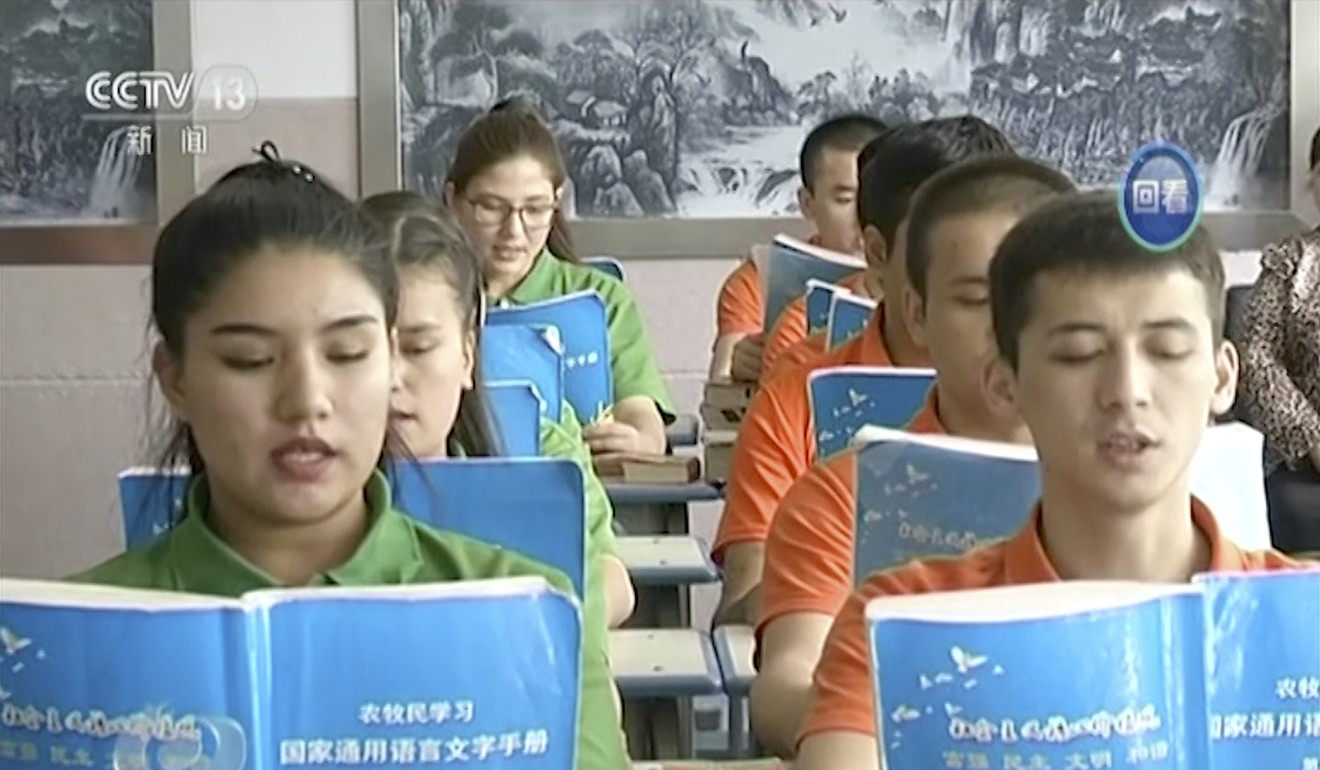 The announcement came on the heels of an intensified campaign from Beijing to justify its actions in Xinjiang, which have faced increasing criticism in the United States.
On Thursday and Saturday, state media released two English-language documentaries depicting violent attacks in public areas.
The press conference on Monday was paused to show five minutes of graphic footage from the documentary. Zakir said thousands of such incidents had occurred between 1990 and 2016.
Erkin Tuniyaz, the region's deputy chairman, told the same event that reports of mass demolitions of mosques in Xinjiang were untrue.
Zakir blasted the US over the Uygur Human Rights Policy Act, passed by the US House of Representatives last week, saying it "seriously violates international law and standards".
The bill calls "for an end to arbitrary detention, torture and harassment" of the region's Muslim population and could pave the way for sanctions against Chinese officials and export controls on US technology.
Zakir also accused the US of double standards, describing the bill as a "brutal interference in China's internal affairs".
He said: "The counterterrorism and depolarisation measures we have adopted in Xinjiang are essentially no different from those in many countries in the world, including the United States."
This article appeared in the South China Morning Post print edition as: Official says those in Xinjiang camps 'have graduated'