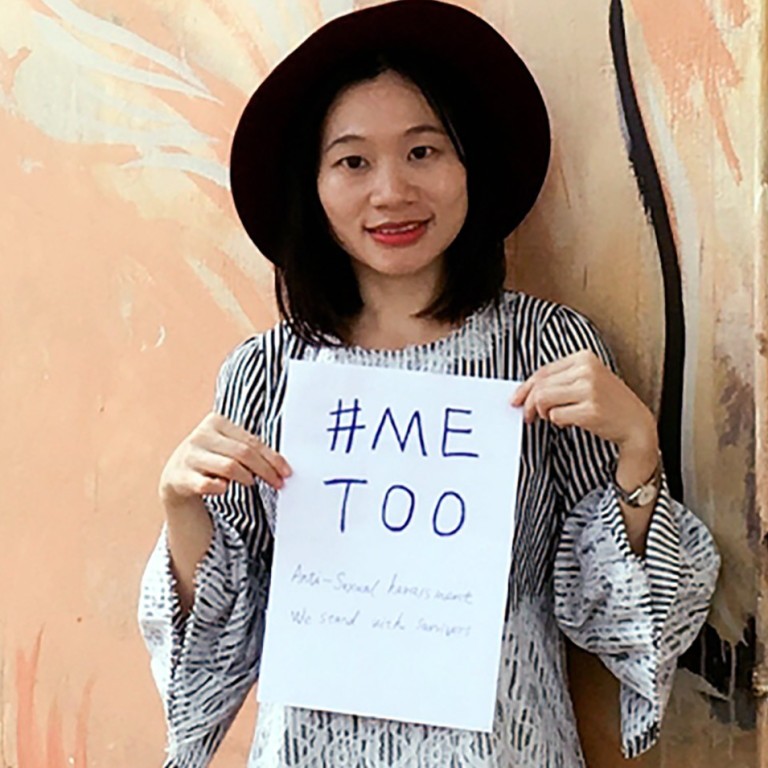 Two years on, woman who set off #MeToo in China still looking for 'breakthrough'
Luo Xixi inspired others to speak out about sexual harassment and their tactics have been informed by her experience and those of other trailblazers
While there has been change to how allegations are handled, a heavy-handed response to activism continues
The woman who sparked China's #MeToo movement two years ago has mixed feelings about its progress as 2019 draws to a close.
The year ended with the rapid sacking of two university professors following allegations of sexual harassment and a strengthened policy by the government, but it has also seen a continuing heavy-handed response to activism, including the detention of a prominent feminist.
Luo Xixi – who spoke out about her own experiences on the first day of 2018 – said she was delighted by the swift firing of
associate professor Qian Fengsheng
from the Shanghai University of Finance and Economics three days after he was accused of sexual assault.
But Luo, 37, was shocked to learn that her friend, the feminist Sophia Huang Xueqin, a key figure in China's #MeToo movement,
had been detained by Chinese authorities
on a public order charge in October.
"I was so fearful when I heard Xueqin had been detained," Luo said. "That was the first time I've thought about becoming a naturalised US citizen after eight years of living here."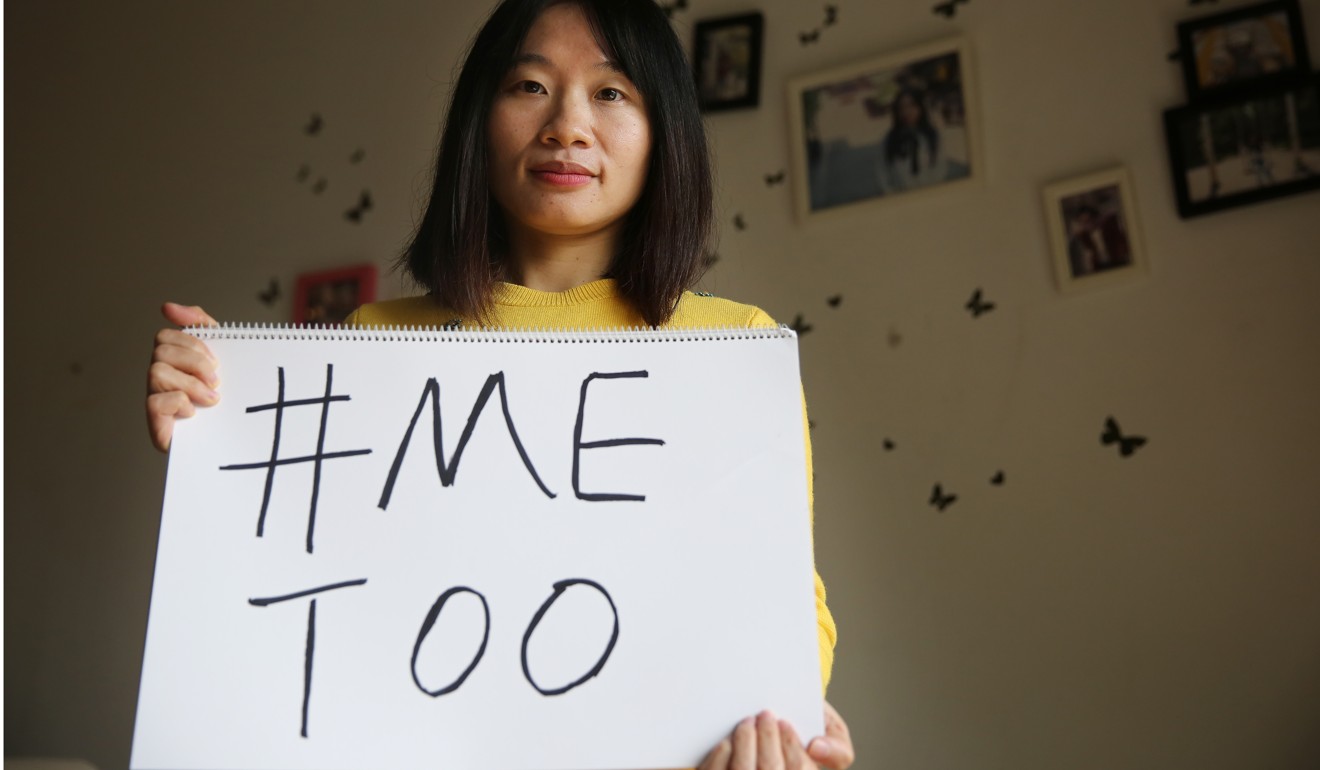 Luo, who is from Hunan province and now lives in the United States, was the first woman to use the #MeToo hashtag on Chinese social media when she accused her
academic adviser Chen Xiaowu
of attempting to force himself on her 14 years earlier at Beihang University in Beijing.
After sharing her story on Weibo, China's version of Twitter, other women came forward with similar sexual misconduct accusations against Chen and, 10 days later, he was sacked, disqualified as an educator and stripped of his Cheung Kong Scholar title for academic leaders.
Two years on, women in China are continuing to speak out against sexual harassment but their tactics have been informed by the experiences of Luo and other trailblazers.
In the Shanghai university case, Xiaowen – not her real name – turned for advice to Huang and the same lawyer who had helped Luo. Under their guidance, she patiently continued to respond to the associate professor, Qian, on social media, gathering evidence – including an admission from him – before making her complaint.
Around a week after Qian's sacking, the Ministry of Education announced it was strengthening and improving the development of teachers' ethics. Serious violations of new regulations – which
cover sexual misconduct at universities
– would lead to a lifetime teaching ban, the ministry said.
And on Monday, Chinese lawmakers started deliberating a new version of a draft Civil Code which includes the clause: "Government, entrepreneurs and schools shall take reasonable measures to prevent, tackle complaints and investigate, avoid and stop sexual harassment through the use of authority and power relationships."
"I feel like I have changed the course of history," Xiaowen told the South China Morning Post.
While two years of effort have made some difference to how sexual misconduct allegations are handled, other aspects of China's response to the #MeToo movement remain unchanged.
After going public with her story, Xiaowen received a knock on the door from the police, who took her to the station and interrogated her for 17 hours, with no lawyer or other person present.
Feminist activists like Huang have been subjected to a severe crackdown in the past two years.
Wei Tingting, a close collaborator of Huang's, had to shut down her organisation promoting gender equality at the end of last year. With Huang, she published a survey on sexual harassment in the media industry, showing more than 80 per cent of female respondents had been sexually harassed.
"We could have done more," Wei said. "We originally planned to launch more surveys in different sectors – now there is no room for that."
Wei said she was interrogated by police for 24 hours this summer, and it was not the first time she had been detained. Several feminist activists based in Guangzhou who had helped victims of sexual harassment and sent letters to the authorities calling on them to take action on the issue had also been forced to move out of the city in October amid pressure from police, according to activists familiar with the matter.
Lu Pin, a feminist and commentator living in New York, said even if the authorities arrested all the feminist activists in China, women's outrage could not be subdued.
"The #MeToo movement will go on," she said. "The universities are tackling the whole thing with the thought of maintaining stability. The whole mechanism is running on punishment. University educators have become more vulnerable, compared with government officials, for example," Lu said.
"There is still no public procedure, no independent investigation. They just fired the professors – simple and crude. The perpetrators deserved it, of course. But there has been no progress in the rule of law," she added.
"For the victims planning to fight for themselves, they also must make more effort – more solid evidence, well-selected social media accounts, and well-prepared narratives to earn sympathy and support from ordinary people."
Li Jun, a sociology and communications associate professor at a Chinese university she did not want identified, noted there was still no term for sexual harassment in the country's civil law. "The Civil Code is higher in the legal hierarchy and offers an opportunity to prompt institutional development," she said.
Li, who has studied sexual harassment in academia for many years, said the logic behind institutions' responses to such allegations had not changed much.
"The university leadership would look at how solid the evidence is, and if it involves a criminal defence then a sacking is no surprise," she said, adding that the administrative status of an accused professor may also have a bearing on how the case was dealt with.
Another professor, who asked not to be identified, said the universities paid much more attention to the issue of sexual misconduct than they previously had.
"If there has been any improvement, it is that faculty affairs offices, which handle the ethical issues of teaching staff, have become independent from other university departments," the professor said.
Li said there were some doubts that the education ministry's new ethics regulations would be able to tackle every problem arising from the conduct of teachers. "But 'ethics' is the only weapon we have in hand, and it is better than nothing," he said.
While #MeToo has rocked China's universities and encouraged a broader discussion in society about women's rights, there is currently no sign of the movement expanding to other sectors. One reason for that may be the danger of a defamation lawsuit from the accused, as well as the lack of legal and social support for women claiming to have experienced harassment or abuse.
Luo, whose action two years ago started the conversation in China, said she hoped that would change.
"It's a pity that we haven't seen more cases from the entertainment industry or inside the government. It's opposite to the situation abroad," she said. "I hope we can see a breakthrough."
This article appeared in the South China Morning Post print edition as: #MeToo trailblazer hails progress but wants more