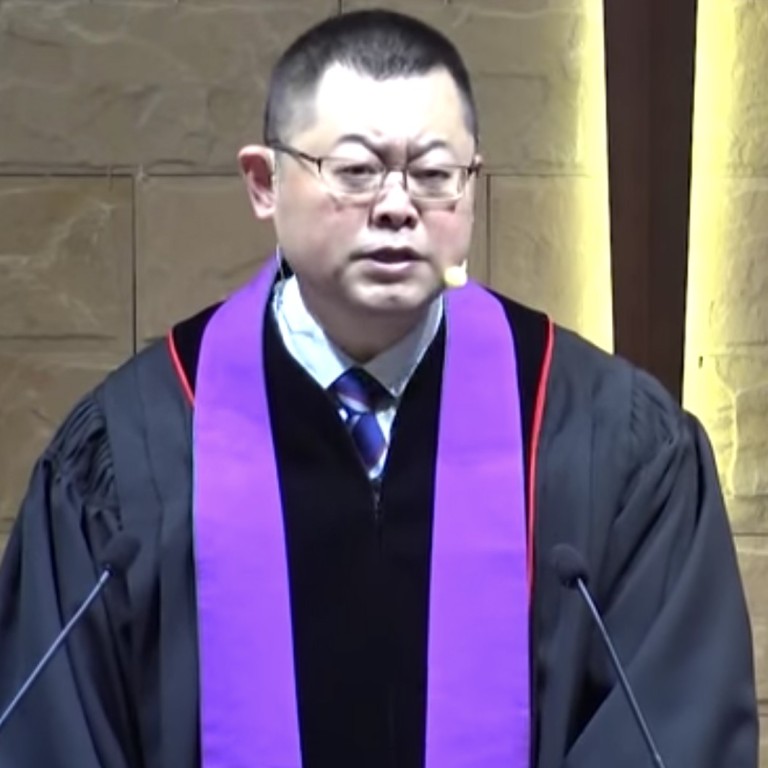 Chinese pastor Wang Yi gets nine years in jail for 'inciting subversion'
Early Rain Covenant Church founder had been detained for 12 months after being picked up during overnight raids
Wang also convicted of illegal business operations, according to court judgment
Wang Yi, a founding pastor of China's
Early Rain Covenant Church,
has been sentenced to nine years in jail by a Chinese court for inciting subversion of state power and other crimes.
Wang was detained in December 2018 along with other senior figures in the prominent unsanctioned church during overnight raids across various districts of Chengdu, the southwestern city where the church was founded.
On Monday the Chengdu Intermediate People's Court released its judgment, which said the pastor was also convicted of illegal business operations.
In addition to the jail term, Wang would be stripped of his political rights for three years and personal assets valuing 50,000 yuan (US$7,000) would be confiscated.
"Nine years was more or less expected. No further information has come out: not the indictment, not the verdict, not the defence argument of his lawyer; just this pretty empty statement," Zhang said.
A member of the Early Rain church said last week that Wang's wife was being held under "residential surveillance".
Another Early Rain Covenant Church elder, Qin Defu, was convicted of illegal business operation and jailed for four years in November.
Two other prominent churches, including Beijing's Zion and Guangzhou's Rongguili, were also shut last year.
Early Rain has 500 registered members, according to other church leaders, but attracts more than 800 people each week, spread across more than a dozen meeting points around Chengdu. It also has about 100 seminary students and a primary school catering to about 40 children.
Unlike many Protestant house churches in China that operate underground, Early Rain members openly practice their faith, posting sermons online and evangelising on the streets.
Wang was a human rights activist and a constitutional scholar before becoming a pastor. In 2006, he met then-US president George W Bush in the White House.
Beijing has tightened its grip on religious practice, including Christianity, in recent years. Last February, the Religious Affairs Regulation was amended to give grass-roots officials more power to act against churches and impose tougher penalties for "unauthorised religious gatherings".
Bob Fu, president of US-based Christian non-profit organisation China Aid, said Wang's sentence was among the heaviest received by house church leaders in recent years.
"I think the regime is really afraid of Wang's national and international impact, especially the growing influence of the reformed evangelical movement he was leading nationwide," Fu said.
The conviction of Wang also marked "a very difficult time" for unsanctioned churches in China, said Patrick Poon Kar-wai, a China researcher with Amnesty International.
Pastor Huang Xiaoning, based in Guangzhou in southern China, said Wang's "heavy sentence" would have an impact on Protestant churches in China.
"Some in the church will be intimidated; while some will have their faith reinforced," he said.
This article appeared in the South China Morning Post print edition as: Pastor gets nine years for 'inciting subversion'