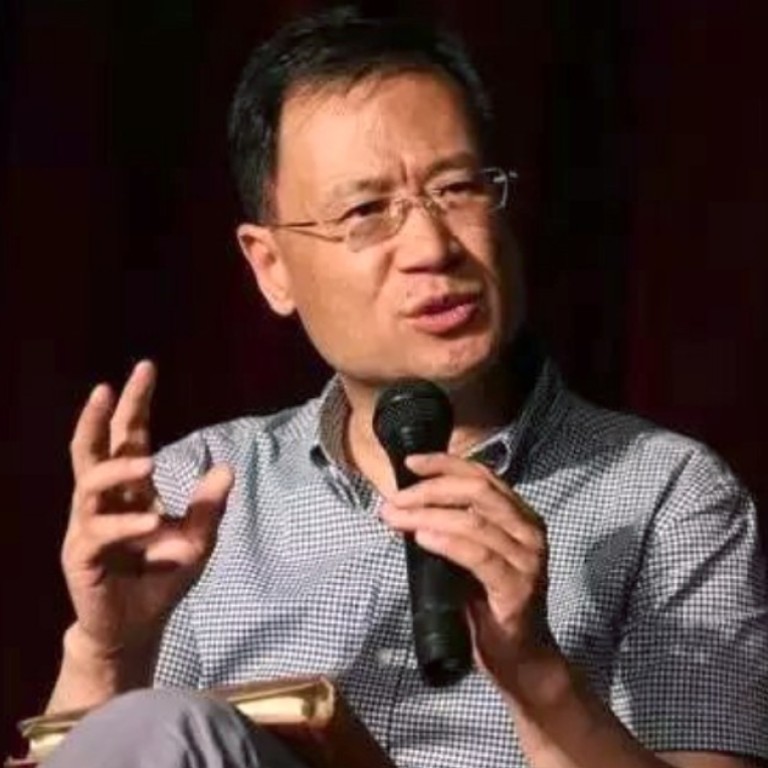 Chinese scholar blames Xi Jinping, Communist Party for not controlling coronavirus outbreak
Beijing's crackdown on civil society, freedom of expression made it impossible for people to raise the alarm about the situation, Tsinghua University professor Xu Zhangrun says in online article
Intellectual Xu Zhiyong repeats his call for 'not very smart' Xi to step down as leader
A prominent Chinese scholar has published an article criticising the country's leadership for failing to control the
coronavirus outbreak
that has infected almost 25,000 people around the world.
Xu Zhangrun, a law professor at Tsinghua University in Beijing, who has been under close surveillance by the authorities, blamed Communist Party leaders for putting politics ahead of the people in his strongly worded piece, which was published on several overseas Chinese-language websites this week.
"The political system has collapsed under the tyranny, and a governance system [made up] of bureaucrats, which has taken [the party] more than 30 years to build has floundered," he said in a reference to how reform-minded leaders sought to rebuild the country and modernise the government after the death of Mao Zedong in 1976 and moved away from one-man rule to collective leadership.
Xu was suspended from teaching at Tsinghua University in 2018, after the publication of an article in which he criticised the decision by party leaders to lift the two-term limit for presidents, allowing
Xi Jinping
to remain in office beyond his second term, which ends in 2023.
His latest criticism came as China's leaders and law enforcement officials warned that internet controls must be tightened to prevent the spread of rumours and misinformation.
On Monday, Xi chaired a meeting of the Politburo Standing Committee at which it was agreed that officials must maintain a tight grip on online media and direct public opinion about "winning the war over the virus".
On Tuesday, the Ministry of Public Security held a meeting to remind all police officers that political security was of utmost importance in handling the outbreak.
The police would "strike harshly" on any and all disruption by "hostile forces", according to a report by Xinhua.
One of Xu's close friends confirmed on Wednesday that the professor had written the article.
"He has already been stripped of his teaching position but he is likely to face more punishment this time," said the person, who asked not to be named.
"We are concerned they [the police] will take him away now that he has published this article."
Xu is currently prohibited from leaving the country and cannot publish his work freely in China.
In his latest article he said Beijing had put officials' loyalty above competence, and filled the bureaucracy with mediocre cadres who had no motivation to perform well.
"The mess in Hubei is only the tip of the iceberg and it's the same with every province," he said.
During the early stages of the outbreak, China's authorities maintained tight control over the disclosure and sharing of information about the outbreak, and officials made repeated assurances to the public that there were no signs of human transmission of the coronavirus.
But as the number of infections has soared, people have become increasingly angry and frustrated. Many have taken to social media to criticise officials, especially those in Hubei and Wuhan, for failing to publicise information about the outbreak and for mishandling the distribution of vital supplies to frontline doctors and nurses.
Xu said also that Beijing's crackdown on civil society and freedom of expression had made it impossible for people to raise the alarm about the outbreak.
"All chances of public discussions have been smothered, and so was the original alarm mechanism in society," he said in reference to the party's deletion of social media posts it deemed critical.
Xu did not mention Xi by name but made use of some of the informal titles by which he is known, including "the core".
Xu Zhangrun is not the only academic to speak out against Xi and his handling of the virus outbreak, which the World Health Organisation has declared a global health emergency.
Prominent intellectual Xu Zhiyong also published an article on social media on Tuesday in which he urged Xi to step down for his "inability to handle major crises".
He cited several examples, including the China-US trade war, the anti-government protests in Hong Kong and the coronavirus outbreak.
He also called Xi's political ideology "confusing", his governance model "outdated" and said he had ruined China with "exhaustive social stability maintenance measures".
"Seven years ago, I appealed to you to lead China to become a nation that respects democracy and the constitution, but in return I was thrown in jail for four years," he said.
"And now, your men are still looking for me trying to throw me back in jail again. I don't think you are a villain, just someone who is not very smart. For the public's sake, I'm asking you again: Step down, Mr Xi Jinping."
Despite his presence on social media, Xu Zhiyong has been in hiding from the police since December, following a year-long crackdown targeting civil rights dissidents that saw many people accused of inciting state subversion and detained.
Purchase the China AI Report 2020
brought to you by SCMP Research and enjoy a 20% discount (original price US$400). This 60-page all new intelligence report gives you first-hand insights and analysis into the latest industry developments and intelligence about China AI. Get exclusive access to our webinars for continuous learning, and interact with China AI executives in live Q&A. Offer valid until 31 March 2020.