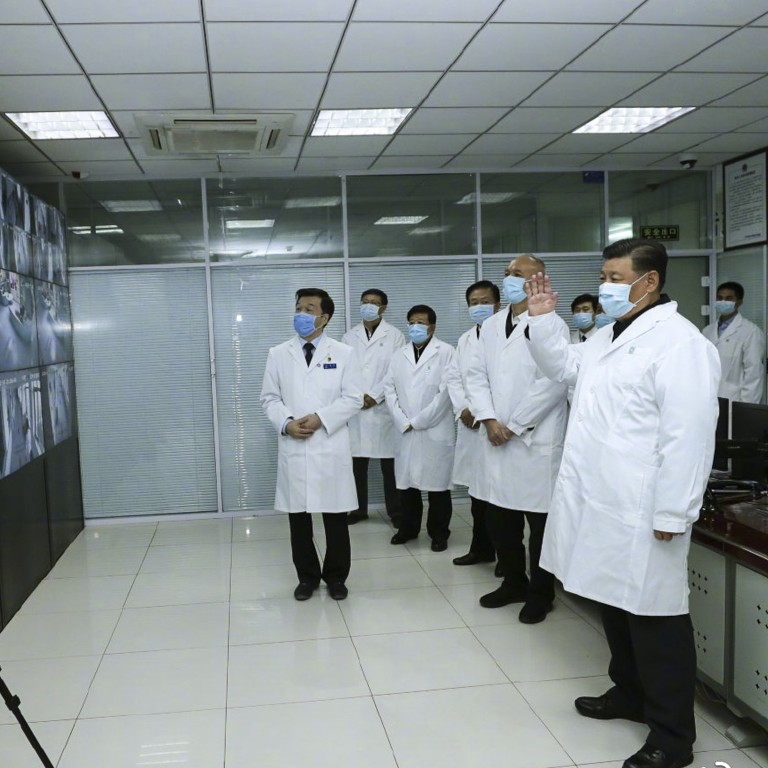 Back in the public eye, masked Xi Jinping warns of 'grim' fight with coronavirus
Outbreak exposes shortcomings and strengths of the system, Xi says, paying tribute to medical workers
Appearance comes amid public anger over the death of eye doctor Li Wenliang
Chinese President Xi Jinping said on Monday that China's fight against the
coronavirus outbreak
, which has exposed the country's vulnerabilities, remained "grim" but called on officials to have full confidence that they would triumph over the disease.
The coronavirus, which was first reported in the central Chinese city of Wuhan in December and has since spread throughout the world, has so far sickened more than 40,000 with a pneumonia-like illness and killed more than 910 people, the majority of them in China.
The World Health Organisation has declared it a global emergency.
China's state media reported on Monday that Xi visited a district-level disease control office in Beijing.
"The outbreak of the coronavirus is a major test of the national disease control and prevention centres of all levels in the country," state television quoted him as saying. "It has shown both the strengths and many shortcomings of the system."
He praised Communist Party cadres for their bravery on the front line and paid tribute to doctors and nurses who had contracted the illness.
Xi also expressed confidence about the economy despite the heavy blow from the outbreak.
"[We] must remain firmly confident about the fundamentally positive outlook of China's economy in the long term," he told officials. "The impact is only in the short term, and we should not be scared by it."
During a visit to a neighbourhood in Chaoyang district in Beijing, Xi and a handful of officials with him all wore masks.
"It's a harsh time, so I won't shake your hands now," he said to a group of onlookers.
During his subsequent visit to a hospital in Beijing, he spoke to frontline doctors and nurses in Wuhan via teleconference.
Xi was last seen on state television when he received Hun Sen of Cambodia in Beijing last week. Xi met WHO director general Tedros Adhanom Ghebreyesus two weeks ago, saying that he had been "personally directing" the battle against the outbreak from the very beginning.
While Xi has maintained a low profile in the past two weeks, other top leaders have visited Wuhan, the epicentre of the outbreak.
Premier Li Keqiang visited the city in late January in a show of support for medical personnel and residents under lockdown there. Vice-Premier Sun Chunlan, who led a task force from Beijing, has been in Hubei for the past 2½ weeks, running between medical facilities and visiting health staff.
Xi's reappearance on Monday comes as the leadership faces mounting public anger over the death of Li Wenliang, a Wuhan eye doctor who alerted classmates about the virus's danger in December but was later accused by police of spreading rumours.
The public outrage over the doctor's death from the coronavirus was so damaging to Beijing that it quickly sent a high-level team to investigate Li's death. Analysts said the investigation was aimed at cooling public anger by punishing a few officials.
During Monday's visit, Xi called on state media to do a better job of publicising Beijing's concern for the affected people and frontline medics fighting the virus. He also called for a more timely response to questions raised by the public.
Xi's appearance also coincided with a visit to China by an expert WHO team headed by Bruce Aylward, a Canadian epidemiologist and emergencies specialist.
"I've just been at the airport seeing off members of an advance team for the @WHO-led #2019nCoV international expert mission to #China, led by Dr Bruce Aylward, veteran of past public health emergencies," the WHO's Tedros said online.
Xi's latest public appearances made political sense as he was walking a tightrope between the role of a formidable leader and a populist one, said Chen Daoyin, an independent political scientist and a former Shanghai-based professor.
"By managing in times of crisis mostly from behind the scenes, Xi is showing how he is above the daily implementation of tasks and he's pulling the strings from behind," Chen said.
"Mao Zedong used to showed the same pattern in times of crisis. But once in a while, he would have to show his connection to the people."
While the virus continues to spread, economists said they expected the outbreak to have a short-term impact on China's economy.
Oxford Economics senior economist Tommy Wu said the consultancy had cut its forecasts for China's economic growth from 6 to 5.4 per cent, but there was a baseline assumption that the virus containment efforts would allow businesses to pick up speed again by March.
"We basically lost like two, three, four weeks of time in terms of work time, compared to a normal first quarter, so that will have an impact definitely on first-quarter GDP and that will weigh on the rest of the year," Wu said. "The thing is, we do expect a very strong second quarter and third quarter outturn because of the rebound and also the policy measures."
Wu said the government had taken measures to support or relieve pressure on affected sectors, and he expected further stimulus to help make up for losses in the first quarter.
"These so-called stimulus measures are not really about stimulating the economy, but trying to hold things up together," he said.
"It's not just domestic, it's also disrupting supply chains, and also in terms of China's domestic demand, which is slower and will affect other countries' exports to China," he said. "And also tourism, which will have a huge impact on a lot of Asian countries. If you take all those together, we will be seeing a slower global economy."
Purchase the China AI Report 2020
brought to you by SCMP Research and enjoy a 20% discount (original price US$400). This 60-page all new intelligence report gives you first-hand insights and analysis into the latest industry developments and intelligence about China AI. Get exclusive access to our webinars for continuous learning, and interact with China AI executives in live Q&A. Offer valid until 31 March 2020.
This article appeared in the South China Morning Post print edition as: Xi warns of grim struggle with disease