Beijing pins hopes on 'guy with the emperor's sword' to restore order in coronavirus-hit Hubei
Chen Yixin, a protégé of President Xi Jinping, arrived in Wuhan on Saturday to help tackle the outbreak
He is expected to introduce measures to maintain social stability, including heavy controls on media and people expressing views online
Chinese folk tales often feature honest officials, with a sword from the emperor, enforcing law and justice during times of crisis. As the
coronavirus crisis
unfolds in central Hubei province, Beijing is pinning its hopes on Chen Yixin,
a protégé of President Xi Jinping
, to take that role.
Chen, a 60-year-old Zhejiang native, has been appointed deputy head of the national team overseeing the handling of the outbreak in Hubei, headed by Vice-Premier Sun Chunlan, 70.
Known for being decisive and energetic, Chen is secretary general of the Central Political and Legal Affairs Commission, the Communist Party's top law enforcement body. The move to parachute him into the epicentre of the outbreak – he is widely seen as Xi's envoy to take charge of the crisis – is expected to strengthen frontline discipline and social stability in Hubei.
The outbreak, which is believed to have started at a live animal and seafood market in the provincial capital Wuhan in December, has
killed more than 1,000 people
and infected over 40,000 so far.
Most of those deaths have been in Hubei, where there were more than 33,000 confirmed patients.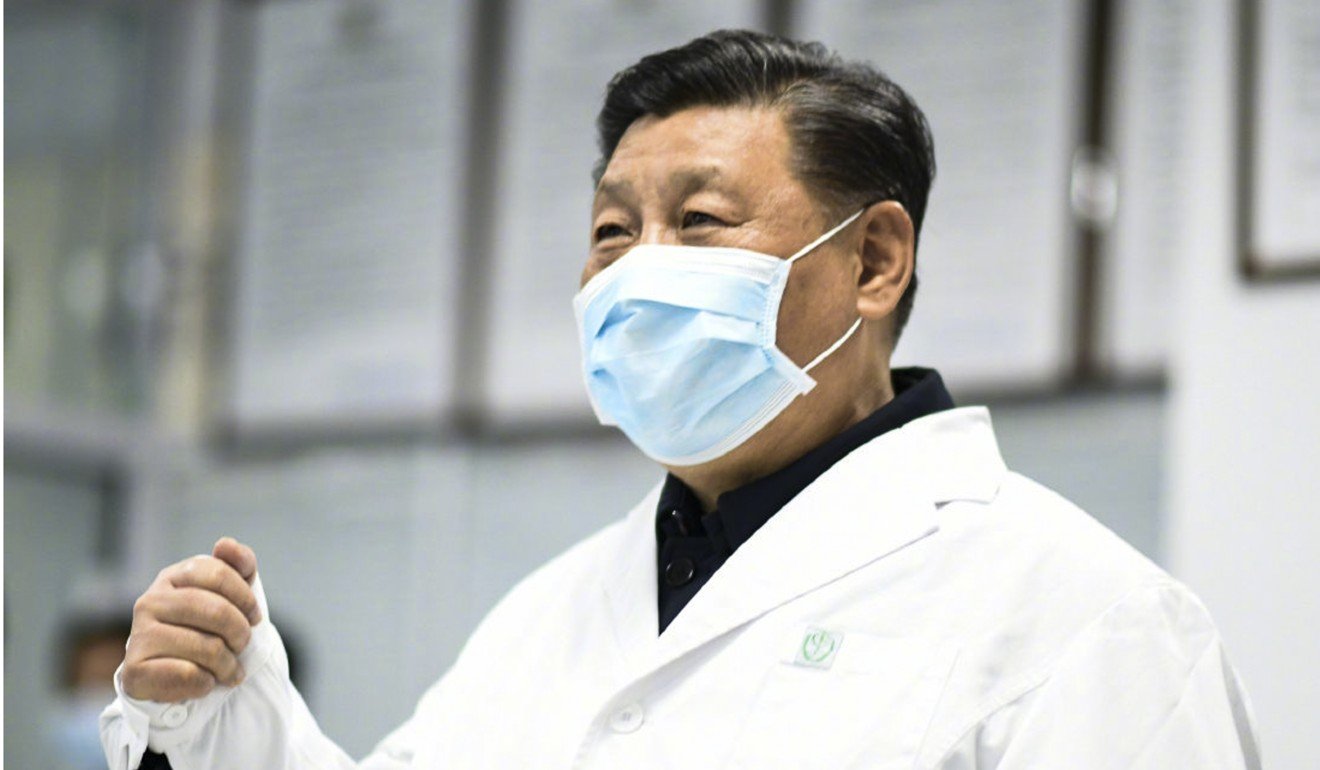 But a large number of suspected patients are believed to have gone undiagnosed and untreated in Wuhan and smaller cities in the province, and local officials have been blamed.
Public anger has also been mounting following
the death last week of Li Wenliang
, the doctor who was reprimanded by police for trying to warn people about the virus outbreak in late December. Li contracted the virus and his death has prompted calls for those who sought to silence him to be punished, and for greater freedom of expression in China.
Independent political economist Hu Xingdou said Chen's appointment came "at a time of government dysfunction and social disorder". "It will help improve the situation, by [Chen] directly telling local officials what to do and watching them do it," he said.
Chen arrived in Wuhan on Saturday, according to Changan Sword, the WeChat account of the Central Political and Legal Affairs Commission. That was a week after his article on modern governance was published in the party's flagship journal Qiushi, or "Seeking Truth", on February 1. Now he is getting the chance to enforce it.
While Vice-Premier Sun's team in Hubei included a number of top public health officials, Chen would play the discipline and political role, according to Hu.
"It also suggests that Xi is not happy about the performance of frontline officials and feels the need to strengthen Sun's team, which is the de facto centre [of power] of Hubei," he said.
Chen has been working until 2am every day since he arrived, according to sources with knowledge of the situation. He began by calling a meeting with Wuhan officials soon after he arrived in the city, laying out three mandatory tasks: to check and quarantine every suspected case, to send officials to the front line and to maintain stability, according to Changan Sword. After introducing himself, Chen apparently told local officials, "I'm fighting together with you again".
Before he became chief of the law enforcement body in 2018, Chen spent 15 months in Wuhan as its party secretary and as Hubei province's deputy party secretary. In that time, he sharply criticised officials who were slack, and their lack of reforms to cut red tape and spur investment.
Chen had previously spent more than three decades in the eastern province of
Zhejiang
, where Xi was governor and then party chief from 2002 to 2007. Chen headed the secretariat body that served the provincial leadership during those five years.
In 2015, he was promoted to deputy director of the general office of the Central Leading Group for Comprehensively Deepening Reforms, a top-level party organ founded and chaired by Xi to oversee the overhaul of the country's political, economic and defence systems, among others.
"This time Chen is supposed to be the guy with the emperor's sword," said Chen Daoyin, an independent political scientist and a former Shanghai-based professor.
"He is expected to help restore discipline for the party and government, to oversee law and policy enforcement and control consensus, as well as coordinating relief efforts across the provinces."
Chen Yixin's track record suggests he is a capable problem-solver. In 2014, as the party boss of Wenzhou, in Zhejiang, he was praised by Hu Heping, then head of the provincial organisation department, for "calmly handling various kinds of risks" and helping the city's economy get back to rapid growth after a debt crisis.
"However, he won't be the iron-fisted firefighter type of leader in a crisis – like
Wang Qishan
when he was mayor of Beijing in 2003," Chen, the political scientist, said.
During the height of the severe acute respiratory syndrome (Sars) epidemic in Beijing, then-president Hu Jintao sent Wang to the capital city as mayor to handle the crisis and contain the disease, replacing Meng Xuenong. Meng and then-health minister Zhang Wenkang were sacked for negligence over Sars.
Wang, who is now vice-president, was in control in Beijing at the time, but Chen Yixin would not be in the same position, the political scientist said.
"Chen's role is temporary. It suggests that key officials in Hubei and Wuhan may not be replaced immediately," he said.
National Health Commission deputy director Wang Hesheng has also been sent to Wuhan, joining the provincial party standing committee. Wang will take up the roles of Hubei health commission chief Zhang Jin and director Liu Yingzi,
who were sacked on Monday
amid growing public discontent over the handling of the outbreak and the death of Li, the whistle-blower doctor.
Analysts expected Chen to introduce forceful measures to maintain social stability, including heavy controls on media and people expressing their views online.
As party boss of
Wenzhou
in 2014, Chen is believed to have played a key role in a controversial campaign in the city – home to many Christians – to
demolish crucifixes
on private churches, claiming it was about clearing illegal structures.
More recently, as protests erupted in Hong Kong over an extradition bill in June, Chen said China needed to strengthen its guard against online threats that could sway public opinion.
"As our country nears the centre of the world stage, imported risks … are on the rise and have become the biggest uncertainty in our domestic security," he wrote in Study Times, a newspaper affiliated with top academy the Central Party School.
He has continued in that vein in Wuhan. Meeting officials on Saturday, Chen said they should make plans for "two battlefields, both online and offline, guide the consensus, strictly handle online rumours and promote touching stories taking place at the front line of preventing and combating disease".