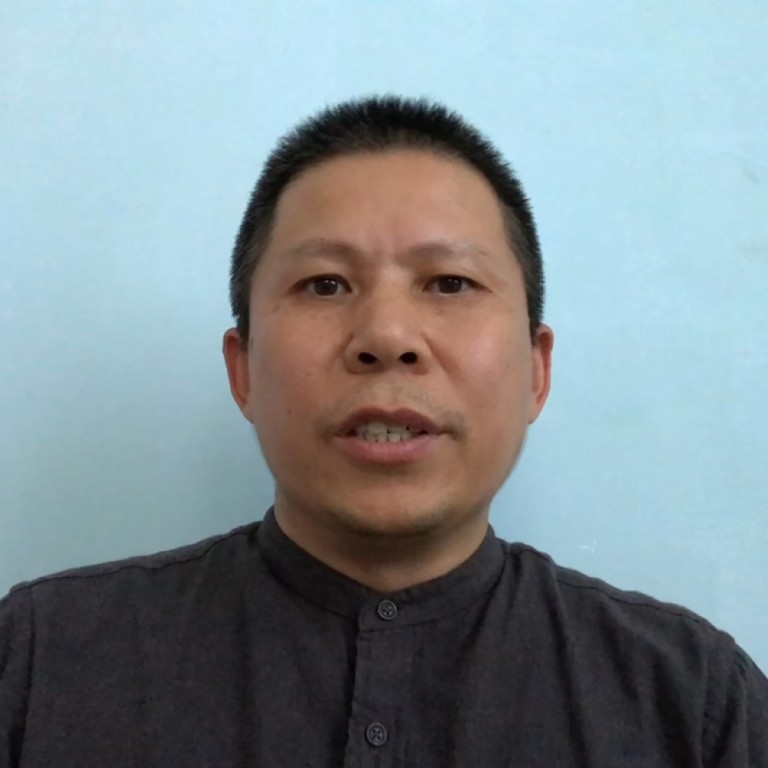 Chinese police detain fugitive rights activist Xu Zhiyong during 'coronavirus check'
Xu found at home of Guangzhou lawyer on the weekend, two months after going into hiding
Homes of other friends searched as authorities tighten restrictions to contain the spread of Covid-19
A Chinese
rights activist
in hiding since December was detained in the southern city of Guangzhou after police mounted "coronavirus prevention checks" on the homes of friends and sympathisers, according to other activists.
Xu was detained at the home of Yang Bin, a Guangzhou-based lawyer and a former prosecutor, during a police "coronavirus check".
Yang confirmed that she, her husband, their son and Xu were taken away by police together and all but Xu were released on Sunday evening after being questioned by police.
"I'm fine and telling friends we are safe. Thanks for your concern about us," Yang said, adding that she could not say more on Xu's whereabouts and why he had been detained.
A dissident source close to the matter said Xu had been taken away by police from Beijing and Yang's family remained under police surveillance at their home.
The activist, who had briefly sheltered Xu and declined to be named on safety concerns, said police had visited his home on a "coronavirus prevention" check as well as the homes of others who had helped Xu in recent days.
Xu's girlfriend, Li Qiaochu, a Beijing-based feminist and labour rights activist, has also been missing since she sent a message that "someone is knocking at my door" early on Sunday, according to Hu Jia, a veteran activist based in Beijing and winner of the European Parliament's Sakharov Prize for Freedom of Thought.
Guangzhou, the capital of Guangdong province, stepped up prevention measures against the virus last week, including authorising the government to take over private property. The province has the highest number of confirmed Covid-19 patients outside Hubei, the epicentre of the outbreak, with most cases concentrated in Guangzhou and Shenzhen.
The public security bureau of Panyu district, where Yang's home is located, could not be reached for comment.
Xu's defence lawyer, Zhang Qingfang, said he did not know if the authorities would allow him to represent the activist.
"Xu Zhiyong did hire me and hoped I would be his lawyer if he were arrested," Zhang said.
Xu, a former lecturer at the Beijing University of Posts and Telecommunications, founded a civic group called the New Citizens' Movement.
Pro-democracy activist and independent political analyst Wu Yangwei, also known by the pseudonym Ye Du, said Xu's detention showed that the Communist Party "doesn't allow any dissent to be voiced, nor the possibility of challenging the party's rule".
This article appeared in the South China Morning Post print edition as: Rights activist pushing for democracy detained during household checks