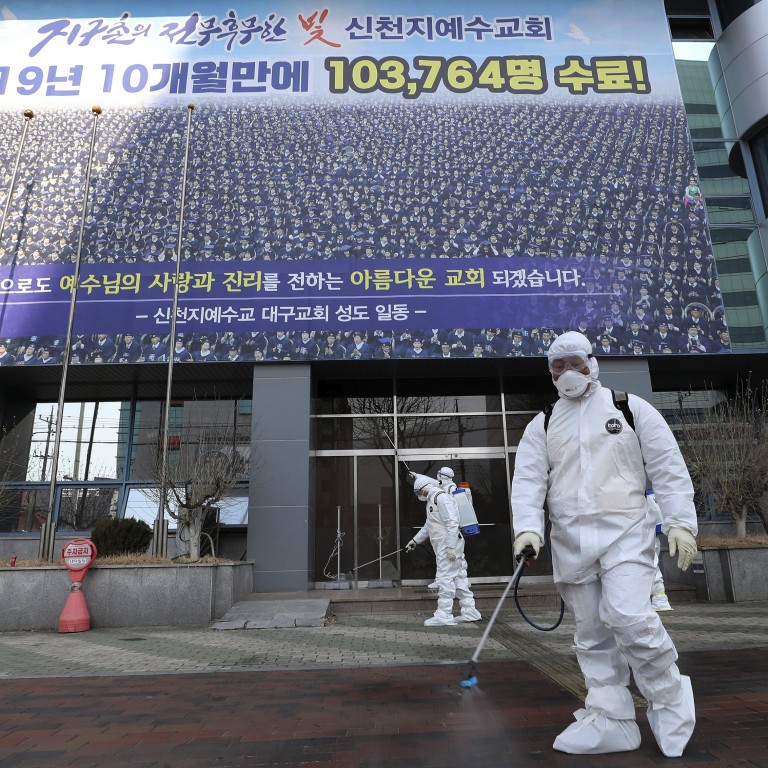 Exclusive
Coronavirus: secretive South Korean church linked to outbreak held meetings in Wuhan until December
About 200 Shincheonji Church of Jesus members continued to meet in the Chinese city amid rumours of virus, but 'no one took [claims] seriously' at first
About half the Covid-19 cases in South Korea have been linked to members of the religious group
Members of the Christian sect linked to a cluster of coronavirus cases in South Korea held meetings in Wuhan until December, only stopping when they realised that their community had been hit by Covid-19, the previously unknown disease caused by the virus.
The South China Morning Post has learned that the Shincheonji Church of Jesus in Wuhan, the Chinese city at the centre of the epidemic, has around 200 members, most of whom are currently under quarantine outside the city.
"Rumours about a virus began to circulate in November but no one took them seriously," said one member, a 28-year-old kindergarten teacher.
"I was in Wuhan in December when our church suspended all gatherings as soon as we learned about [the coronavirus]," said the woman, who declined to be named because of the sensitivity of the matter.
She said the group was continuing to share sermons and teachings online, but most members had returned home at the start of the Lunar New Year holiday in late January.
The 250,000-member Shincheonji Church of Jesus is regarded by mainstream Christian groups as a secretive and unorthodox sect. Its founder, Lee Man-hee, has claimed that he is the second coming of Jesus Christ.
Around half the Covid-19 infections in South Korea have been linked to a branch of the church in Daegu.
According to the Korea Centres for Disease Control and Prevention, there were 977 confirmed cases as of Tuesday – the second highest number outside China – and 11 deaths.
Of the 84 new cases reported on Tuesday, over half were recorded in Daegu city.
A member of the church from Daegu reportedly visited China in January, and health officials in South Korea are investigating whether a cluster of infections in Cheongdo city is linked to a three-day funeral ceremony held at a local hospital.
Chinese sources said that the Shincheonji church has about 20,000 members in China – most of whom live in major cities such as Beijing, Shanghai, Dalian, Changchun and Shenyang.
One Christian pastor in Hubei province, who declined to be named, said that Shincheonji church members were hard-working and some continued to proselytise even during the outbreak.
The Wuhan kindergarten teacher said she was confident that the recent mass outbreaks in South Korea were not linked to Shincheonji church members from the city.
"I don't think the virus came from us because none of our brothers and sisters in Wuhan have been infected. I don't know about members in other places but at least we are clean. None of us have reported sick," she said.
"There are so many Chinese travelling to South Korea, it's quite unfair to pin [the disease] on us."
She sidestepped questions on whether church members had travelled from Wuhan to South Korea after the outbreak.
The teacher said that in 2018 the Wuhan group's "holy temple" in Hankou district had been raided by police "who branded us a cult", but members continued to worship in small groups.
"We are aware of all the negative reporting out there after the outbreak in South Korea, but we do not want to defend ourselves in public because that will create trouble with the government," she said. "We just want to get through the crisis first."
Bill Zhang, a 33-year-old Shanghai resident and a former missionary with Shincheonji, said the group's secretive nature made it hard for the authorities to effectively crackdown on its activities.
He said the Shanghai branch held its main meetings on Wednesdays and Sundays, attracting 300 to 400 people at a time.
"The Shincheonji church in Shanghai has been raided many times and police spoke to church leaders regularly.
"But the church members simply continued their meetings in smaller groups of eight-to-10 people and regrouped when the surveillance was relaxed."
Zhang continued: "Shincheonji holds that it is the only real church that upholds the biblical truth and all other churches – mainstream or cults – are evil."
Purchase the China AI Report 2020 brought to you by SCMP Research and enjoy a 20% discount (original price US$400). This 60-page all new intelligence report gives you first-hand insights and analysis into the latest industry developments and intelligence about China AI. Get exclusive access to our webinars for continuous learning, and interact with China AI executives in live Q&A. Offer valid until 31 March 2020.
This article appeared in the South China Morning Post print edition as: Christian sect kept meeting in Wuhan amid virus fears