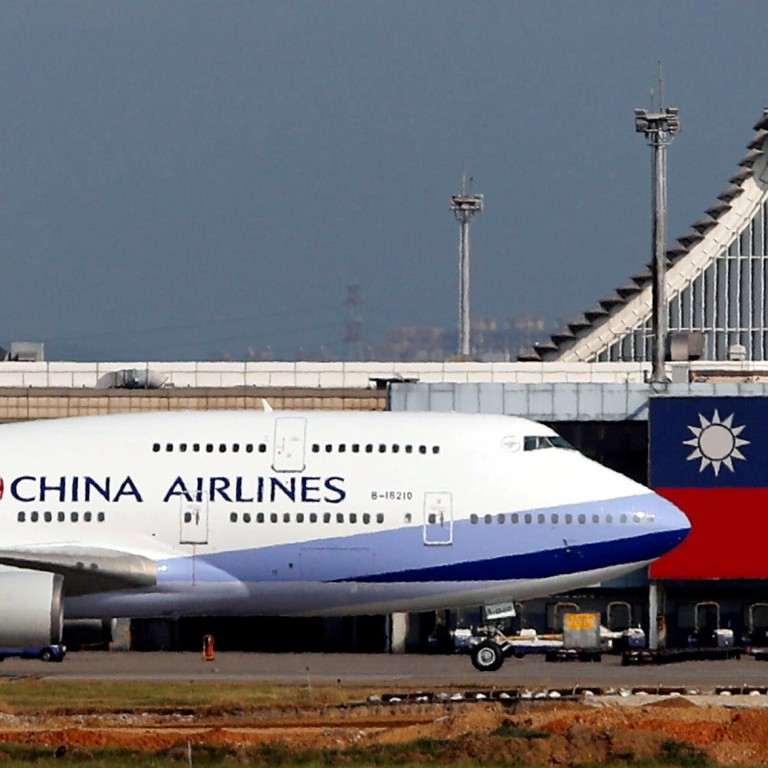 Confusion prompts call for China Airlines name change in Taiwan, but at what cost?
Support grows after carrier is mistaken for mainland flag bearer Air China when delivering coronavirus medical supplies
Critics say the move could put Taiwan's international flight agreements at risk
Taiwan
is mulling a change of name for its carrier China Airlines to make clear that it represents the self-ruled island and not mainland China.
Some 40,000 Taiwanese petitioners and a group of lawmakers have been demanding the change, after reports that China Airlines (CAL) had been mistaken for the mainland's flag bearer Air China when delivering face masks and other donated medical supplies from the island to countries in the midst of the escalating
coronavirus pandemic
.
Critics, however, said the move could lead to CAL losing its international flight routes while incurring a huge cost by changing its name and logo in numerous aviation and commercial contracts with various agencies all over the world.
They also questioned the timing of such a change, when Beijing has already criticised Taipei for trying to use the pandemic to promote the independence cause.
Beijing considers Taiwan a wayward province that must be returned to the mainland fold, by force if necessary. It has recently traded barbs with Taipei over what it sees as the island's attempt to join the
World Health Organisation
.
Taipei has been rallying support from other countries by promoting its efforts to contain the Covid-19 outbreak and by donating medical supplies.
On Monday, Taiwanese Transport Minister Lin Chia-lung addressed the name change issue, saying his ministry was open to renaming the airline, but he believed it would be more proper to have a majority consensus.
When asked whether the carrier should be renamed Taiwan or Formosa Airlines, Premier Su Tseng-chang on Tuesday said he supported the idea but stressed that it was a complex issue with many factors to consider.
"The name change involves aviation rights and many other factors, which are not that easy to do, but for the national carrier to be labelled with the name Taiwan, that is something the government must endeavour to do and the government will do so on a step-by-step basis," he said.
Wang Ting-yu, a legislator with the independence-leaning Democratic Progressive Party, said the name change was necessary to avoid future confusion and it was up to the public to decide whether it should be "Chunghwa Airlines" or "Taiwan Airlines".
Lai Hsiang-ling, a legislator from the Taiwan People's Party, said the name change was something to be discussed, but the time was not right for change. "As the world is troubled by the pandemic, it is not good timing to change the name as it would involve negotiations on change of aviation agreements and other issues," she said.
Legislators from the mainland-friendly Kuomintang also advised against making the change at this time as it would "mislead people in the world into thinking that Taiwan is trying to use pandemic for its own political interest".
Observers said a rebranded carrier would need to re-sign various flight agreements and aviation pacts with many countries, and pointed to the risk losing some due to pressure from Beijing.
"The airline would need to also reapply for all of its flight time built up at various airports in the world and re-sign all of its commercial contracts with other companies, change the title and logo of all administrative papers, change the International Air Transport Association code, sales systems, and it must repaint the bodies of all of its fleet with new title and logo," said a Taoyuan Union of Pilots official.
"The total cost could reach more than US$1 billion."
CAL said it had received "various vibrant opinions regarding the subject recently and it is now in the process of being studied and discussed internally with an open mind".
This is not the first time CAL has been asked to change its name. The issue was raised in 2007 when the DPP's Chen Shui-bian was president, and again under President Tsai Ing-wen in 2016 and 2018.
Sign up now and get a 10% discount (original price US$400) off the China AI Report 2020 by SCMP Research. Learn about the AI ambitions of Alibaba, Baidu & JD.com through our in-depth case studies, and explore new applications of AI across industries. The report also includes exclusive access to webinars to interact with C-level executives from leading China AI companies (via live Q&A sessions). Offer valid until 31 May 2020.