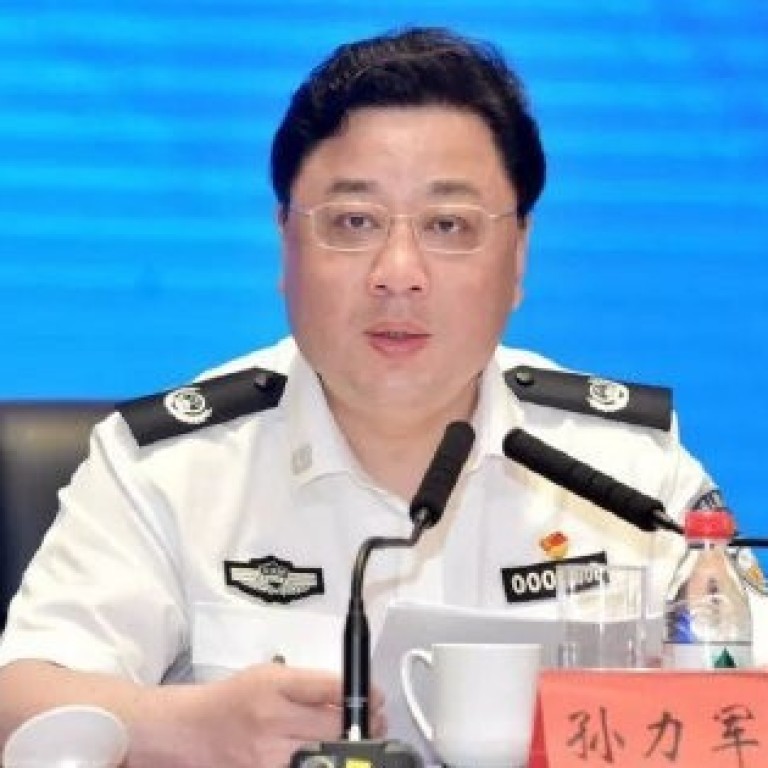 China's deputy public security minister faces corruption probe for 'serious violations of discipline and the law'
Deputy public security minister Sun Lijun is under investigation for suspected 'violations of discipline and the law', according to the anti-graft watchdog
Investigation follows jailing of former Interpol chief Meng Hongwei in January this year
The Chinese deputy public security minister whose responsibilities include Hong Kong affairs has been placed under investigation by China's main anti-corruption body.
Sunday's announcement that Sun Lijun was under investigation for "serious violations of discipline and the law", an indication of corruption, is the latest shake-up inside the country's security apparatus.
The brief statement about Sun published by the Central Commission for Discipline Inspection did not provide any details about his alleged wrongdoing.
China's Ministry of Public Security published a statement late on Sunday, saying the ministry supported the investigation, which it said was "timely and correct" and fully showcased President Xi Jinping's efforts to root out corruption.
The ministry said Sun "had ignored the party's political discipline and political rules for a long time" but did not provide details.
In the future, it said, China's police apparatus will improve their mindset of "being loyal to the core, supporting the core, following the core and defending the core" – a reference to Xi.
Three sources familiar with the matter said Sun had once been the secretary to Meng Jianzhu, who was the secretary of the Communist Party's Central Political and Legal Affairs Commission between 2012 and 2017.
But there was no indication that the investigation into Sun is related to the now retired Meng.
China's Ministry of Public Security has deleted Sun's biography from its website. A replacement has yet to be named.
According to the ministry's website, the ministry still has five deputy ministers. The party committee of the ministry, the final decision-making group, has 11 members, excluding Sun.
Sun led the powerful First Bureau within the ministry, according to his biography page at the China Law Society, where he was a vice-president.
The First Bureau handles domestic political security as well as Hong Kong security affairs.
Sun's last known activity was in Wuhan, where he was helping efforts to control Covid-19.
On March 7, the official newspaper People's Public Security Daily reported that Sun had personally recommended two female police officers for party membership, saying he had been touched by their hard work during the lockdown.
According to the report, Sun told them that they must "be loyal to the party … and willing to sacrifice everything for the party and the people".
His official biography shows that Sun was born in January 1969. He holds a master's degree in public health management and graduated from the University of New South Wales in Australia.