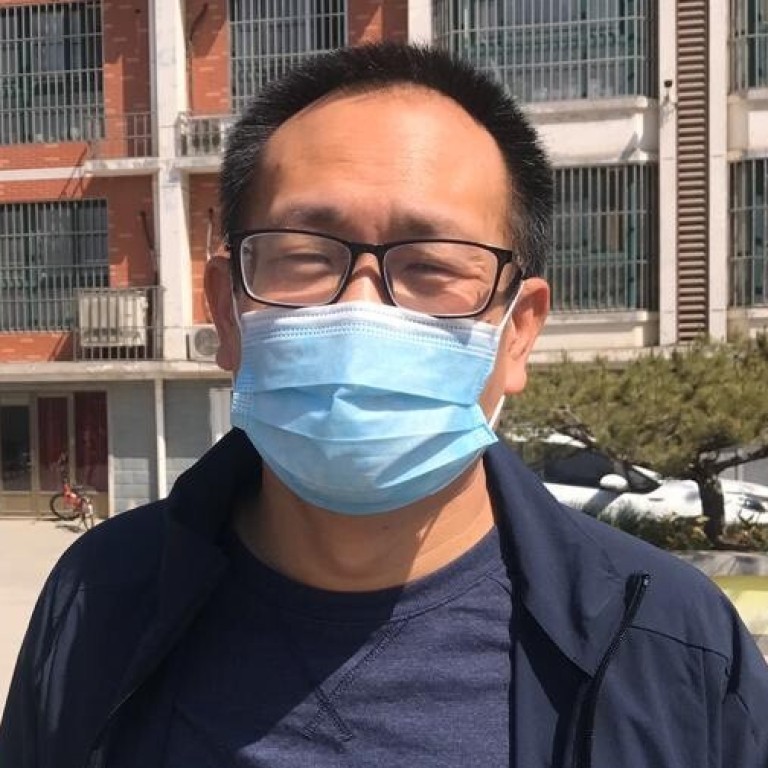 Exclusive

|
I was jailed for refusing to plead guilty, says Chinese human rights lawyer Wang Quanzhang – but he shies away from questions about torture
Arrested in '709' crackdown, Wang says he was interrogated around the clock and held in four detention centres and two other secret locations
Authorities were determined to jail me and the courts broke their own laws, he says
Released human rights lawyer Wang Quanzhang has said he committed no crimes and the 4½-year sentence he served for state subversion was "blatant retaliation" by the authorities because he refused to plead guilty in
Beijing's crackdown on human rights defenders
five years ago.
In an interview with the South China Morning Post on Tuesday, Wang for the first time revealed details of his incarceration and said he realised only now that he was the only lawyer who had refused to plead guilty or strike a compromise with the authorities in the infamous "709" crackdown.
The massive purge was launched by the authorities when nearly 300 human rights lawyers and activists were rounded up, interrogated or persecuted on charges including state subversions and inciting public disturbance. It was known as the 709 crackdown because it started on July 9, 2015.
"I committed no crimes but it was very clear that they were determined to put me in jail," Wang said. "I refused to accept that and I would not compromise on any ground."
He added: "[The persecution of me], it is blatantly clear, is directly related [to the fact that I had refused to plead guilty]."
Describing the first three years of his ordeal, when he was held in detention without trial, Wang said the authorities were unrelenting.
"They just kept pressing and pressing [to convict me] and there was really nothing that I could do," he said.
"I wanted to be freed badly, just like everyone else, especially with those circumstances [under detention]," he said.
Most 709 victims have been freed, and Wang was among the last group of lawyers to be released from jail. Although he was not considered a key target in the 709 crackdown, he received one of the harshest treatments, being held incommunicado for over three years before he was put on trial in December 2018.
According to Wang, the authorities have continued to restrict his movements by
keeping him in his flat in Jinan,
in the eastern Shandong province, since he was released from jail more than two weeks ago, on the grounds of quarantine control because of the coronavirus pandemic.
Wang acknowledged that accepting interview requests now could be risky for him, given that he still faced a host of restrictions imposed by the authorities that he would have to "break through one by one".
In the interview with the
Post
, he was hesitant to talk about the 709 crackdown, citing fear that any discussion of it would bring him trouble. In particular, he declined to say
whether he had been tortured
during his incarceration, saying that "certain people in some departments would be angry" if he made such comments.
"I was held in four detention centres and two other secret locations before I was put on trial," he said. "I was treated differently in those locations and I could not recall the details accurately now of what happened exactly in each location.
"Anything I say now can be used against me. I really can't say too much and I need time to adjust and process things."
Wang gave several examples of how he was interrogated around the clock, even over the most trivial matters.
"In one occasion, I was interrogated for at least half an hour just because [they found] two words – 'add oil' – in one of [my] social media posts," he said.
At 44, Wang said he is suffering from memory and hearing loss, dental problems and high blood pressure.
"I have got high blood pressure because I have become extremely anxious as a result of this terrible experience," he said.
On Monday, the US State Department called on Beijing to allow Wang to rejoin his family after releasing him from "unjust detention", and expressed concerns over his health.
Wang said he was trying to get his life back in order, but vowed that he would continue to fight what he called the "unjust persecution" that has torn his family apart.
"[The court] should go by the law and the facts in its ruling, and it cannot just wantonly convict and sentence a person without any legal justification.
"This is what I want to do now. I need to get to the bottom of why the courts built a subversion case based on what I did. [I want to understand] how the courts have broken their own laws and legal procedures. [I believe] these are the fundamental causes of my circumstances today."
This article appeared in the South China Morning Post print edition as: Lawyer 'jailed for refusing to plead guilty'