Taiwan
Get more with myNEWS
A personalised news feed of stories that matter to you
Learn more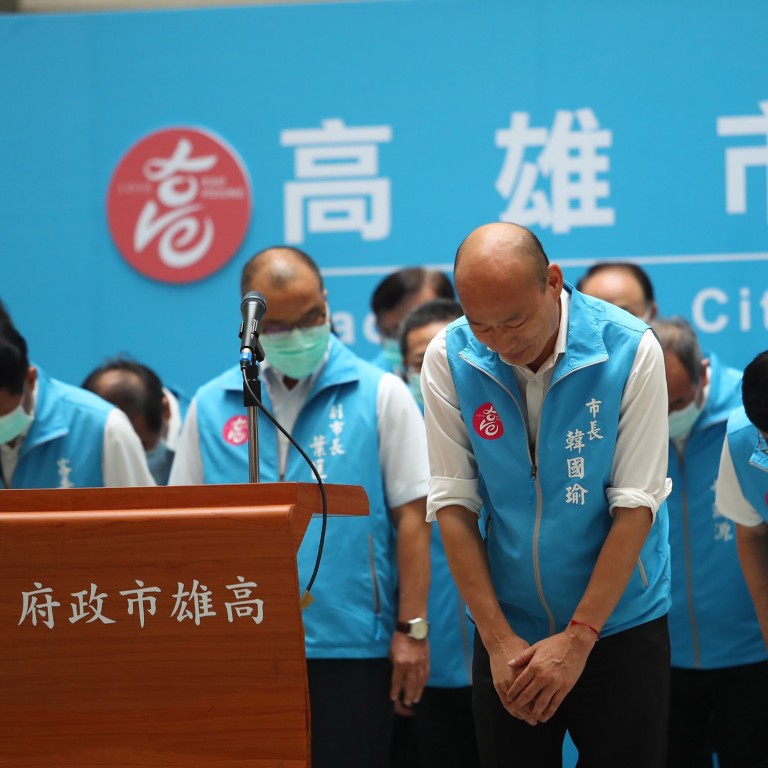 Taiwan opposition candidate Han Kuo-yu removed as mayor of Kaohsiung after heavy defeat in recall election
Defeated presidential contender was elected in a landslide less 18 months ago, but Saturday's vote to remove him was even larger
KMT politician was reportedly Beijing's preferred candidate in January's vote and analysts say scale of backlash shows growing resentment of mainland China's actions
Han Kuo-yu, the opposition candidate in this year's Taiwanese presidential election, has been removed as mayor of the city of Kaohsiung following an unprecedented recall vote on Saturday.
Han, 62, conceded defeat after more than 900,000 eligible voters backed his removal for being"unfit"for office
He was the first Taiwanese official ever to be removed in this way, a result that will have a ripple effect on future elections.
It was also a reflection of the growing resentment on the island towards mainland China after Beijing announced plans for a national security law in Hong Kong last month, analysts said.
Expressing his deep regret and describing the recall motion as "unfair," Han told his supporters outside the city government building that he had faced mounting criticism and mudslinging from the ruling Democratic Progressive Party ever since he took office late in 2018.
"[The] government had mobilised all resources, including buying 90 per cent of the media time to attack me instead of focusing its efforts on administering the country," Han said.
He thanked the 890,000 or so Kaohsiung residents who voted for him as mayor in November 2018 and offered his blessings and hopes for a better future to the city and the public.
According to the Kaohsiung Election Commission, 939,090 voted for his removal with just 25,051 opposing the proposal.
More than 42 per cent of the eligible 2.29 million voters cast their approval for Han to step down – well above the 570,000-threshold required to oust him.
Han, a former legislator for a New Taipei constituency, faced heavy criticism from the public over his failed campaign for president in January against the incumbent Tsai Ing-wen.
Less than eight months into mayoral office, he officially announced his presidential bid after winning the Kuomintang (KMT) presidential primaries in July and even took three months off from the city government in his campaign for the January presidential election – a decision that upset many local residents.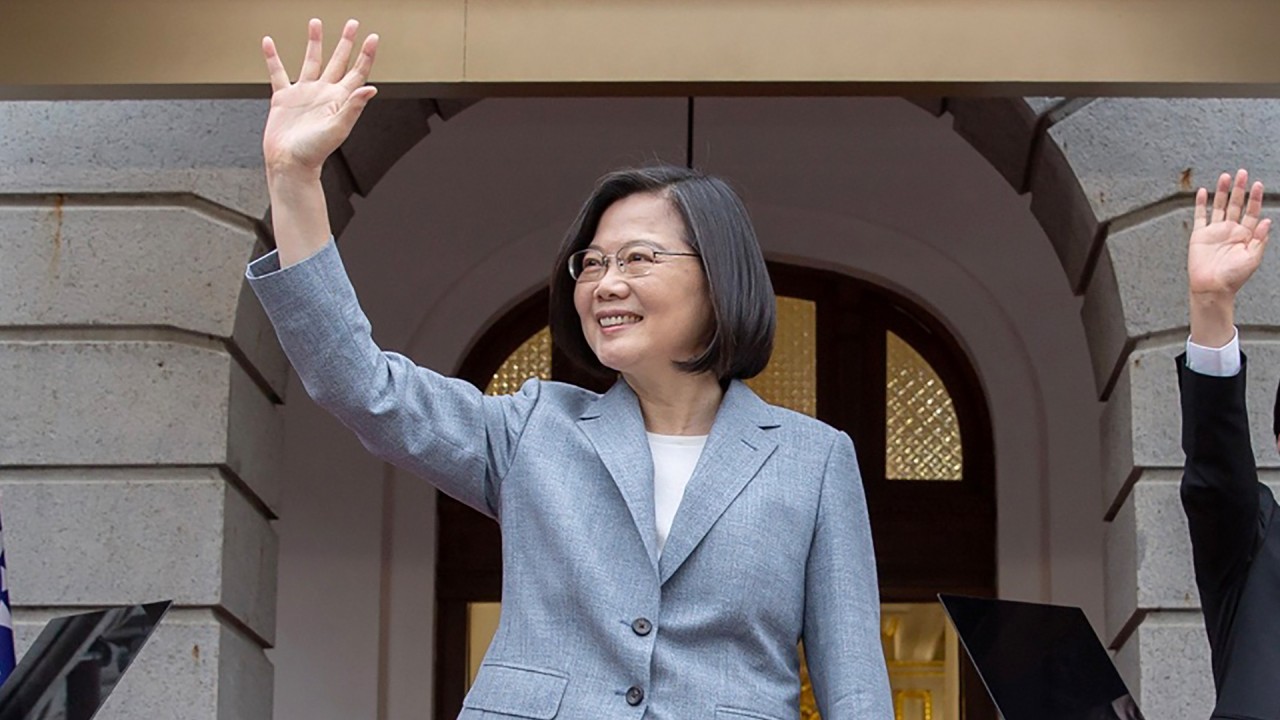 02:11
Tsai Ing-wen inaugurated for second term as Taiwan's president
Tsai Ing-wen inaugurated for second term as Taiwan's president
"He has betrayed the citizens [of Kaohsiung] by failing to keep his campaign promise that he would stay put in the city if elected mayor," said Aaron Yin, founder of WeCare, a pro-independence group that initiated the recall campaign.
Yin also accused Han of failing to live up with his commitment to develop the city and bring prosperity to the Kaohsiung public.
At the height of his popularity in late 2018, Han was elected mayor in Kaohsiung – a pro-independence stronghold – with a landslide victory and helped other candidates from the mainland-friendly KMT to win big in 14 of the 22 cities and counties on the island.
"No one would have expected this result as the number of voters who showed up to vote for Han's removal was actually more than the 890,000 ballots he received in the mayoral poll in late 2018," said Wang Kung-yi, a political-science professor at Chinese Culture University in Taipei.
"Rather than expressing their disapproval of Han, voters actually meant to use their vote to tell Beijing that they increasingly resent the political actions of the mainland in sticking its nose into Hong Kong as well as its persistent military threats and diplomatic pressure against Taiwan," he said.
Han, from the mainland-friendly Kuomintang, was reported to have been Beijing's favoured candidate during the presidential campaign.
Beijing, which considers Taiwan a wayward province that must be returned to the mainland fold, by force if necessary, has tried in vain to get Tsai to accept the one-China principle since she was first elected in 2016.
"A large number of these voters who are from Kaohsiung – a pro-independence stronghold – do not want cross-strait unification nor the one-China principle," Wang said.
"They also reject the one country, two systems formula proposed by Beijing for reunification, and are upset by Beijing's erosion of the [promised] 50 years of autonomy in Hong Kong by introducing the national security law in the city."
On Wednesday, Tsai, who doubles as the DPP's chairman, instructed party officials to mobilise as many voters as possible to make sure that the recall motion succeeded.
Analysts said while the outcome of the recall will further bolster the DPP's grip on power, it will also trigger a new round of infighting in the mainland-friendly KMT and damage its chances in next year's local elections.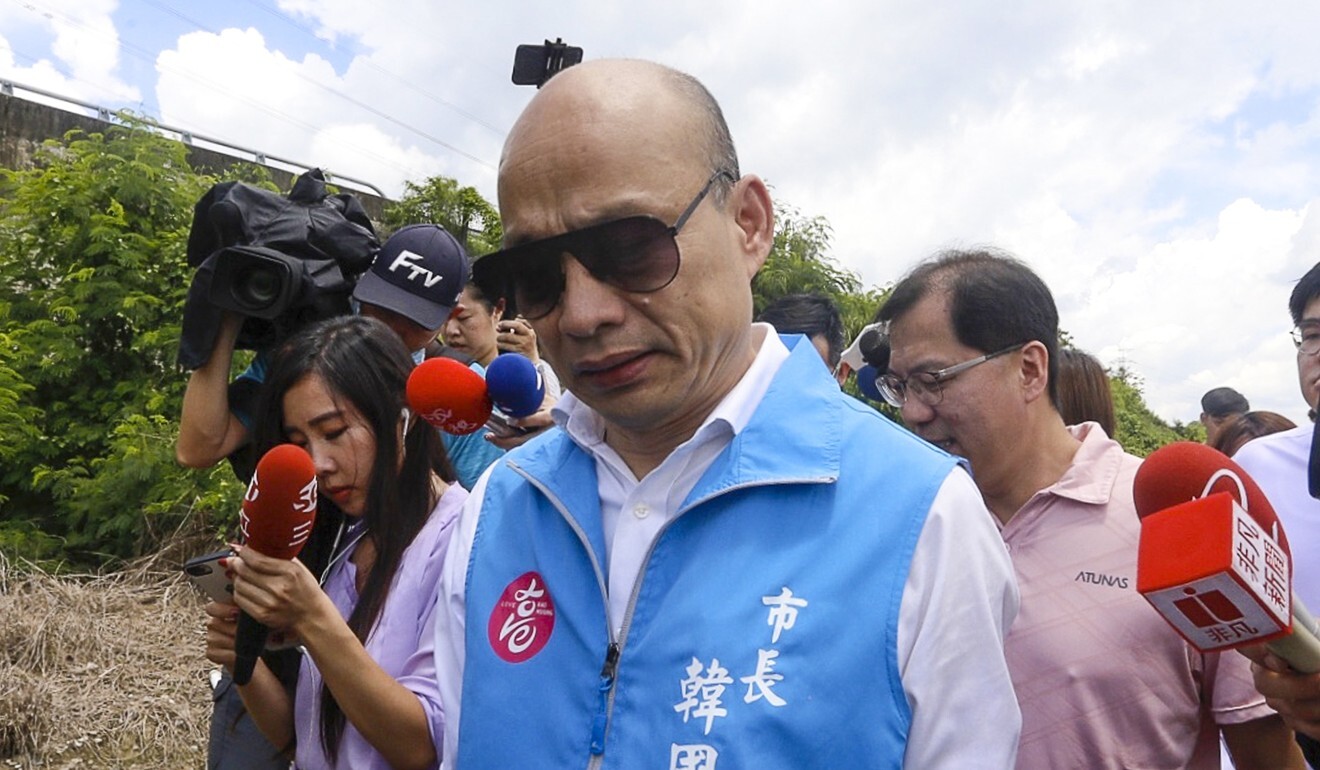 "It will affect the KMT's strategy in the 2020 local government elections and further damage the KMT's chances in the 2024 presidential poll if it suffers a serious setback in the local races," said Arthur Wang Zhin-sheng, secretary general of Asia-Pacific Elite Interchange Association, a Taipei-based political and international relations research organisation.
Wang said that Han's defeat would also threaten the KMT chairman, Johnny Chiang Chi-chen, a younger-generation KMT leader who was elected in the hope he would reform the party.
"The old guard will use the ouster to accuse Chiang of failing to help save Han and might want to challenge him in the KMT chairman election next year," Wang said, adding that Han may seek the post himself.
Han will have to step down as mayor after the election authorities officially announce the result of the recall vote in a week.
The cabinet will then nominate an acting mayor and an election to pick the new mayor will be held in three months' time.
Taiwan's electoral law allows for a recall vote to remove officials to be held if enough voters sign a petition backing the measure.
Han himself saw off a recall vote when he was a member of the legislature two decades ago.
In total 13 recall votes have been held against village heads, legislators and even the former DPP president Chen Shui-bian – but Saturday was the first time one succeeded.
This article appeared in the South China Morning Post print edition as: high-profile Taiwan mayor ousted in blow to opposition