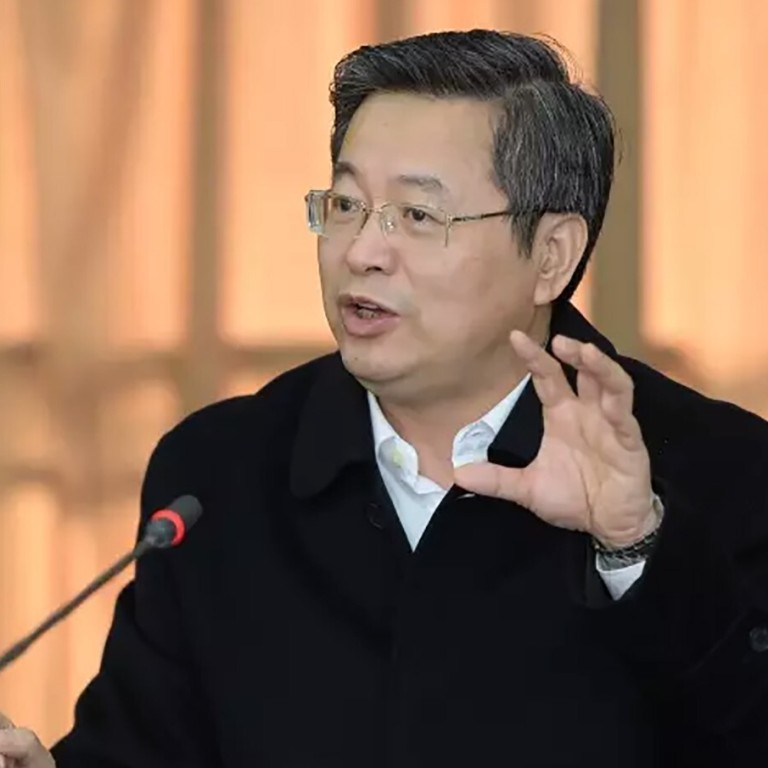 China's top law enforcement body unveils campaign to purge 'corrupt elements'
It aims to 'scrape the poison off the bones of political and legal systems', according to Central Political and Legal Affairs Commission chief
Legal expert says corruption poses existential threat to legitimacy of the Communist Party and it could be a move to strengthen its rule
China's top law enforcement agency has announced a campaign to purge "corrupt elements" from its ranks to create an "ironclad army", according to state media.
It will start with a three-month pilot scheme covering five cities and four counties in Heilongjiang, Jiangsu, Shaanxi, Sichuan and Henan provinces. The campaign will go nationwide next year and will run until the first quarter of 2022.
Chen Yixin, secretary general of the Central Political and Legal Affairs Commission – which oversees police officers, prosecutors, courts and prisons – announced the move at a meeting on Wednesday.
Chen, who will head an office set up to oversee the pilot programme, told the meeting that the campaign aimed to rid the country's justice system of "corrupt elements" and purge "two-faced" officials who only paid lip service to the Communist Party's rules and orders.
Calling it an "urgent and significant" political task, Chen was quoted by state media as saying: "[We] must be daring and explore new ways, take real action and rectification to scrape the poison off the bones of our political and legal systems."
He continued: "We should turn the blade towards ourselves so we can remove the tumour completely, get rid of the black sheep [among us], and ensure that our law enforcement army is absolutely loyal, pure and dependable for the Communist Party and the people."
The campaign comes after a three-year anti-vice crackdown on criminals and triad societies in China, as well as law enforcement officers who colluded with criminals.
According to official reports, some 67,190 law enforcement officers who acted as "protection umbrellas" for criminals were investigated and prosecuted as a result of that crackdown.
A legal expert from Peking University said the latest campaign was meant to "sharpen and strengthen" the "knife's handle" – a euphemism for the party's security apparatus – as the leadership prepared for its twice-a-decade congress in 2022.
"It's clear that the party is preparing itself for potential political threats, as external pressure from the friction with the United States intensifies, and so does domestic pressure as the economy slows," said the legal expert, who requested anonymity.
China's leadership is increasingly relying on its security apparatus to control political risks and maintain social stability amid uncertainties ranging from the coronavirus pandemic to a shrinking economy. On Monday, Chen's deputy Lei Dongsheng was appointed head of a
special working group set up to safeguard political security
.
Wang Jiangyu, director of the Centre for Chinese and Comparative Law at City University of Hong Kong, said the country's law enforcement agencies had been "plagued by rampant corruption and problems such as abuse of power".
"A corrupt and abusive law enforcement system poses an existential threat to the legitimacy of the Communist Party," Wang said. "It is conceivable that the party leaders want to clean up these agencies in order to strengthen the party's rule."