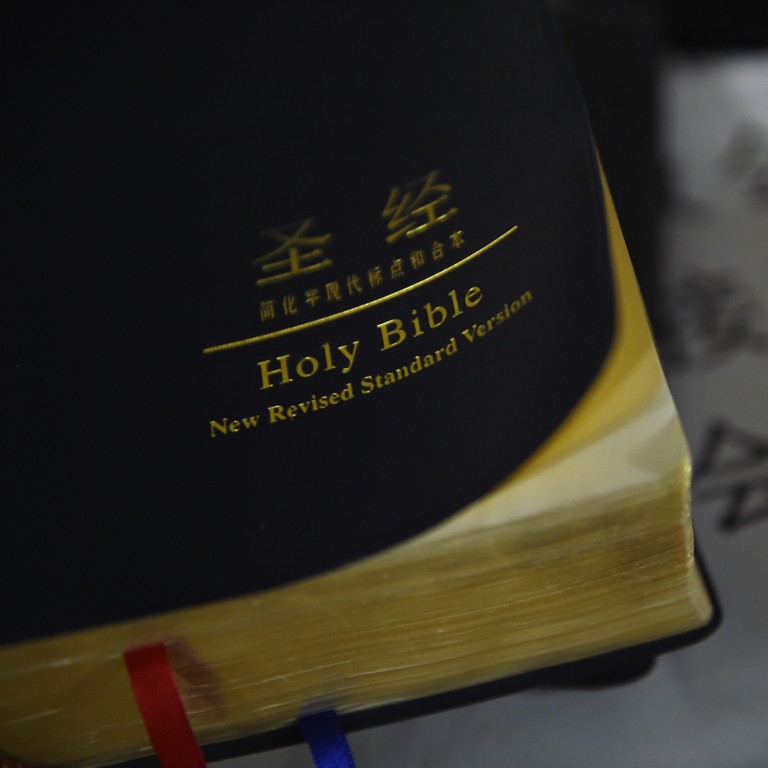 China doubles down against foreign teachers spreading Christianity
New regulations underscore ban against unauthorised promotion of religion in the classroom and require new overseas hires to complete 20 hours of study on the country's political system
Authorities are closing what little space there was to discuss the Bible and faith, observers and insiders say
When the
pandemic
broke out in China earlier this year, an American teacher's contract at a top private international school in the southwestern city of Chongqing was terminated as classes stopped and the country went into lockdown.
But the school where the teacher, "G", had taught for five years also removed more than 200 English books he donated to the library, including Mark Twain's autobiography and works of theologians Dietrich Bonhoeffer and CS Lewis, he said.
G, an evangelical Christian pastor in the United States who did not want to be named, went to China a decade ago to "support" the development of independent Christian churches but the missionary work took a back seat when he switched to full-time teaching around 2015.
In recent years he had been careful not to proselytise and if he was allowed to re-enter China he would have to be even more careful about his religious behaviour, he said.
"But it's going to be completely different. It is going to be strictly by the curriculum and the book, nothing more," he said.
That is because a new set of regulations is expected to come into effect soon, restating that foreign teachers should refrain from proselytising without permission and should steer clear of "evil cult practices", a euphemism for new religions banned by the government.
The strictures are broad – anything deemed threatening China's sovereignty, violating the criminal code or obstructing implementation of education policy could result in teachers having their visas cancelled or denied. Education institutions will have to ensure that foreign teachers hold valid work and residence permits, have a minimum of two years of teaching experience, and have a bachelor's degree and language teaching qualifications.
New foreign hires will also have to complete 20 hours of political indoctrination covering China's development, laws, professional ethics and education policies.
Authorities have also proposed a national social credit system to score foreign teachers on what they do and say – inside and outside the classroom.
The public security department in the southern province of Hainan has gone so far as to offer rewards of up to 100,000 yuan (US$14,600) for tip-offs leading to the arrest of foreigners who "engaged into religious activities without permission". This includes teaching religion, evangelising and networking.
Oversight of foreign teachers is a loosely regulated area that authorities in China have been tightening up on since 2014. Initially the focus was on keeping paedophiles out of schools. Last year authorities also began launching inspections of foreign teachers' work permits. According to government data, there were about 400,000 foreign teachers in China in 2017, of whom only a third had valid work permits.
But the scrutiny also has a political dimension.
In 2015
China introduced a national security law
, covering a wide range of state interests and overseas military actions. The law was to protect the country's political regime, sovereignty, national unification, territorial integrity, people's welfare, and the "sustainable and healthy development" of the economy and society.
At about the same time, the central government also
launched an ideological battle
ordering schools and universities to limit the use of foreign textbooks to prevent infiltration of Western thoughts and values on campus. The ideological campaign has since been stepped up to eliminate foreign religious influences on campuses as part of the nation's plan to
"Sinicise" religion
to place it under the Communist Party's ideological control.
As part of this push, religious teachings must be patriotic and only state-approved clerics can minister. There have also been campaigns to remove religious symbols and restrict the charity operations of religious groups.
In 2018, changes to religious affairs regulations came into effect, prohibiting foreigners from engaging in religious activities without permission. Notices were also on campuses warning foreign teachers not to engage students in faith-based activities.
G, the American teacher, said that about three years ago cameras and microphones were installed in his classrooms and police also began ringing up the school asking if he had done anything "out of line or politically insensitive" on campus.
"I was also being monitored for two years in my [neighbourhood]. By the point they put cameras in my classes, I knew we've entered a new phase of control. From then on, there was no discussion of sensitive issues and you have to be careful of everything that you do," he said.
"Missionary work just shuts down and I keep [my faith] at a very low profile. It's almost impossible and I only share it when being asked but I don't proselytise. It's about respecting the local laws."
Brent Fulton, founder of a US-based Christian research organisation ChinaSource, said that while China has always outlawed foreigners from proselytising, such prohibitions were not always strictly enforced.
"Up until the beginning of the last decade, it was not uncommon for foreign Christian teachers to use the Bible in their classrooms teaching and have Bible studies in their homes or even on campus," Fulton said.
Foreign teachers have been one of the biggest conduits of Christianity into China. When China began reopening to the world in the 1980s, many Western and South Korean Christians went to China as teachers, businesspeople and students, often holding small Bible study sessions.
"But in the last couple of years, we started to see notices posted on campus banning religious activities and some teachers have been asked to leave China as a result," said Fulton, adding that students have also been warned to watch out for foreign teachers spreading religion.
"So that really makes teaching the Bible or just any normal acts of sharing personal faith and beliefs [on campus] quite difficult. I think for foreign teachers, they are kind of back to where they were in the '80s where people had to be much more careful."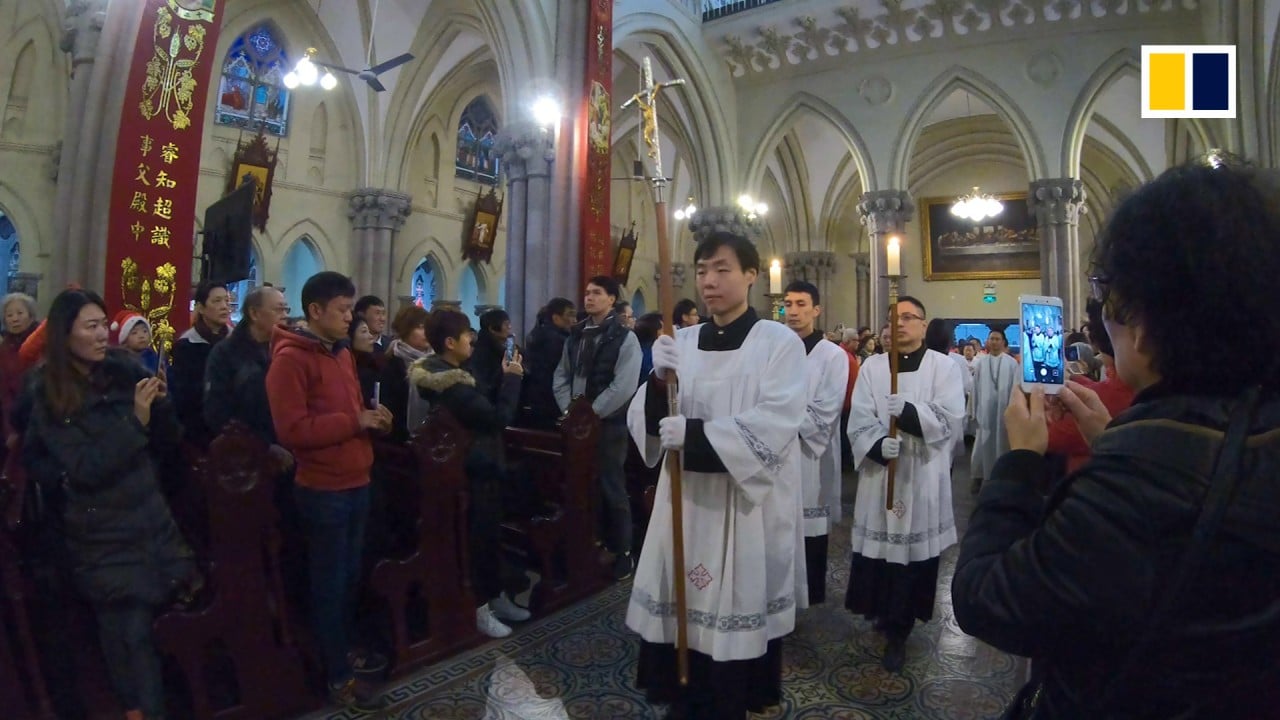 01:21
Catholics in China celebrate Christmas in officially sanctioned churches
Catholics in China celebrate Christmas in officially sanctioned churches
Jacquline Gao, a cross-cultural consultant who has trained and counselled missionaries in China, said that in the past 18 to 24 months, she had seen a flight of foreign missionaries from the country.
Gao said this could be the result of a number of factors, from tougher restrictions on foreign teachers, to a more difficult business environment and family and personal reasons.
"Many foreign missionaries were not able to return to China because of Covid-19 … I guess at least 300 to 500 people are not in China this year who otherwise would have been if it were not for the tightened regulations and the pandemic," Gao said.
"I don't think anyone has a real number of how many [foreign missionaries] are still [left] in China. I would not even dare to guess."
Even to the small number of missionaries that still remained in China, their operations are hardly active.
"They were more careful in the way they interacted with local people. Some teachers were told they were not allowed to have students over to their home and be extra careful when they spend time organising events involving kids. In some cases, the summer English camps they normally could organise were no longer possible," Gao said.
But she said the declining participation of Western missionaries would see local Chinese playing a more active role in promoting Christianity.
Even before he left China this year, the only time G could safely touch on anything remotely Christian was during Christmas and Easter where he could explain the cultural context of the holidays.
"But some students would come and ask why am I different from other teachers. That's when I get to tell them I am a Christian and why I am a Christian. It opened the door for me to share more about my faith but I can't do any proselytising," he said.
"Bible studies never happened with students. It only happened occasionally with adults in private."
G said he still wanted to return to China after completing his doctorate in education.
"I enjoy China. And I enjoy teaching. So even though things are getting tougher and more scrutinised, I think with my influence and my background in education still provides me the doorway to go back into it," he said.
This article appeared in the South China Morning Post print edition as: Tighter rules over spreading of Christianity