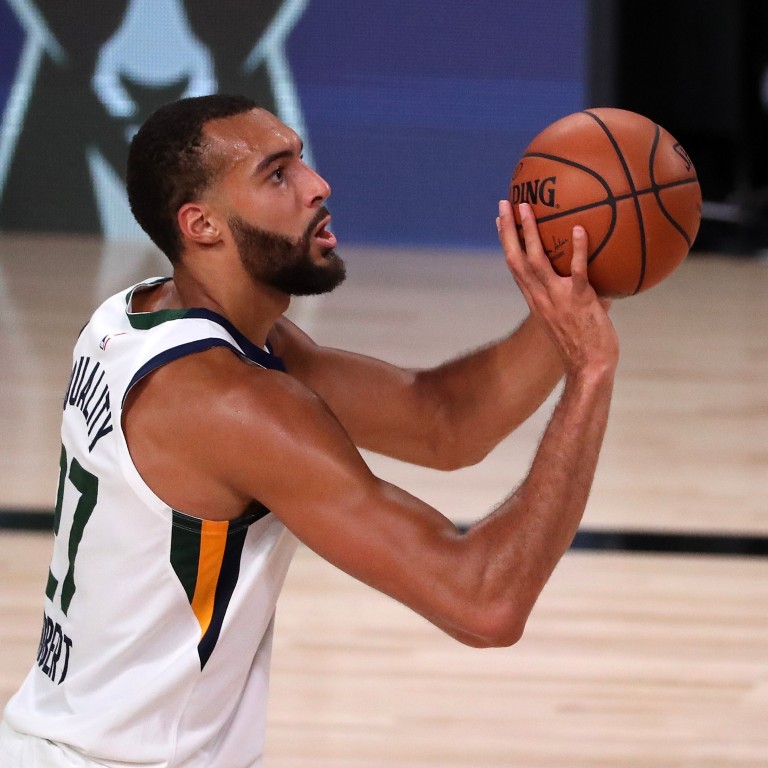 NBA player Rudy Gobert shows support for Uygurs in Xinjiang
Utah Jazz centre shares post by actor and human rights activist Omar Sy on Instagram
Frenchman praised by World Uygur Congress for being 'the first NBA player to publicly address [the] Uygur crisis'
The 28-year-old Frenchman shared a post by the actor and human rights activist Omar Sy on Instagram.
Gobert's post included the caption: "wrong is wrong" and had a light blue background, similar to the flag of East Turkestan, the name many Uygurs give to
Xinjiang
.
Reports estimate there are anywhere between several hundreds of thousands and 1.5 million Uygurs detained in re-education centres in the region.
"Rudy Gobert is the first NBA player to publicly address [the] Uygur crisis. We thank him for his courage & empathy," read a post on the official Twitter account of the World Uygur Congress, an international organisation of exiled Uygur groups that campaign for Uygur rights and call for Xinjiang's secession from China.
Gobert's post coincided with China's National Day, which commemorates the Communist Party's founding of the People's Republic of China in 1949. Dissenters frequently use the date to protest against China's human rights abuses.
The World Uygur Congress on Thursday organised protests in the United States and Europe, and launched a social media awareness campaign.
Hong Kong also saw hundreds of people take to the streets to chant slogans such as "Liberate Hong Kong" and "Hong Kong Independence, the only way out."
Although Beijing has not responded to Gobert's post, his comments could sour relations between the NBA and its Chinese fan base.
Almost exactly a year ago, Houston Rockets general manager Daryl Morey tweeted in support of the
Hong Kong protest movement
. The tweet went viral and rocked the NBA's decades-long partnership with China, its most important overseas market.
China's state broadcaster CCTV and Tencent's online streaming service banned a raft of games, most of them including the Houston Rockets. Reports estimated Moryl's tweet cost the
NBA
up to US$200 million.
The controversy also kick-started a debate in the US about whether the NBA should be more outspoken about alleged human rights abuses in China.
NBA superstar LeBron James was one of many that criticised Morey for his tweet, despite being an advocate for racial justice in the US.
Some of China's best known basketball players are Xinjiang Uygurs, including 24-year-old Abudushalamu Abudurexiti who plays for the Xinjiang Flying Tigers and was the first Uygur to play in the NBA Summer League in 2018.
This article appeared in the South China Morning Post print edition as: Gobert shows support for Uygurs