Taiwan
Get more with myNEWS
A personalised news feed of stories that matter to you
Learn more
Taiwan accuses Beijing of 'malicious sensationalism' after state TV broadcast of 'spy's confession'
Island's Mainland Affairs Council says Beijing is manufacturing crimes and entrapping people after airing footage of espionage suspect Lee Meng-chu
Lee was detained in Shenzhen last year and is accused of supporting Taiwanese independence and the Hong Kong protest movement
Taiwan has accused Beijing of "malicious political sensationalism" after airing the supposed confession of a man accused of spying.
Taiwan's Mainland Affairs Council said late on Sunday that the
Chinese Communist Party
had engaged in "deliberate manipulation" in
the case of Lee Meng-chu
, who was detained in what was described as a broader crackdown on Taiwanese spies.
It also accused the mainland authorities of damaging cross-strait relations and interfering in Taiwan's democracy. "The [council] formally issues a warning to the CCP to stop its actions to entrap and manufacture crimes, and frame Taiwanese people without reason," it said.
"The CCP had the relevant person in this case confess to crimes and express repentance on its official media, which completely does not fit with normal legal procedure."
The statement followed Lee's appearance on mainland state broadcaster CCTV's programme
Focus Talk
on Sunday, one day after
Taiwanese President Tsai Ing-wen
called for "meaningful dialogue" with mainland China during celebrations to mark the anniversary of the foundation of the Republic of China.
Beijing condemned Tsai's remarks on the peaceful coexistence of Taiwan and mainland China as advocacy for Taiwanese independence – a political red line for Beijing, which regards the island as part of its territory.
Lee was shown on CCTV in prisonwear apologising for endangering Chinese national security with activities relating to Taiwanese independence and support for protests in Hong Kong.
The Taiwanese man, a volunteer activity organiser with the Fangliao township in southern Taiwan, had been detained in August last year after crossing into Shenzhen from Hong Kong.
According to the programme, Lee was found with footage of military drills in Shenzhen and posters supporting the Hong Kong protest movement.
Chen Ya-lin, head of the Fangliao township, told the island's Central News Agency that Lee had shared photos of paramilitary troops gathering on Hong Kong's border with mainland China with him and Lee's brother before his detention.
In a series of Facebook posts late on Sunday and early on Monday, Chen called for Lee to be released as soon as possible, and accused Beijing of seeking to divert attention from issues such as the coronavirus pandemic by claiming there was a Taiwanese spy campaign.
"From framing people of crimes to scare Taiwan, to frequently circling People's Liberation Army planes above the Taiwan Strait's median line, the CCP's big moves all show that the regime is in imminent danger," he wrote.
"Their actions are intended for the Taiwanese people to see, but more importantly for the people in China to see, to distract from the domestic dissatisfaction that is currently fermenting."
Chinese state media reported that the mainland had launched a "Thunder 2020" operation to root out hundreds of alleged Taiwanese spies, for activities that included support for anti-government protesters in Hong Kong seeking democratic freedoms and greater autonomy for the city from Beijing. China has previously condemned Taiwan for lending its support to protests in Hong Kong.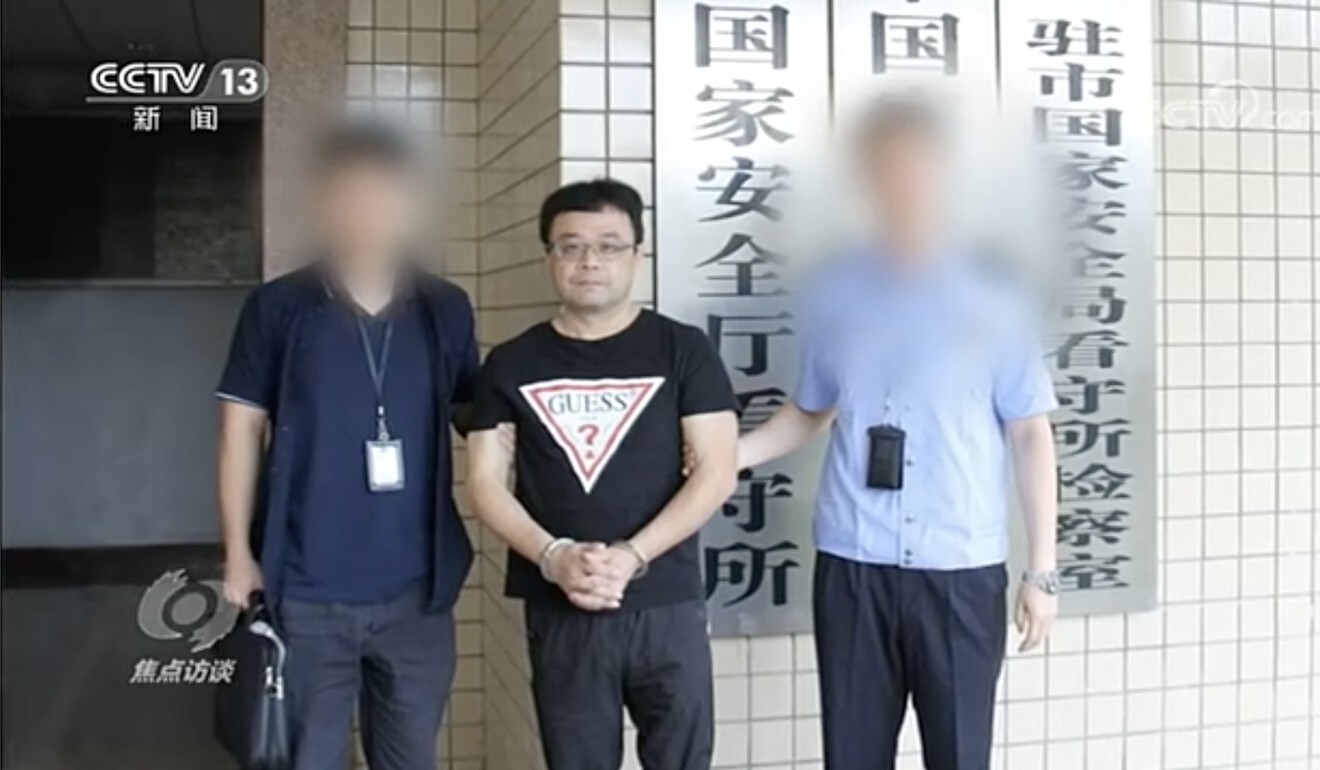 An unnamed Guangdong national security officer claimed on the Focus Talk programme that Lee and Chen were participating in activities in Hong Kong "not out of genuine concern for Hong Kong people's safety and Hong Kong's freedom or democracy".
She continued: "In actuality, they want to use their participation in these activities in Hong Kong to gain attention and fame in Taiwan, and gain political capital.
"In their eyes, democracy is a business and freedom can be bought and sold."
On Saturday the PLA carried out a mock invasion drill off the coast of Fujian and Guangdong provinces in what was seen in Taiwan as more provocations from Beijing to back its threats to bring the island under its rule, by force if necessary.
In recent weeks, Taiwan has reported frequent incursions by PLA aircraft across the median line of the Taiwan Strait, seen as an unofficial airspace boundary between Taiwan and mainland China.
This article appeared in the South China Morning Post print edition as: Taiwan slams CCTV for showing 'confession'