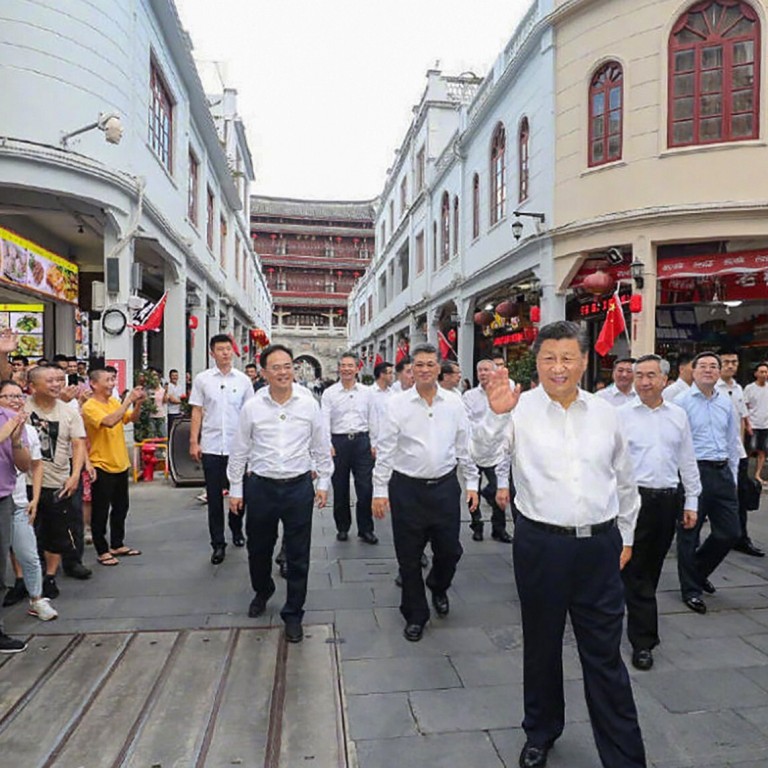 Chinese President Xi Jinping starts southern tour with call to have confidence in future
Xi starts Guangdong trip with appearance in Chaozhou ahead of visit to Shenzhen to mark 40th anniversary of special economic zone
Hong Kong leader Carrie Lam confirms she will attend Wednesday's ceremony, cancelling planned policy address
Chinese President
Xi Jinping
began his tour of the southern province of Guangdong on Monday by urging people to "seize the opportunity".
Posts shared by Chinese netizens online showed Xi in the coastal city of Chaozhou, flanked by his entourage and local officials, telling the locals that they should have confidence in the future.
"When we celebrate the 100th anniversary of the founding of the People's Republic [in 2049], we will have built China into a much stronger and more beautiful country," Xi said in one clip.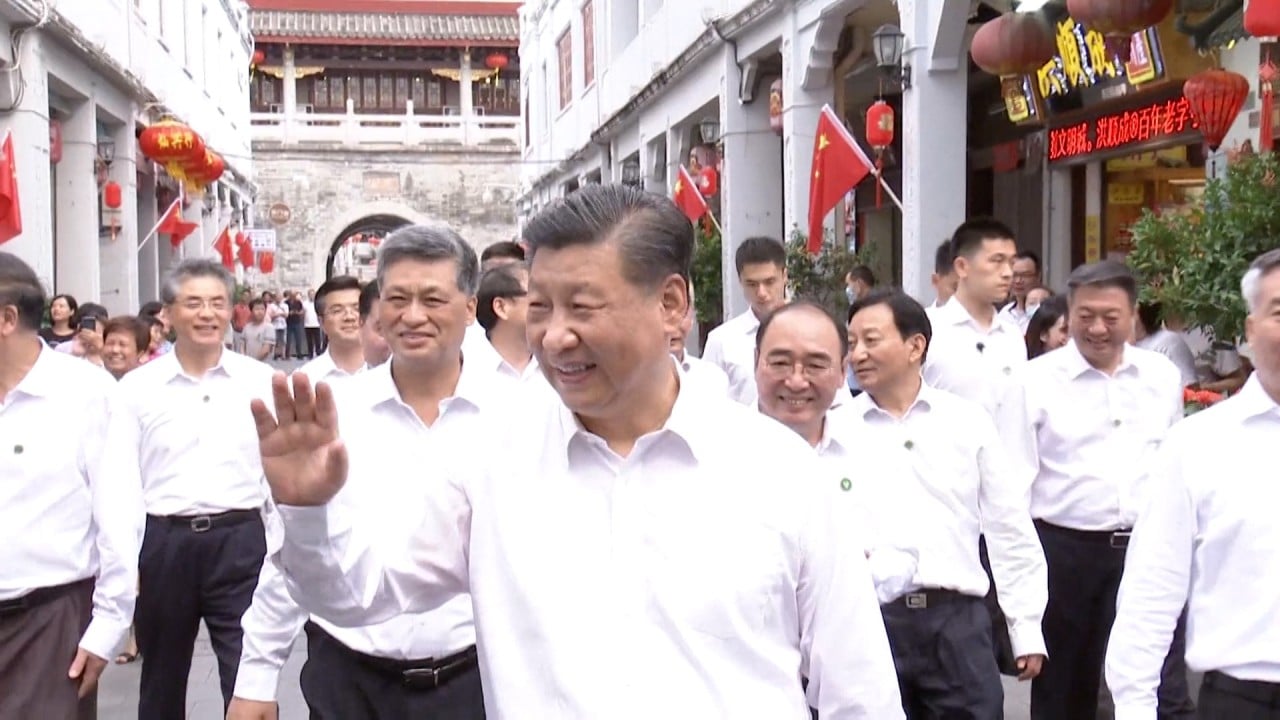 01:38
Xi starts tour of southern China to mark 40th anniversary of Shenzhen special economic zone
Xi starts tour of southern China to mark 40th anniversary of Shenzhen special economic zone
Even before his arrival in Shenzhen, news of the president touring Guangdong saw significant gains on stock markets in mainland China and Hong Kong as investors anticipated positive news from his visit.
The visit comes just weeks ahead of a crucial Communist Party meeting in Beijing.
The Covid-19 pandemic has largely been brought under control in mainland China and footage from a walkabout in Chaozhou showed Xi and the locals greeting him were largely maskless.
According to China's CCTV news, Xi also inspected several cultural heritage sites in Chaozhou during his brief visit.
An official source said Xi also visited Shantou on Monday and was expected to arrive in Shenzhen on Tuesday, where he will meet the leaders of key cities in the Greater Bay Area.
But tropical storm Nangka, which is intensifying and moving closer to China's southern coast, might cause some changes to the outdoor events in Xi's itinerary, the source added.
Xi is still expected to inspect Qianhai, a free-trade zone promoting cooperation between Hong Kong and the mainland, which he also visited in 2012 and 2018 respectively.
Security has been tightened for the visit, with plainclothes and uniformed police officers stationed on key routes in Qianhai and a ban on drone use in Shenzhen that will be in force until Saturday.
The decision to start the tour in Chaozhou, which is on the "extended eastern wing of the Greater Bay Area", showed that Xi wanted to expand the develop opportunities offered by the scheme, Xie Maosong, a political scientist at the University of the Chinese Academy of Sciences, said.
"The message is clear ... Xi wants to see how the Greater Bay Area plan can help the Shantou-Chaozhou area on its east wing and Zhanjiang on its west wing to grow as these are the poorest areas in China's most developed province," Xie said.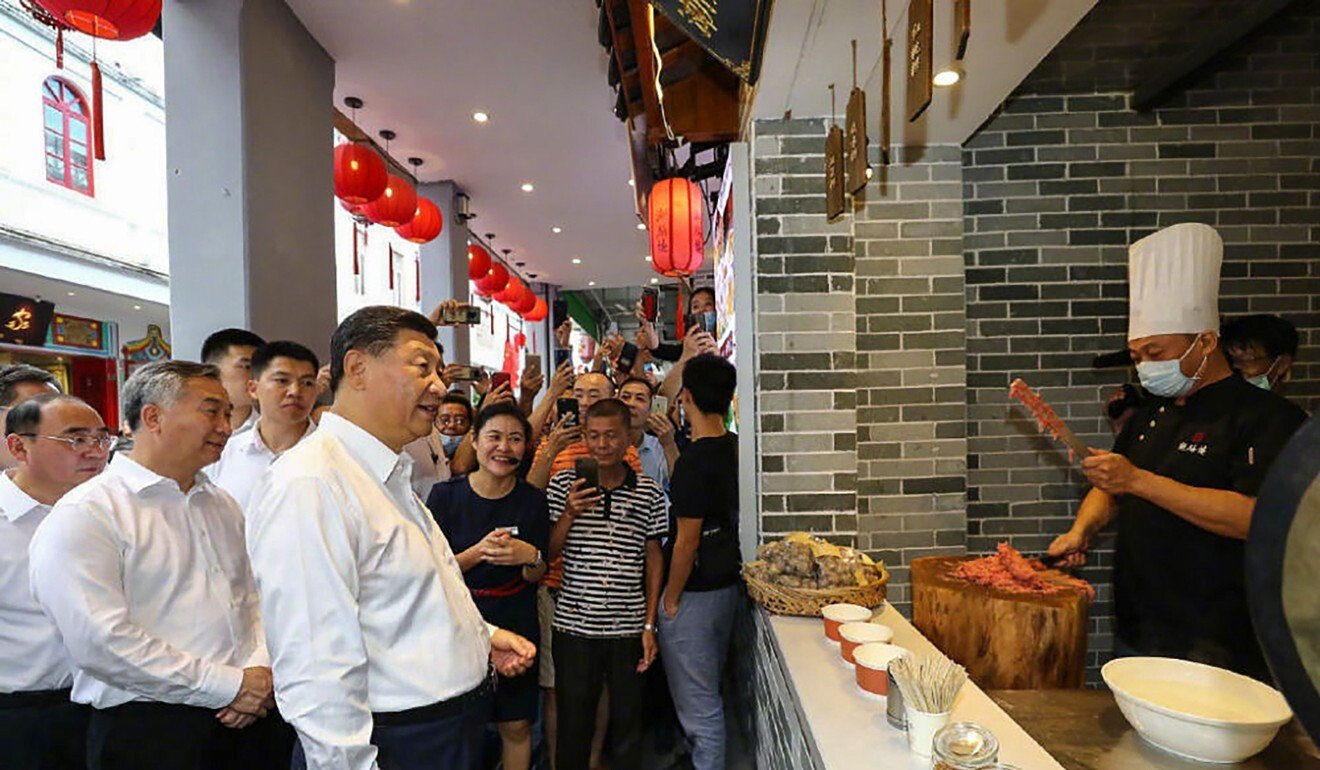 Alfred Wu, an associate professor at the Lee Kuan Yew School of Public Policy at the National University of Singapore, drew parallels with the 1992 southern tour carried out by Deng Xiaoping, the architect of China's opening up.
Wu said that in comparison to Deng's plans, Xi might "pay greater attention to how to better integrate" the bay area.
He also said there was a "similar external environment" in 1992, a pivotal moment in China's reforms, when the country struggled under economic sanctions imposed by Western countries following the 1989 Tiananmen Square crackdown.
But Wu said China might have less room to manoeuvre because unlike the 1990s when the West was focused on the post-communist era in Eastern Europe, "now China is getting all the attention".
Hu Xingdou, an independent political economist in Beijing, said that Xi's visit came at a time when China was in difficulty and Shenzhen was hoping to become the "2.0 version of China's reform and opening up experimental zones" and a "showcase for the successful rule of Chinese Communist Party".
He said he hoped Xi could "talk about kick-starting long-delayed political reform, opposing populism, and improving China's international image which is partly contaminated by the Wolf Warriors" – a reference to the aggressively nationalist approach adopted by some diplomats.
But Liu Shengjun, head of the China Financial Reform Institute, a Shanghai-based research firm, said that Xi was likely to emphasise the importance of technology and innovation" during his Guangdong visit, and explain the new "dual circulation strategy" of reducing dependence on overseas markets.
But he predicted that while Deng explained "how China will emancipate minds and take bolder steps in reforms ... I don't think that will happen this time".
Additional reporting by Jane Cai
This article appeared in the South China Morning Post print edition as: Xi urges locals to 'seize the opportunity'