LIVE
As it happened: Biden leads Trump but US election 2020 race remains too close to call
Democratic challenger Joe Biden leads US President Donald Trump in the popular vote by 3.5 million 
But the presidency will be decided by the Electoral College, the results of which now depend on the four key states
Topic |  
US Presidential Election 2020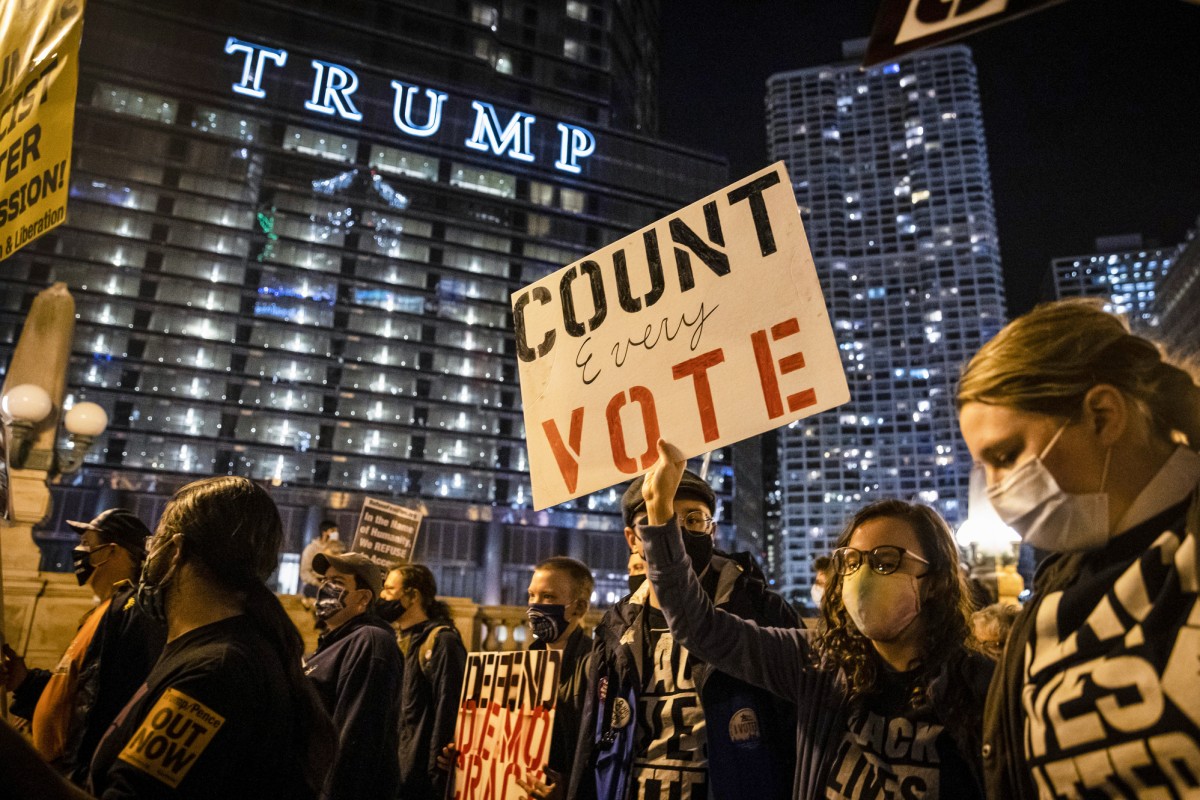 Protesters march in Chicago to demand that every vote be counted. Photo: AP
INTRODUCTION
All times are Eastern Time (UTC-5, HKT-13). Infographic above uses AP for its statistics; live blog pulls data from multiple sources.
It remains to be seen whether Joe Biden can triumph over Donald Trump to become US president, but the Democratic challenger is well ahead of Trump in the popular vote - to the tune of 3.5 million votes. 
At present, Biden has 71.6 million votes and Trump 68.5 million, and if that holds it will be the seventh time in eight elections that a Democrat has won the popular vote. However, the presidency is decided not by the total number of individual votes, but by the Electoral College, in which each state has a set number of votes to award to a candidate - a breakdown of which can be seen above.
Votes are still being counted in Pennsylvania, Arizona, Georgia and Nevada. If Biden wins Pennsylvania and any two of the other three  he will take the presidency, but the races are still too close to call. 
Protests have erupted in a number of states for and against each candidate. The demonstrations turned violent in Portland, Oregon. Governor Kate Brown activated the state's National Guard after some protesters smashed windows in the city's downtown area. 
This is the second full day of the South China Morning Post's live updates from the US presidential race. Read our continuing election coverage here.
As part of SCMP's commitment to providing our readers with expert coverage of the US election, this live blog is free to all. Please support us on our mission to bring you quality journalism.