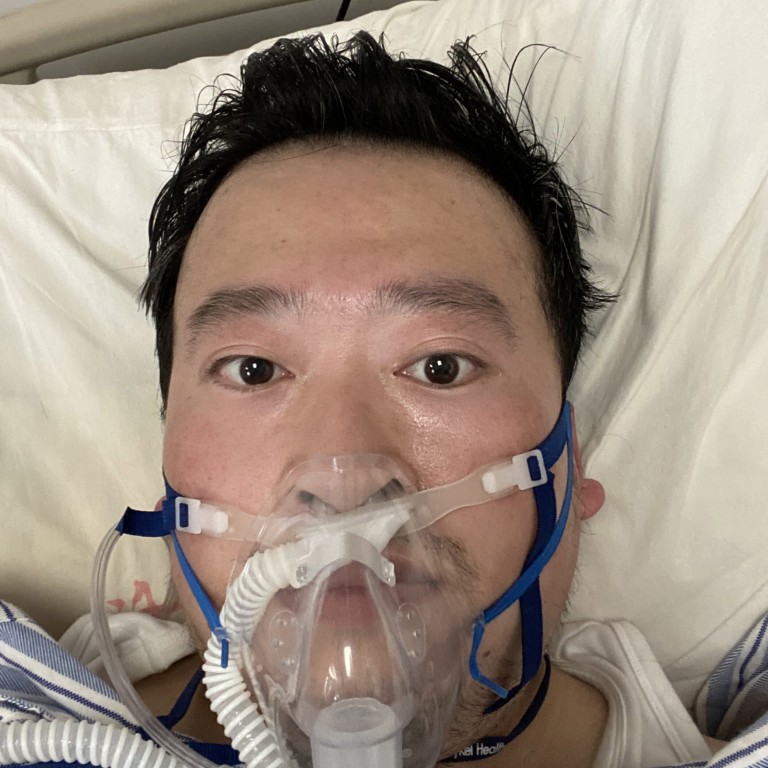 Coronavirus: tributes pour in for Li Wenliang, the Chinese doctor who first warned of a deadly disease
'I hope in the future there will be fewer dead heroes, and more normal, great, everyday people,' social media user says
'Our attention then was still on saving the sufferers, we didn't expect that someone as young as him wouldn't be able to survive,' Wuhan doctor Ai Fen says
On December 30, 2019,
Dr Li Wenliang
was worried. His colleagues had come down with an unidentified but serious illness. Li, an eye doctor at Wuhan Central Hospital, wanted to warn his friends. He never imagined the cautionary message he sent his medical colleagues would sound the alarm for the onset of a
global pandemic
.
"The Huanan Fruit and Seafood Wholesale Market has diagnosed seven cases of Sars," he wrote on social media, referring to severe acute respiratory syndrome, a form of pneumonia caused by a coronavirus, which struck the Chinese in late 2002 and Hong Kong in 2003.
"Please everyone take care," he said.
Li never intended for his message to be circulated beyond the 150-person group chat he sent it to. But when his concerned colleagues shared the message online, it became one of the first clues to the outside word of the deadly pandemic raging in Wuhan, and an omen of the year to come.
Soon after, Li was summoned by his superiors for explanation and a dressing down, made to sign a confession of wrongdoing by the police and, eventually, succumbed to the very illness he warned his colleagues to guard against. A year on, his memory is tied to the grief of the Wuhan outbreak and anger against a system that punished a conscientious doctor.
"I hope in the future there will be
fewer dead heroes
, and more normal, great, everyday people," said one of thousands of people who commented on Wednesday on Li's account on Weibo, China's equivalent of Twitter, which has become a rallying point for people's reflections on the year of the pandemic.
In Wuhan, where Li worked, Covid-19 claimed nearly 4,000 lives, according to official figures. Some believe the number is much higher.
Wuhan has not reported a Covid-19 case in months and life has largely returned to normal. State media is now portraying the central Chinese city as a model of the country's efforts to combat the virus.
But many of those efforts gloss over the sense of loss and sadness felt by some residents. In March, the city's Communist Party chief, Wang Zhonglin, sparked an uproar for suggesting people owed thanks to Chinese President Xi Jinping and the party for their handling of the outbreak.
"The government should put an end to its arrogance and humbly express gratitude to its master – millions of people in Wuhan," wrote Fang Fang, a Wuhan-based writer, in a widely circulated article at the time.
With China's Covid-19 situation largely under control, people have flocked to Li's Weibo account to give thanks.
"Last year was my final year in Wuhan, on the morning of New Year's Eve I saw your warning on Weibo so I stayed in and avoided public places all day and then returned home safely during the winter break," one person said.
Others expressed sadness at Li's death or admiration for the people of Wuhan.
Ai Fen, a Wuhan doctor who passed the report about the mysterious pneumonia that Li later shared with his colleagues, said in an interview published on WeChat on Wednesday that she wished she had had a chance to see Li before he died.
"Our attention then was still on saving the sufferers, we really didn't expect that someone as young as him wouldn't be able to survive. I really should have gone to see him, to console and comfort him," she said.
Li's death in February became an outlet for public anger at what they saw as a government stumbling over its mistakes. Hashtags "The Wuhan government owes Li Wenliang an apology" and "I want freedom of speech" circulated on Weibo, but were quickly deleted.
Many people have referred to Li as a whistle-blower, but he rejected the term.
Just over a month after he messaged his colleagues with the news of the outbreak, he found himself in hospital struggling to breathe.
"At that time, I still stressed that I didn't want it [the warning] to circulate outside," he told Caixin magazine from his hospital bed. "But I was afraid there could be an outbreak and the pandemic could spread.
"I didn't want any trouble with the security bureau. I really feared trouble. [But] it was more important that everyone knew the truth."
Since the start of the pandemic, more than 80 million people have been infected with the coronavirus and almost 2 million have died from Covid-19.
Nonetheless, the story of a conscientious doctor being struck down by an illness he tried to warn of raised questions about China's treatment of its pandemic whistle-blowers. But freedom of information has not been forthcoming.
While Li Lanjuan and Zhong Nanshan, who coordinated China's lockdowns, have been honoured for their work, others who sought to draw attention to the severity of the outbreak have been punished.
Information pertaining to the virus in China remains strictly controlled, and as recently as June, discussions of Li's memory on Weibo were censored when some people also used the occasion to commemorate the 1989 Tiananmen crackdown.
Last week, The New York Times reported central government efforts to censor coverage of the pandemic, particularly of Li's death, citing leaked government documents.
According to the report, censors were instructed to pay particular attention to social posts about Li that contained pictures of flowers or candles, for fear that they would lead to a "butterfly effect" of anger targeting the government.