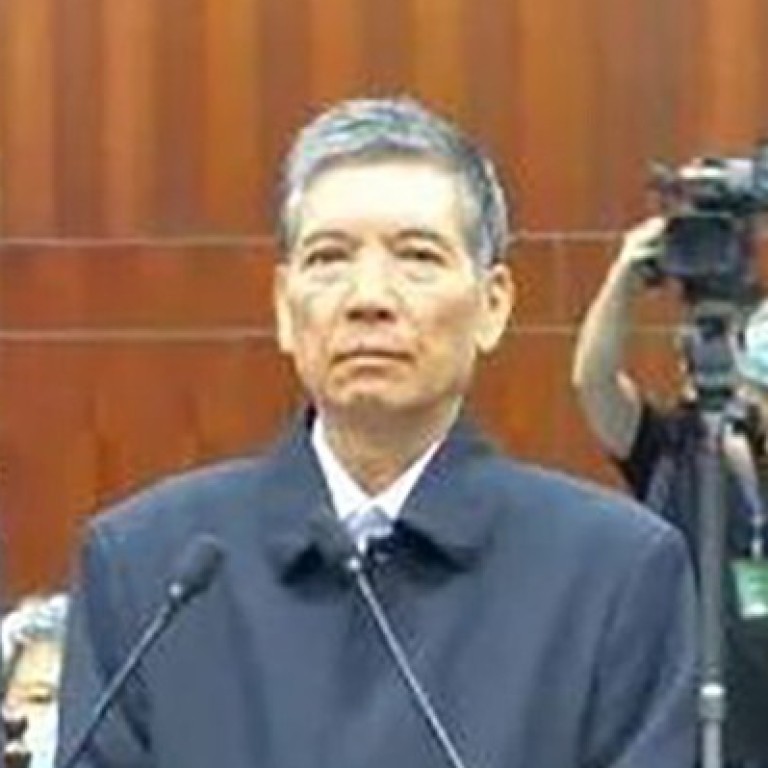 Chinese court jails former Yunnan Communist Party boss Qin Guangrong for seven years for bribery
Court says disgraced former official was given a reduced sentence for turning himself in and returning the money he took
Qin's relatively lenient sentence contrasts with that of former asset management boss Lai Xiaomin, who was sentenced to death earlier this month
Qin Guangrong, the former Communist Party boss of Yunnan province, has been jailed for seven years for bribery.
Qin, 70, said he would not appeal after Chengdu Intermediate People's Court imposed the jail sentence and a 1.5 million yuan fine (US$231,000) on Tuesday, according to state broadcaster CCTV.
He was found guilty of accepting bribes worth 23.9 million yuan (US$3.7 million) between 2000 and 2018 when he held various leadership positions in the southwestern province, it said.
The court ruled that Qin was guilty of accepting "exceptionally large" sums of money, which made him liable to a heavy sentence under Chinese law. But it said he was granted a reduced sentence
for turning himself in
, surrendering the bribes he received, pleading guilty and showing repentance.
Chinese financial news outlet Caixin reported in 2019 that Qin gave himself up after his son Qin Ling, the former head of a Huarong subsidiary, was placed under investigation following the fall of Lai the previous year.
Hao Yachao, a partner at Beijing W&H Law Firm which specialises in criminal cases, said China's legal system encouraged people to turn themselves in by offering a reduced sentence if they did so.
"Based on the people's courts sentencing guidance, the authorities may reduce the sentence by two-fifths if the defendants surrender," Hao said. "Qin has also expressed remorse by returning the bribes he took and that also warranted a further reduction in his sentence.
"If we take all these factors into account, Qin would have received at least a 23-year jail term if he did not surrender himself or voluntarily give up the bribes.
"For Lai, the key difference was that he did not surrender himself to the authorities and so his grounds for mitigation were not strong enough to get him out of the death sentence given that he has taken such a huge amount of bribes."