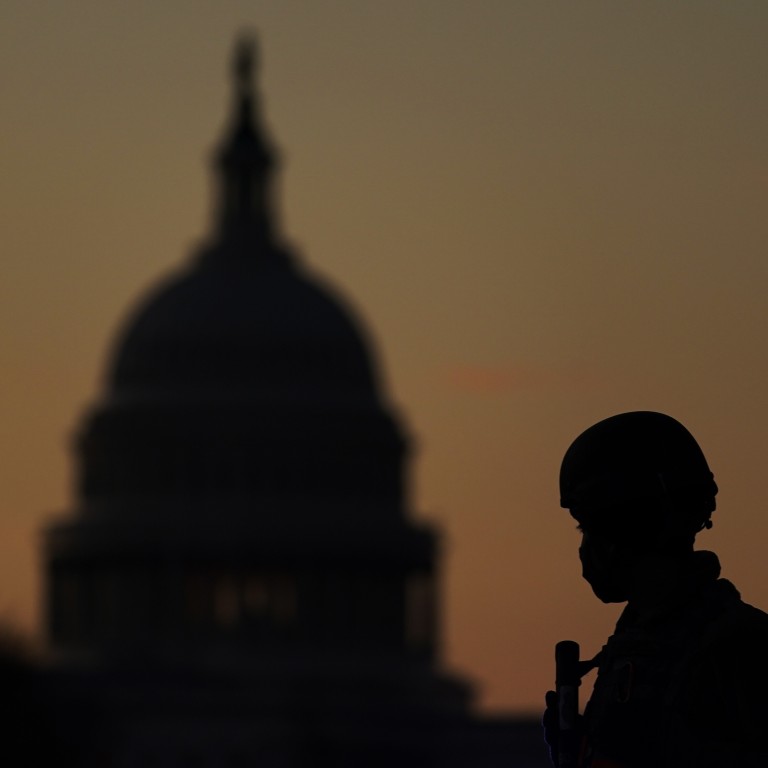 China reckons US democracy is imploding but could be missing the point
Academics argue Beijing's view that the democratic system is failing is based on a fundamental misunderstanding
Checks and balances were tested by the Trump administration but they held, and that could be sign of the system's strength, they say
China's
wolf warrior diplomats
and its state-run media have described the storming of Washington's Capitol building on January 6 as
a failure of US democracy
. But an alternative view is that it may instead be a sign of the democratic system's strength.
Academics say the flaws in US politics are there for all to see, but the China narrative often reflects misunderstandings about how a democratic system works. And, while American democracy may have taken some body blows under outgoing president Donald Trump, they argue it is not out for the count.
Trump's opponents say the attacks in Washington were the culmination of his attempts to undermine the US system of elections and a governance built on constraining power. But, while parts of the system buckled – as he took advantage of decades of increasingly powerful presidents and Congressional willingness to cede responsibility – the judiciary and other parts of the structure held.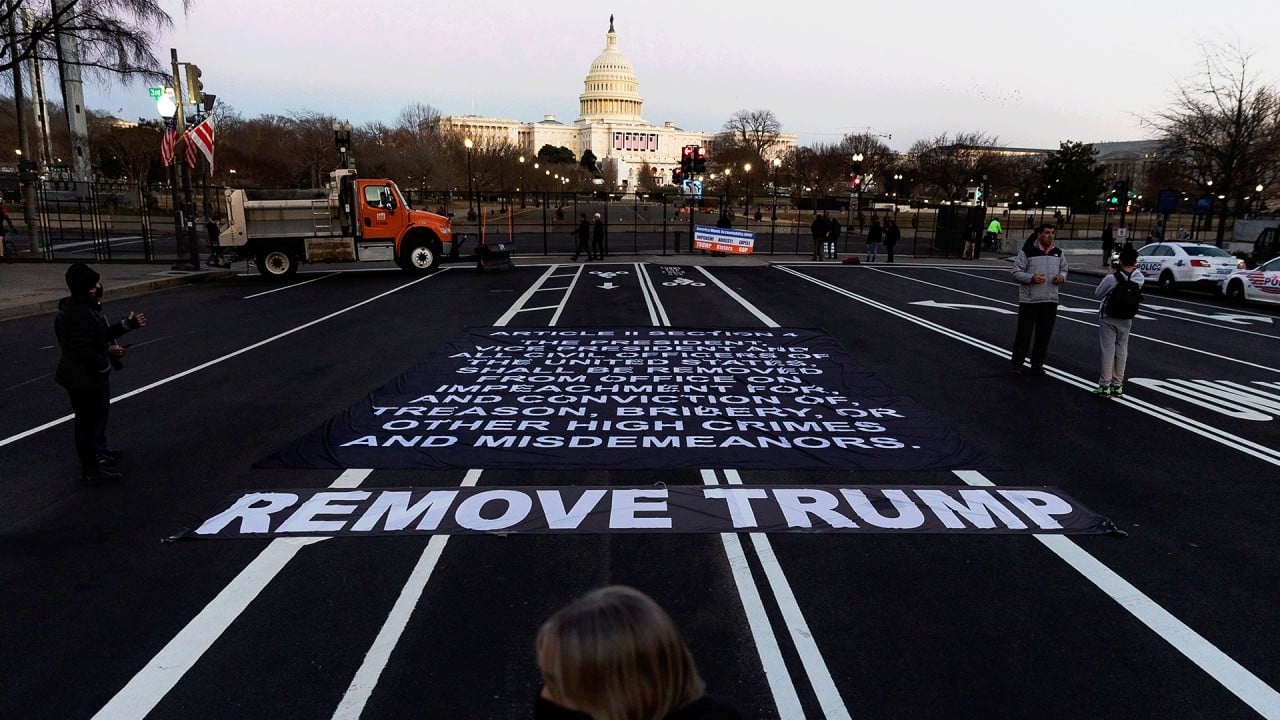 03:48
US House impeaches Trump for inciting deadly Capitol attack
US House impeaches Trump for inciting deadly Capitol attack
Despite Trump naming three Supreme Court justices, the country's highest court rejected a Texas lawsuit by the president's camp alleging election fraud and seeking to throw out results of the 2020 presidential election in four states. State and federal courts rejected all but one of 62 legal challenges to the results, according to election law specialist Marc Elias, who worked with the Biden campaign.
"By and large, the constitutional powers of Congress, the minority party in Congress, the judiciary, have limited the excesses" of Trump, said Richard Boucher, a fellow at Brown University's Watson Institute and former US consul general in Hong Kong. "Time and again they checked him."
Cadre confusion
The concept of a system built on checks and balances is unknown in China, where Communist Party rule is absolute. This was highlighted for German academic Andreas Fulda in 2010, when he taught a course on government relations with civil society to 20 members of the Chinese Communist Youth League.
"Whenever I explained how constitutional democracy works in practice my trainees would get back to me with the same question: now that they had learned about the theory they wanted to know how Western political elites manipulate citizens in practice," said Fulda, associate professor at the University of Nottingham's School of Politics and International Relations in Britain.
"I found this line of questioning highly revealing. My trainees simply could not understand a political institutional design which deliberately constrains the executive power of the government."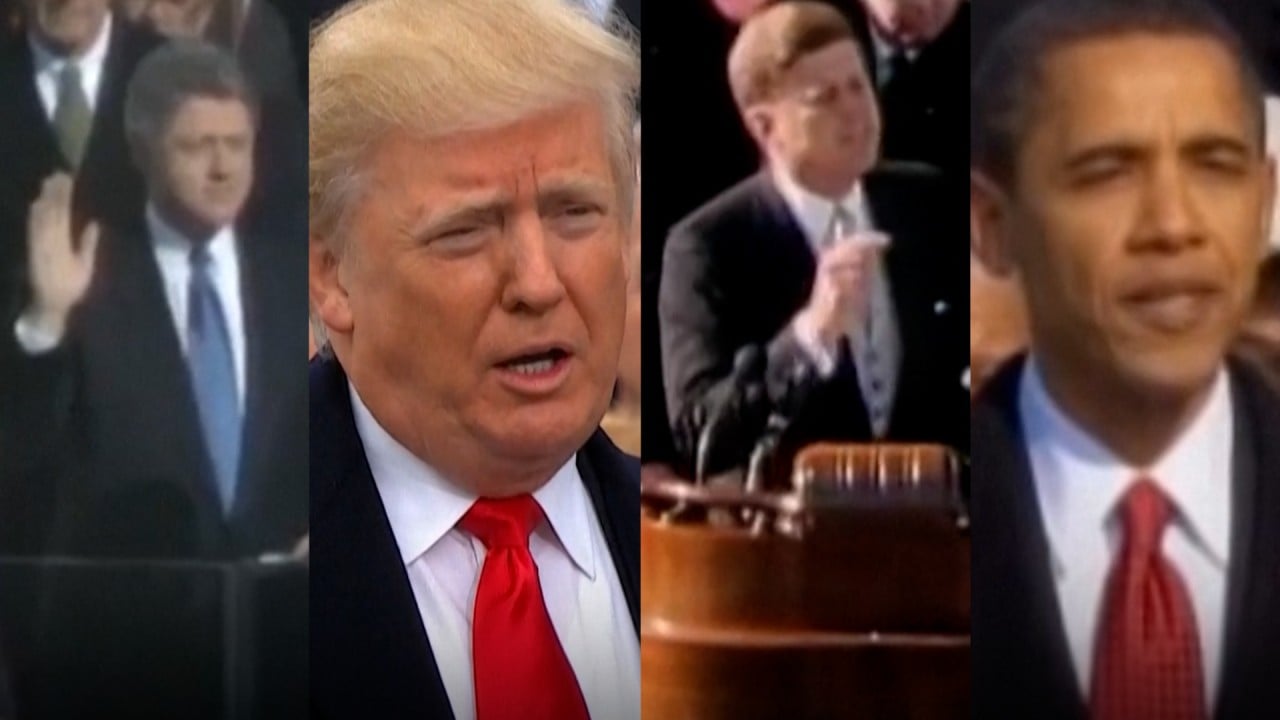 04:58
US presidential inaugurations throughout history: a look back as Joe Biden is set to take his oath
US presidential inaugurations throughout history: a look back as Joe Biden is set to take his oath
Fulda, who has written several books about democracy and China, said the lack of checks and balances in China's system had allowed President Xi Jinping to eliminate political opponents through an anti-corruption campaign. He then abolished 10-year term limits to set himself up as president for life.
"Prior to Xi's ascent to the top, the CCP had broadly managed to civilise faction politics. There was a broad consensus among rival factions that some level of horse trading and consensual politics was required to protect the integrity of the party … Xi has effectively upended this consensus," he said.
"Once he steps down, factional politics are likely to come back with a vengeance. This means that the current political stability [in China] is likely to be a rather transient phenomenon."
Silence in Guangzhou
Before Xi came into power in 2012, liberal media outlets did publish opinion pieces calling for a Chinese constitution that could check the party's worst impulses. One of the most outspoken was the Southern Weekly in the southern city of Guangzhou. These dissenting voices have largely been silenced, but there is no such restraint when it comes to criticism of the US system.
"Over the past four years not a day has gone by without an op-ed which describes the dangers of Trump's presidency to American democracy. At the same time we have only read very few in-depth op-eds critiquing General Secretary Xi Jinping," Fulda said.
State-run news outlets, from broadcaster CCTV to nationalist tabloid Global Times, have continued to point out democracy's flaws to their domestic audiences. But some Chinese students in the US have different views.
Aaron Gu, 24, a data science master's student at the University of Chicago, said he was "pretty optimistic" about the short-term future of the US since Joe Biden's election victory. "Many Chinese think that if the US government is bad then the entire country is finished but actually in places like the US even with a bad government, the country is still functional."
Gu, who has been in the US for seven years, said the omnipresence of the Communist Party made it difficult for Chinese who had never been abroad to understand that, in countries like the US, even a poor leader was limited in the damage he or she could inflict.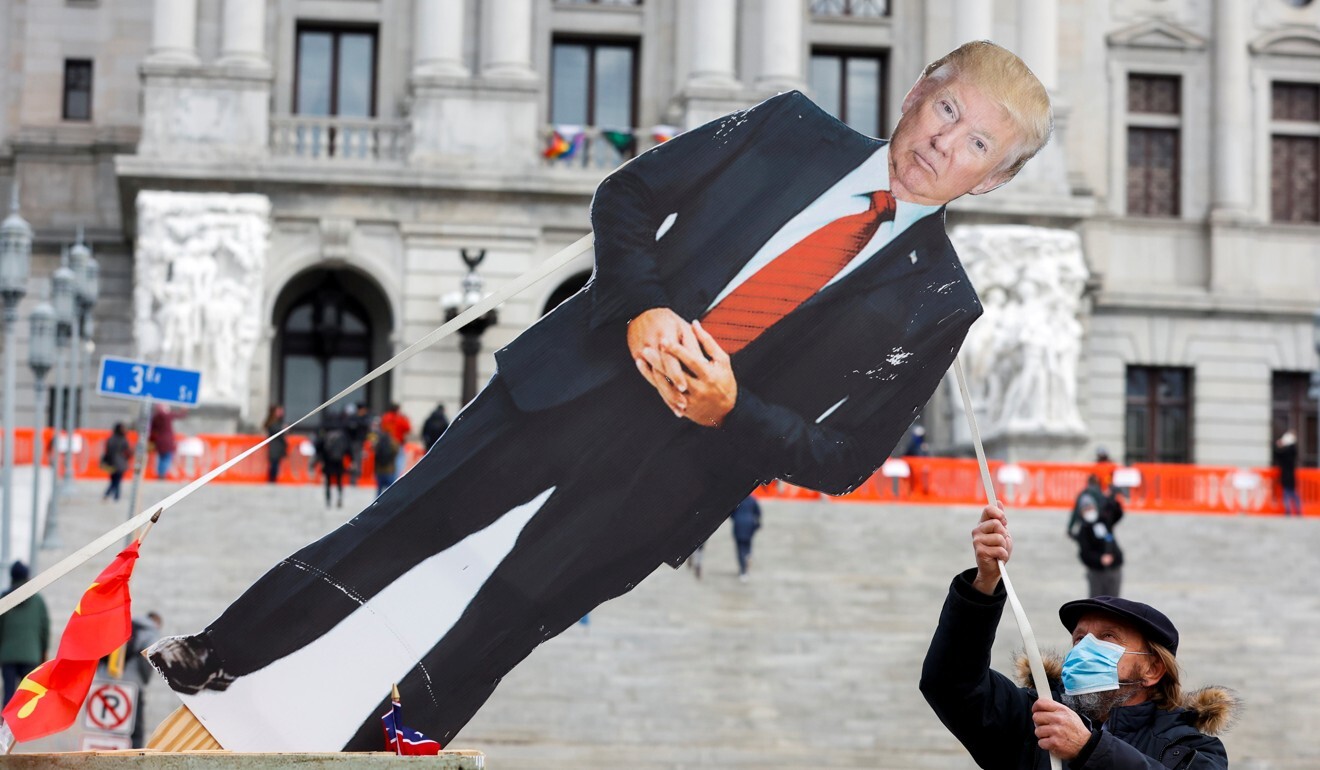 Another Chinese student at the University of Chicago, who requested anonymity because of concerns about government retribution, said the limits on free speech and other restrictions in China made the US a more attractive place to live and work – despite dangers like
the recent murder of Fan Yiran
, who attended the same university and was killed by a random shooter.
"China's free speech doesn't allow you to say anything bad about the party. But in the US if people are unhappy they can protest against the government. This is impossible in China."
US mojo
William Fallon, a retired admiral and chairman of cybersecurity firm GoSecure, said Chinese people he meets believe the US is in an inexorable decline. "Their perception is inaccurate, but I can see how they come to their conclusion."
Fallon and other analysts who spoke at an Asia Society conference in California last week said the US needed to "get its mojo back" with investment in research and development, basic education, and infrastructure – areas in which China does well.
There was general agreement among the panellists that the US was at a crossroads, with its systemic shortcomings severely tested. The country needed to double down on its strengths – an open economy and ability to attract global talent, they added.
Wake up call
"This is not a good time to be selling democracy in China," said Zhiqun Zhu, a political-science professor at Bucknell University. "But I don't think this is the end. I'm cautiously optimistic. Maybe we need some sort of a crisis so people wake up."
Susan Shirk, a former deputy assistant secretary overseeing China at the State Department, said she hoped the US would "find smarter ways of building our own competitive position", despite bilateral consensus that China was a strategic competitor, even a threat.
"In the next four years, I'm hopeful that we're going to prove them wrong, just as we did in the global financial crisis," said Shirk, a research professor at University of California San Diego.
Demise, not
Governance experts at the conference said that, as conflicted as the US appeared, protests could generate the political will for reform in democracies, compared with systems which squash dissent.
"I've spent my lifetime arguing with dictators who would tell us about what a mess the US was, looking at us aghast at how we do our politics," said former US consul Boucher. "This is another phase in American democracy."
Democracies all over the world – including Britain, the Philippines, Austria and Brazil – are being tested by populism, resentment, and a conservative backlash. In Brazil, the world's fourth-largest democracy, it led to the rise of President Jair Bolsonaro, known as the "
Trump of the Tropics
".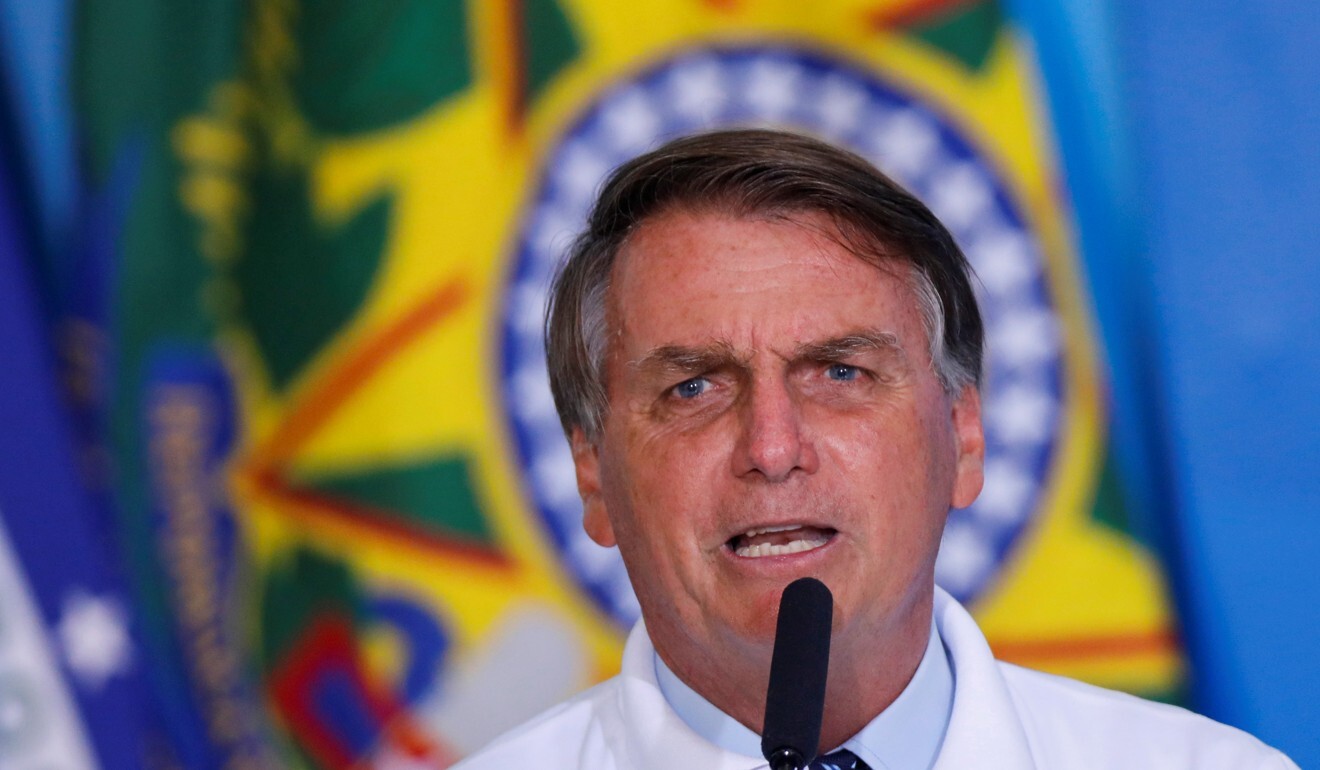 Oliver Stuenkel, associate professor of international relations at the Getulio Vargas Foundation, a higher education institute and think tank in Sao Paulo, said there was an important difference between Brazil – with its legacy of military dictatorships – and the US, where the army's loyalty is to the constitution rather than the sitting president.
"The US is peculiar because there is no past of military dictatorship. The country was born as a democracy, a highly imperfect one, but still a democracy from the get go," he said.
Kurt Campbell, the incoming Biden administration's Indo-Pacific coordinator and point person on China and the region, addressed the perception of US decline soon after his appointment was announced.
"The most important thing is to make clear to Asian countries that rumours of our demise are misguided," he told the Asia Society conference.
"We're going to continue to play a vibrant, dominant, engaging role in the Asia Pacific region and that's going to be hard. It's going to require humility, strategy, diplomacy, every tool in our tool kit."