Brazil
Get more with myNEWS
A personalised news feed of stories that matter to you
Learn more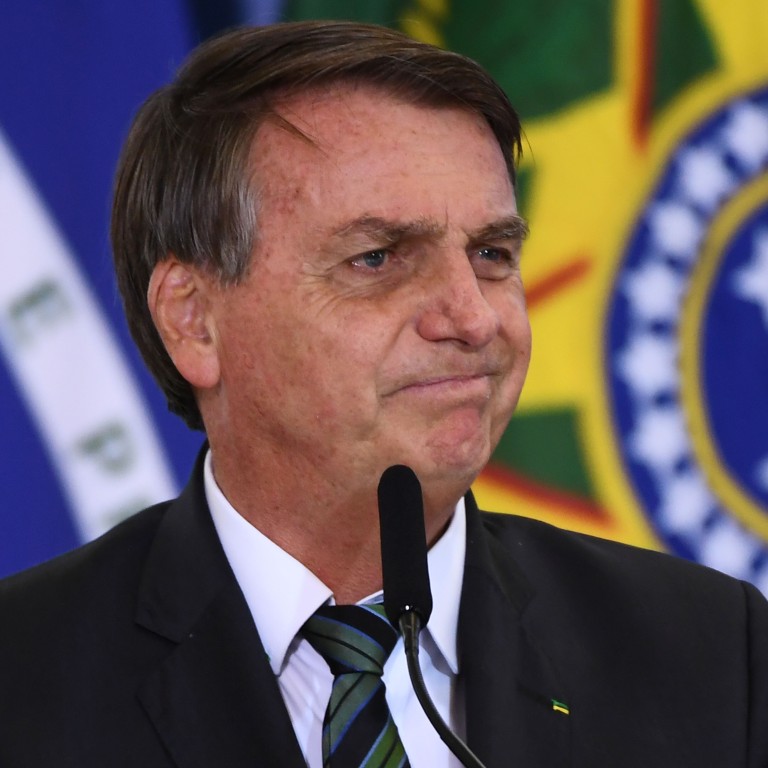 China critic Bolsonaro looks set for second term as Brazil president
A turnaround on Chinese-made vaccines and a pro-business agenda are proving popular for the 'Trump of the Tropics'
But while Brasilia has toned down the anti-Beijing rhetoric it could be heading for a rocky period in relations with the US
Brazil's president
Jair Bolsonaro
– known as the "
Trump of the Tropics
" for his hardline China policies – does not look set to follow his US counterpart into a one-term exit in elections next year.
While much could happen between now and Brazil's presidential election in October 2022, opinion polls show the nationalist leader well ahead and little in the way of a viable opposition to challenge him.
Donald Trump faced a strong and revitalised challenge in the US from the Democratic Party, but there is nothing similar in
Brazil
, according to Oliver Stuenkel, an associate professor of international relations at the Getulio Vargas Foundation, a university and think tank in Sao Paulo. "I can't see any well-articulated opposition movement right now," he said.
As for China – Brazil's top trading partner since 2009, according to government data – former army captain Bolsonaro and his political allies seem to be toning down their anti-Beijing rhetoric in the wake of Trump's exit, according to Marcos Caramuru de Paiva, Brazil's ambassador to China from 2016 to 2018.
China-bashing has been a common refrain for Bolsonaro. When he ran for president and won on a populist platform in 2018, he attacked China for what he called predatory trade practices, warning that Beijing was buying up the country with tens of billions of dollars invested in commodity and infrastructure businesses.
He returned to the theme last year, repeatedly saying the Covid-19 vaccine made by China's Sinovac Biotech was untrustworthy. His son, parliamentary deputy Eduardo Bolsonaro, echoed Trump in calling the Covid-19 pandemic the result of a "Chinese virus", a label that infuriated Beijing.
At the same time, foreign minister Ernesto Araujo suggested banning Huawei Technologies Co. from Brazil's 5G telecommunications auction, a move welcomed by the Trump administration, which said the Chinese company is a national security risk.
Changing tune
But with Trump gone, a Huawei ban may no longer be on the table, according to a January report by Brazilian newspaper Estado de São Paulo, which cited government and industry sources. The 5G auction is set for the first half of this year and a decision by Brazil's regulator on Huawei's participation is expected in weeks.
In addition, "Eduardo has stopped with his provocations. The foreign minister is adopting a much more conciliatory position, saying that Brazil never had problems with China – they realise the winds have changed," Caramuru de Paiva said.
According to the former ambassador, demands for a Covid-19 vaccine by the Brazilian people have forced Bolsonaro and his circle to take a more "pragmatic" approach to China. Brazil has reported 9.83 million Covid-19 infections and 239,000 deaths, second only to the US.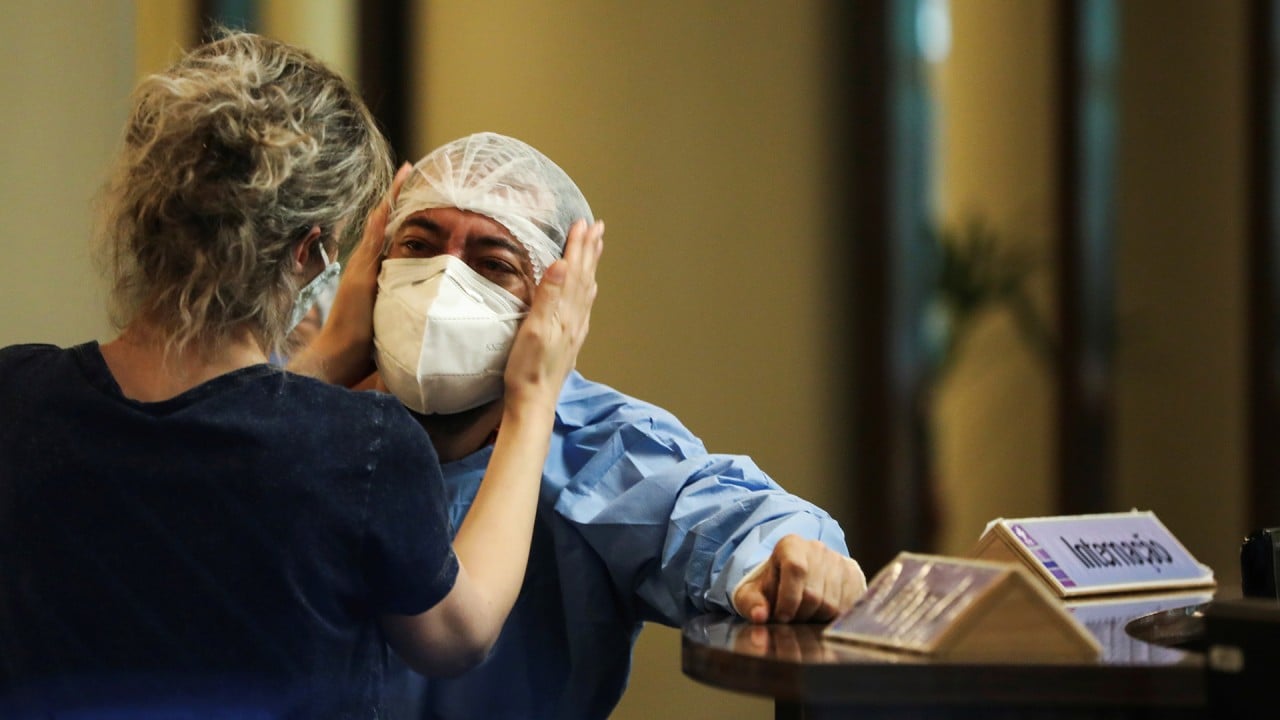 02:27
Brazilians queue for oxygen as hospitals face shortages and run out of beds for Covid-19 patients
Brazilians queue for oxygen as hospitals face shortages and run out of beds for Covid-19 patients
Caramuru de Paiva said that despite Bolsonaro's desire to exclude Chinese-made vaccines, he was facing attacks over the issue and the first vaccine the government could get hold of was made by China's Sinovac.
João Doria, governor of Brazil's richest state São Paulo, pushed for use of the China vaccine and used it to hammer Bolsonaro in what was seen as setting himself up for a presidential run. Bolsonaro's decision to approve Sinovac took the sting out of Doria's attacks and it showed.
January opinion polls by four different institutions presented 23 head-to-head scenarios, with all but one projecting a landslide victory for the president, including against Doria.
Bolsonaro and Doria's offices did not respond to email requests for comment.
Populist thoughts
Abraão Rodrigues, 42, a tyre shop worker in Rio de Janeiro, is a firm Bolsonaro supporter. "If I could rate him from one to 100, I would give him 100, because I don't believe the pandemic is as deadly as the media paints it to be," he said.
Rodrigues is unhappy with lockdowns imposed by Rio's municipal government. His daughters, aged 7 and 4, have not been to school since March last year, he said. "My youngest daughter is depressed, my other daughter is almost eight years old and she still can't write."
For Rodrigues, Bolsonaro's call to keep the economy open and avoid Covid-19 lockdowns – similar to Trump – is one factor in his support, but his main reason is disillusionment with the leftist parties that ruled Brazil after military dictatorship ended in 1988.
Rodrigues said he voted for two of Bolsonaro's predecessors from the Worker's Party: Luiz Inácio Lula da Silva, in office from 2003 to 2011, and Dilma Rousseff, his successor. Rousseff was impeached in 2016 in a corruption scandal, which also led to the arrest and conviction of Lula.
Rodrigues, along with millions of other Brazilians, took to the streets in protest against corruption and voted for Bolsonaro in the 2018 election. "I can tell you as someone that lives in the city centre, out of 10 people in my neighbourhood eight or nine will vote for Bolsonaro [in 2022]," he said.
China business
According to a report by the Brazil Institute, an arm of the US-based Wilson Centre think tank, the pandemic has made Brazil's economy more reliant on commodity exports to China. But conversely, China has become more dependent on Brazil for food, such as soybeans and meat, as well as iron ore for making steel.
China took 33.7 per cent of Brazilian exports – worth US$34 billion – in the first half of 2020, up from the same period the previous year, according to government data. The soybean industry supports Bolsonaro's business-friendly policies, despite his lack of warmth towards its main customer.
Bartolomeu Braz Pereira, president of Brazil's soybean farmers group, Aprosoja, said Bolsonaro had created the country's best business environment for three decades and the agricultural sector was "100 per cent in favour" of his re-election.
He favours Bolsonaro's push to deregulate agriculture and does not mince words about Brazil's bureaucracy. "Our public servants are leeches that are fatter than the oxen they are feeding off."
However, the ever-growing Chinese appetite for Brazilian soybeans has come at a cost, especially in the alarming rise of deforestation – to clear land for growing – in the Amazon, according to Brazil's own National Institute for Space Research.
While Trump kept silent on the Amazon and withdrew the US from the Paris climate agreement – even as countries like Germany and France condemned Bolsonaro's policies – environmental issues could cause friction with the new administration in Washington, according to Caramuru de Paiva.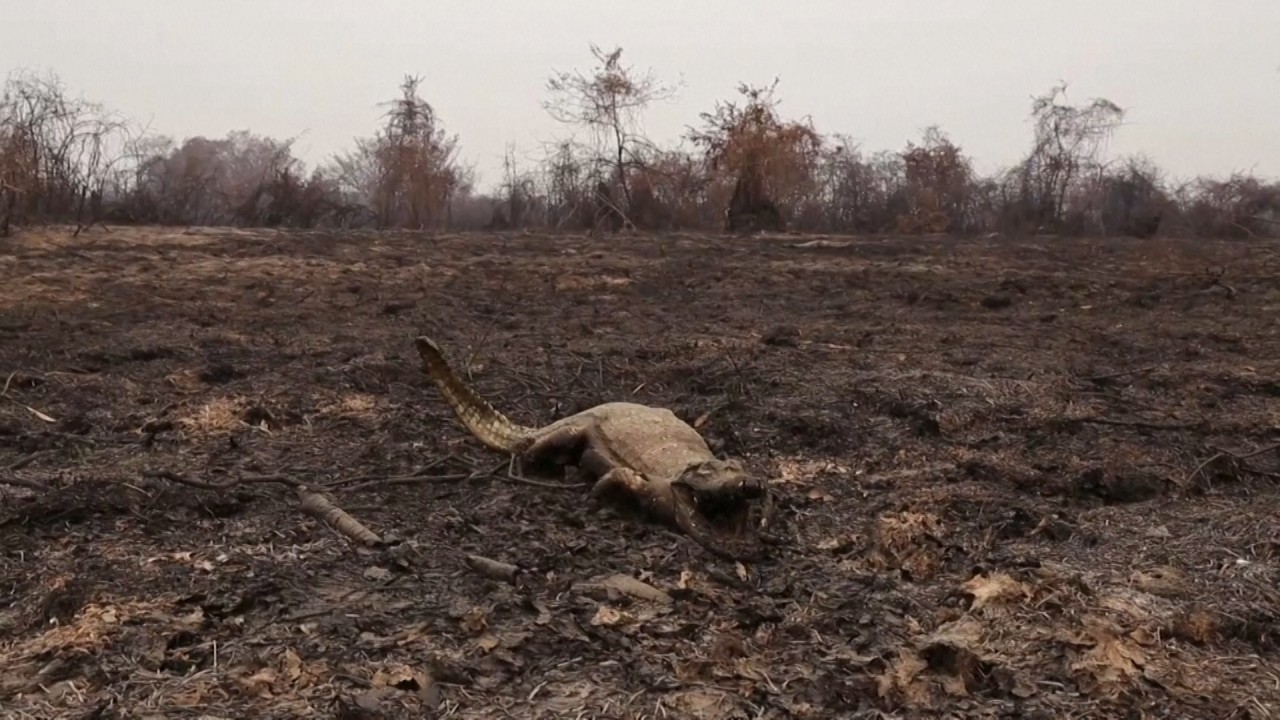 03:19
Fires ravaging world's largest wetland and large parts of the Amazon rainforest in Brazil
Fires ravaging world's largest wetland and large parts of the Amazon rainforest in Brazil
Military move?
One of Joe Biden's first acts as president was to return the US to the Paris agreement and he said last September that leading economies should offer a cash incentive to Brazil to slow deforestation, threatening "significant economic consequences" if that should fail.
Bolsonaro called the idea "disastrous" and dismissed Biden's words as empty threats. He was one of the last heads of state to congratulate the new president on his election victory, waiting until January 20. His stance could lead to a "rupture in the relationship with the US", according to Stuenkel at the think tank in Sao Paulo.
"Bolsonaro will behave like the one who keeps alive the fire of Trumpism, who defends anti-globalist concepts and that will lead to greater diplomatic isolation [for Brazil]," he said.
There are also signs that Bolsonaro is preparing to undermine Brazilian democracy in the unlikely event of a loss, Stuenkel said.
"What worries me a lot right now are attempts by the federal government to take control of the regional military police, which according to the constitution of 1988 are under the control of the governors. All these moves can be interpreted as an attempt to prepare the ground for a possible authoritarian move in 2022."