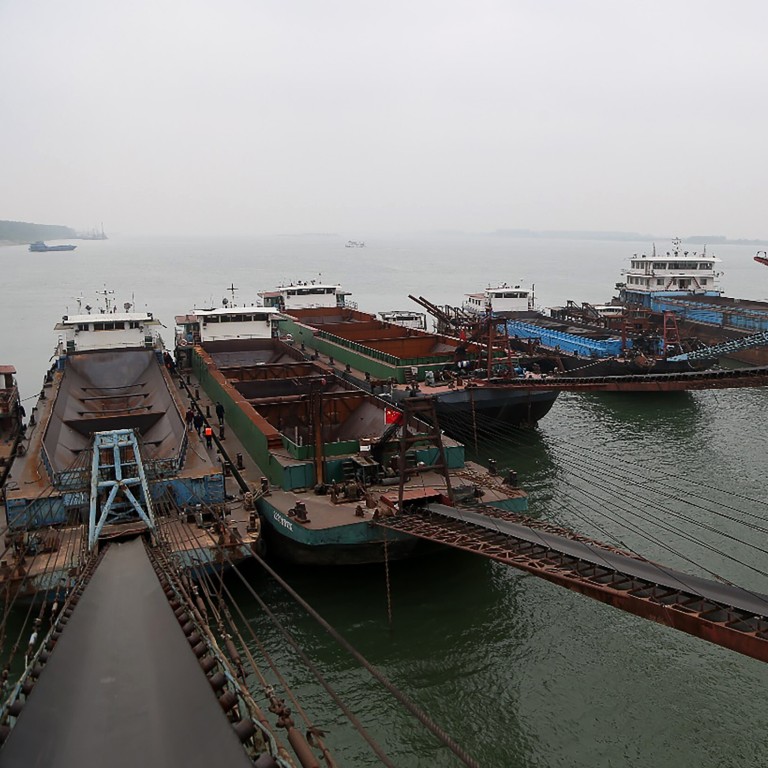 China targets illegal sand miners stripping the Yangtze River
Three ministries launch a campaign to standardise activity and punish gangs and officials skirting the law
Illegal sand mining endangers ecosystems and hampers flood-control efforts and is believed to have caused Poyang Lake bed to drop at least 20 metres
China is intensifying its crackdown on illegal sand mining in the Yangtze River to ensure water supply,
flood control
and ecological safety.
In a joint notice issued on Monday, the ministries for water, public security and transport said they were "rectifying" mining activities on the Yangtze, aiming to standardise the management of sand mining, as well as investigate and curb illegal sand mining and transport.
The campaign will continue until the end of the year.
River sand is used in construction and while mining the resource is not banned, local governments have been told to set standards for planning and management of the activity on the river and its tributaries and lakes.
This includes establishing no-mining zones and periods and promoting intensive and big mining projects rather than dispersed mining.
Authorities will also curb illegal mining and take action against criminal gangs, the notice says.
Illegal sand mining endangers ecosystems, flood-control efforts and the waterway itself, as well as threatening environmental conservation, according to officials.
Li Jingsheng, the Ministry of Public Security's director of security administration, said earlier this month that strict enforcement had reduced large-scale illegal sand mining in the Yangtze River Basin but many people were still lured by the prospects of high profits and finding more advanced ways to break the law.
Because of illegal and excessive sand mining, a large number of deep pits have appeared in the originally flat Yangtze River course, affecting its flood-carrying capacity, say experts.
And sand mining has caused abnormally low water levels during recent winter dry seasons. It is believed the activity has lowered the bed of Poyang Lake in eastern China's Jiangxi province by at least 20 metres (66 feet).
"Excessive sand mining has brought about the drop in the water level of the Yangtze River and the narrowing of the river channel," said Li Pengde, deputy director of the China Geological Survey.
Since January, public security authorities in the 10 provinces and municipalities along the Yangtze have deployed staff to bust criminals illegally mining, transporting and selling river sand. "Protective umbrellas" – officials covering up sand mining crimes – will also be investigated.
The
Yangtze River conservation law
which took effect on March 1 also increased fines for illegal sand mining to a maximum of 2 million yuan (US$307,000), compared with the highest fine of 300,000 yuan in the past.
This month, the Jiangsu Maritime Police Bureau arrested 37 people accused of mining nearly 2 million tonnes of sand, worth nearly 100 million yuan, from the Yangtze.