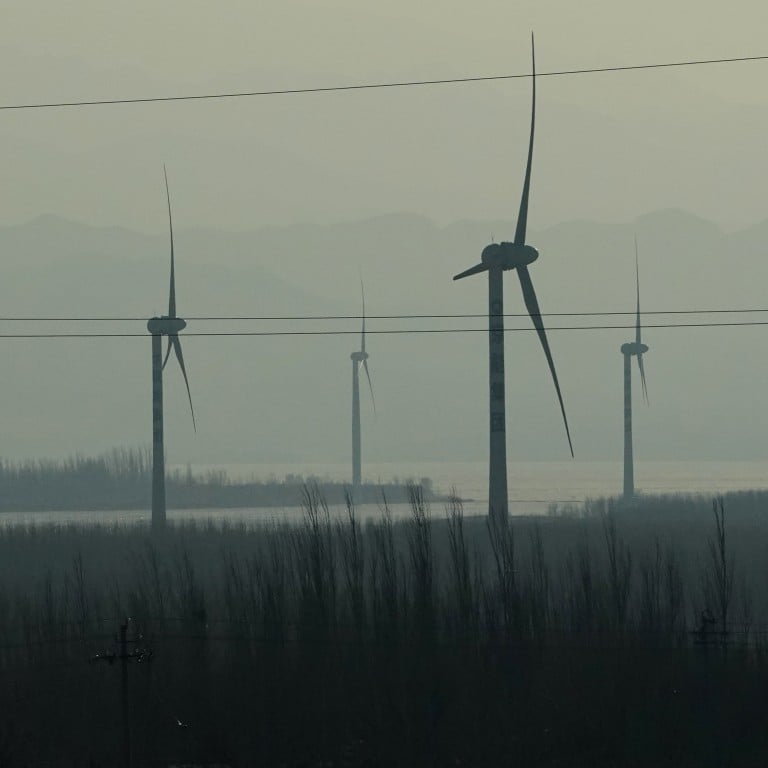 Explainer

|
What is green finance, and why is it important to China's carbon neutral goal?
China has quickly expanded to become the world's second-largest green bond market after the United States
To become carbon neutral, China must have policies for green and low-carbon development, Premier Li Keqiang said in his 2021 government work report
To meet the country's
carbon neutrality pledge made by President Xi Jinping
last September, China needs to invest about 138 trillion yuan (US$21 trillion) to remove carbon from its energy system by 2060, according to a study from Tsinghua University in October. And China's
"green finance"
sector will be key to mobilising these investments, say experts.
"Green finance can play two important roles in this transition. First, green finance mobilises and channels money into the low-carbon economic transition, particularly in green technologies and the improved energy and emission intensity of all sectors," said Christoph Nedopil Wang, a senior research fellow at the International Institute of Green Finance of the Central University of Finance and Economics in Beijing.
"Green finance also brings more transparency into the risks of non-green finance that financial institutions and investors need to deal with because of climate change," he added.
Here is what you need to know about green finance in China.
What is green finance?
Although the term "green finance" is increasingly used in many countries, there is no single definition of what constitutes green finance. In the definition by the People's Bank of China (PBOC), green finance refers to a series of policy and institutional arrangements to attract private capital investments into green industries – such as environmental protection, energy conservation and clean energy – through financial services.
Just like traditional instruments, green finance can take various forms. For example, there are green bonds, green loans and green insurance.
When did China's green finance start?
The first Chinese government policy related to green finance can be dated back to 1995, when the PBOC issued the "Notice on Credit Policy for Environmental Protection".
In 2007, the Ministry of Environmental Protection, the PBOC and the China Banking and Insurance Regulatory Commission released a notice on "implementing environmental protection policies and regulations to prevent credit risks", encouraging finance institutions to consider environmental risks when lending. But because of technical barriers and problems in its application, it did not work well.
"High-polluting and high energy consuming industries are protected by local policies. They are still profitable and some are profiteering, so it's difficult to drastically reduce the scale of credit to them," said Pan Yue, then vice-minister of the environmental protection ministry, who was in charge of the project.
The situation changed in 2016, when seven ministries issued their "Guiding opinion on building a green financial system", following remarks by President Xi promoting a green finance market and green credit. China also pushed green finance on the agenda of the
G20 meeting in Hangzhou in 2016
.
In the five years since, China has quickly expanded its green finance sector to become the world's second-largest green bond market after the United States. According to official PBOC data, China had 12 trillion yuan (US$1.8 trillion) in outstanding green loans – the highest in the world – by the end of last year.
In the first quarter of this year, China overtook the US in
green bonds
with US$15.7 billion sold by Chinese issuers, Reuters reported, citing data from Refinitiv.
However, green finance still accounts for a small proportion of China's financial market. Green credit accounts for less than 7 per cent of China's total credit market and green bonds comprise less than 1 per cent of the bond market.
How did the shift happen?
In 2014, researchers at Renmin University did a study on China's financial reform and the green transition. The research was led by Chen Yulu who was then president of Renmin University and is now deputy governor at PBOC.
According to their calculations, China's demand for green finance could increase by up to 123 trillion yuan from 2014 to 2030. The demand for green finance funds was 3.7 trillion yuan in 2013, but the actual green investment was less than 1 trillion yuan.
"At that time China was talking about green development and green transition, but if the finance sector does not transform into green finance, and most of the funds are still invested in traditional industries, how can the entire country achieve green transition?" said Lan Hong, a professor at Renmin University and a member of the research team in 2014.
"We found the gap was very big, so we've decided to include financial institutions and mobilise them to do this together," Lan said.
Lan and her colleagues' research was later reported to former vice-premier Zhang Gaoli and finally to Premier Li Keqiang and President Xi Jinping.
In September 2016, the G20 launched a green finance study group to look at the possibilities to encourage private investors to boost green investments. It was co-chaired by China and Britain.
What are the challenges?
Currently, China needs to build a unified system for green finance, to enhance incentives and to promote environmental information disclosure by financial institutions and enterprises, according to experts.
Even though China has guidance on promoting green finance by various departments, there are differences in details. For example, "clean coal" was removed from the green bond catalogue released last October but it was still included in the application of the "Green Industry Standard 2019" released by the National Development and Reform Commission.
Chen, the PBOC deputy-governor, said at a meeting last September that China would build a unified green finance standard system in the 14th five-year plan period (2021-2025).
"Having a unified system for green finance helps to align incentives to invest in green for different financial institutions," said Nedopil Wang. He added that having a harmonised standard would also allow for costs to fall, accelerating investment in relevant green industries and assets and attracting overseas investors.