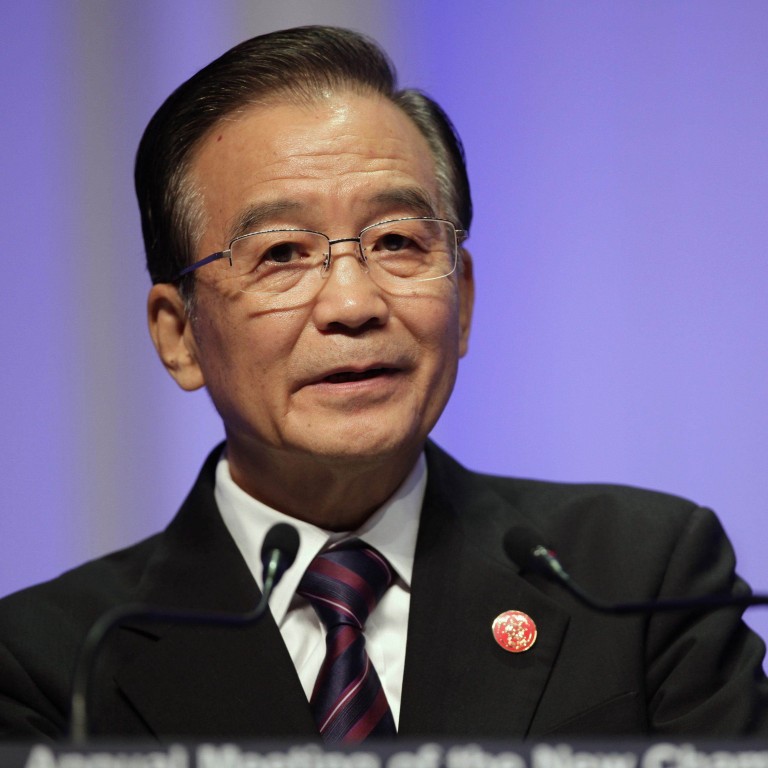 Former Chinese premier Wen Jiabao pays tribute to late mother who 'taught me not to take what isn't mine'
Wen wrote that his mother, who died last year, had shown him how to live a frugal, honest life after the hardships of his early years
Personal reflections of this kind are a rarity among senior Chinese leaders
Former Chinese premier
Wen Jiabao
has published a personal reminiscence about his late mother, saying she taught him to live an honest, thrifty life.
Whereas personal memoirs are commonplace among Western politicians, it is unusual for a retired Chinese leader to publish such a personal account because the state maintains rigid controls over all narratives relating to state affairs.
In an article originally published in a newspaper in
Macau
, Wen presented both his mother and himself as people tested by hardship and uncorrupted by power.
Wen, 78, wrote that his mother, Yang Zhiyun, who passed away in her late 90s at the end of last year, had suffered tumultuous days of war and political purges but maintained high moral standards throughout.
He said that even after he was promoted to a central government post in 1985, his mother "never asked for anything from the [
Communist Party
] organisation" and never used his name to seek favours for the family.
Wen, whose parents were both primary schoolteachers in the northern city of Tianjin, wrote: "My mother and father dedicated their lives to the revered course of education and always lived on meagre salaries. They left no property or savings behind."
Wen, who was the head of the government between 2003 and 2013, wrote that his mother had been extremely strict and instilled a strong sense of integrity.
"One day I found a one cent coin and put it in my pocket, and it was found by mother," Wen recalled. "She started to beat me and asked where I got the cent, and she beat me so hard that the broom broke. From that moment on, I knew that I can't take what isn't mine, not even a cent. Her teaching during my childhood has benefited me throughout my whole life."
The article was originally published in four parts over the past month in the Macau Herald, a weekly Chinese newspaper in the Chinese special administrative region and former Portuguese colony.
The full article was republished by a number of accounts on the social media platform WeChat in mainland China on Saturday night.
Users have been banned from sharing the article, with the platform's owner Tencent citing unspecified violations of the site's rules, but it can still be read.
Chinese state media outlets, including the official Xinhua news agency, People's Daily and Chinese Central Television, did not republish or report on the article.
Wen also mentioned an incident when a man hurled a shoe at him during a speech at Britain's Cambridge University in 2009. He wrote that his mother, then 88, suffered a cerebral embolism while watching the incident live on television and from that time on had problems with her eyesight, speech and mobility.
Wen said he had spent most of the time since his retirement in 2013 with his mother.
"I retired after I worked in the Zhongnanhai compound for 28 years, including 10 years as premier," Wen wrote, referring to the place where Chinese state leaders live and work.
"For people like me [from a humble background], it is by accident that I became a senior official. I obeyed orders with the utmost prudence and caution as I walked on thin ice or stood on the edge of a cliff."
At the end of the article, Wen made a brief political statement about the country.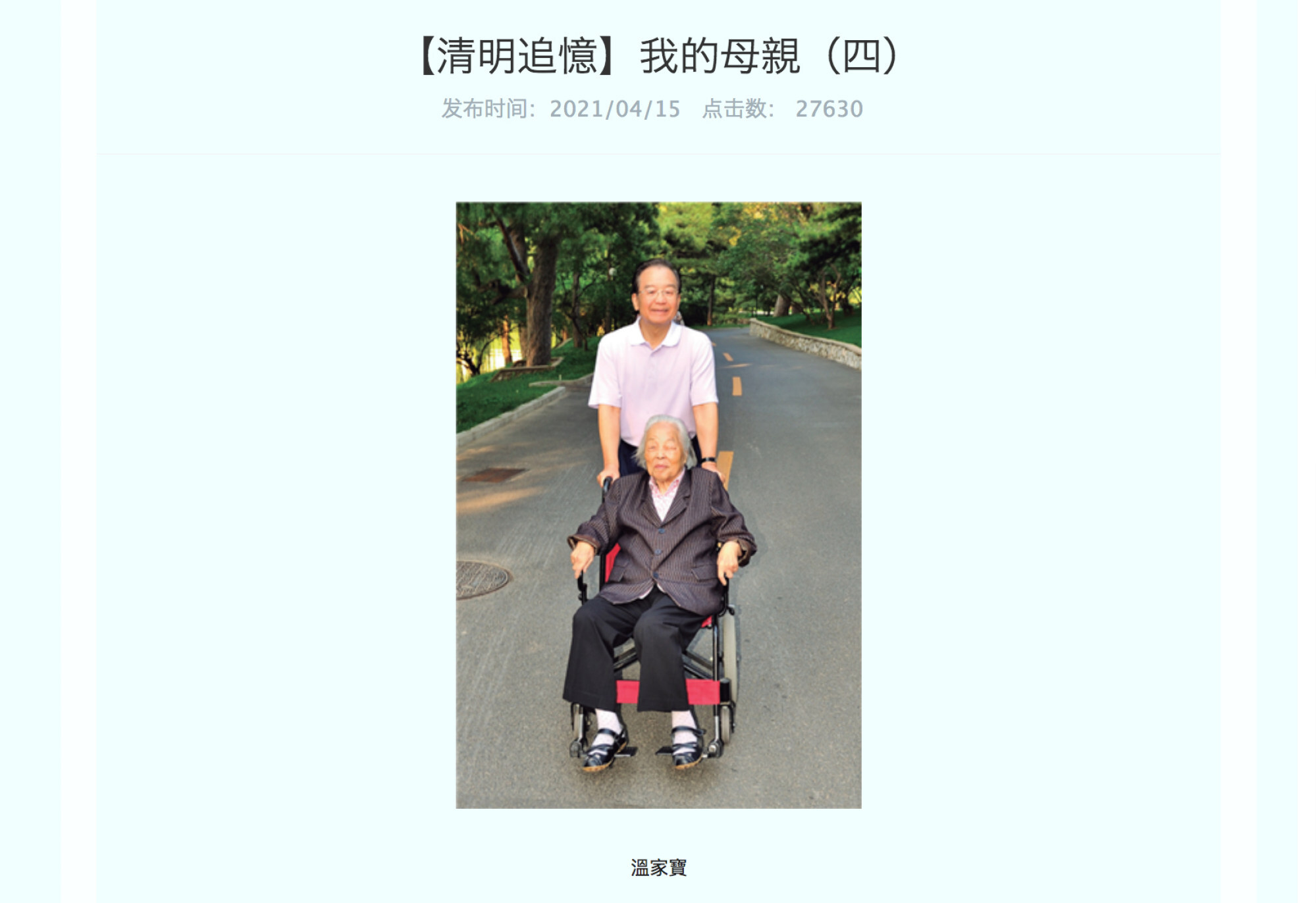 "China, in my vision, should be a country of justice and fairness. There's eternal respect for human hearts, human morality and humanity, and there's always an air of youth, freedom and hard work. I cried over it and I fought for it," Wen wrote. "This is the truth I learned from my life, and this is also the gift given by my mother."
Wen also described how his father had suffered during the
Cultural Revolution
, writing: "My father was detained at his school and frequently suffered from brutal interrogations, verbal insults and physical beating.
"At one time, a Red Guard punched my father's face and my father's face was so swollen that he could barely open his eyes to see things. My father couldn't withstand any more and shouted back while pointing to his own chest, 'Lad, you can punch me here!'"
Wen recalled how his mother had also suffered during the massive social upheaval during that time, sending a share of her meagre salary to the school where his father was being held to pay for his food.
"She always worried that the money wouldn't reach my father and insisted the guards give receipts as evidence," he wrote.