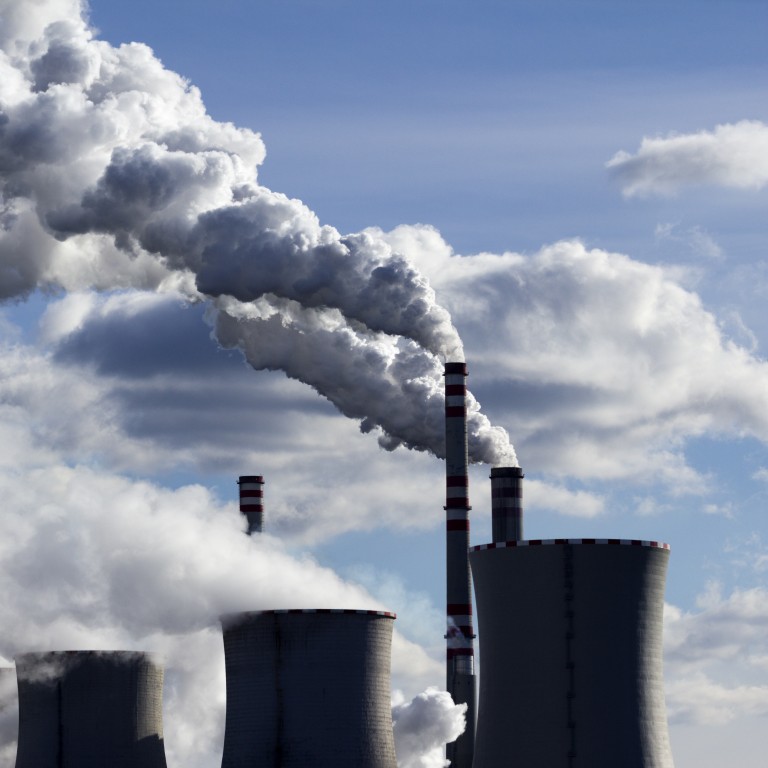 Global climate summit: Xi Jinping clears the air on China's peak coal-power goal
In speech to Earth Summit, Xi says the country's coal-fired power stations will be strictly controlled and then curtailed
Beijing is better to meet the climate promises it has already made rather than set new, more ambitious targets, say experts
Chinese President
Xi Jinping
has committed China to hitting peak coal consumption by 2025 and then cutting its reliance on the fossil fuel after that.
"China will strictly control coal-fired power generation projects, and strictly limit the increase in coal consumption over the 14th five-year plan period [which runs until 2025] and phase it down in the 15th five-year plan period," Xi told the
virtual leaders summit on climate
on Thursday.
He said China was drawing up a plan and taking strong nationwide action towards reaching peak carbon, adding that Beijing would support qualified localities, key sectors and companies to take the lead.
"[The statement] is a direct consequence of the target to peak CO2 emissions before 2030, so it is providing more clarity rather than increasing the level of ambition," said Lauri Myllyvirta, lead analyst at the Helsinki-based Centre for Research on Energy and Clean Air (Crea).
In September, Xi pledged that China would reach
carbon neutrality
by 2060 and its carbon emissions would peak before 2030. He further enhanced China's ambitions in December by vowing to cut China's carbon intensity more than 65 per cent from 2005 levels by 2030.
Addressing the virtual summit, US President
Joe Biden
pledged that by 2030 his country would cut greenhouse gas emissions in half from 2005 levels. German Chancellor Angela Merkel and French President Emmanuel Macron highlighted the European Union's commitment to cutting greenhouse gas emissions by at least 55 per cent by 2030 compared to 1990 levels.
At the virtual climate summit, United Nations Secretary General António Guterres called for developed countries to phase out coal by 2030 and for others to phase it out by 2040, while South Korean President Moon Jae-in said his country would end public financing for overseas coal power plants as he promised to make a stronger contribution to curbing global warming.
But China's
coal power generation is on the rise
. Research from Greenpeace in March found that 46.1 gigwatts of new coal capacity was approved last year, more than the previous three years combined.
"[The expansion in coal use] seems inconsistent with China's 2060 carbon neutrality statement. It would be good to hear more about what China will do in the next 1-2 years to stop the expansion of coal power," said Glen Peters, research director at the Centre for International Climate Research in Norway.
A quick turnaround is both challenging and risky for China with the potential for power generators to end up as massive financial liabilities. On Thursday, Beijing showed it was taking a cautious approach when the National Energy Administration released guidelines saying the country aimed to slightly reduce the proportion of coal in its energy mix to below 56 per cent compared with 56.8 per cent a year earlier.
In the meantime, it has stepped up investment in renewable energy and accelerated the construction of nuclear power plants. The State Council, China's cabinet, this month approved the construction of five new nuclear power plants with a combined installed capacity of 4.9GW. An official from the China National Nuclear Corporation said China had reset its nuclear power plan to speed up construction.
Another reason behind Beijing's caution is that it may be hard to raise the bar further.
Yang Fuqiang, a senior adviser to the Natural Resources Defence Council, said China was not confident it could achieve more than the goals announced last year. "It might take two to three years to assess the results and make new commitments," he said.
Experts said it would be more practical for China to fulfil its earlier climate pledges instead of setting new targets.
Yang said that some cities and provinces, such as Beijing, Shanghai and Zhejiang, might have already reached peak carbon emissions, so they could cap carbon emissions and make it a binding target.
Shanghai executive vice-mayor Chen Yan announced on Thursday that the eastern metropolis wanted to be a frontrunner in the country's green campaign.
Observers said China wanted to avoid creating the impression it was caving to pressure from the US.
"President Xi's speech responded to the concerns of the international community on coal and it shows China's stance on this but there are no further commitments because of international and domestic reasons," said Ma Jun, director of the Beijing-based Institute of Public and Environmental Affairs.
"China would prefer to make announcements in a multilateral venue, such as the United Nations."
He added that China upgraded its climate commitments last year. "If we keep making pledges, the implementation will be more difficult."
However, Li Shuo, senior global policy adviser for Greenpeace East Asia, said conditions within China had improved enough to cut emissions more quickly than was previously thought possible. He said it was in China's interest to set more ambitious targets before the UN climate change conference COP26 in Scotland in November.
"It is in line with China's mid-term and long-term interests to stop building new coal-fired power plants or to reduce coal consumption," Li said.
He added that China still had opportunities to improve its ambitions before COP26. Li said China could alter its funding of overseas coal-powered projects or stop building domestic coal-fired power plants.
"More provinces should set a timeline to reach peak emissions earlier than the national target," he said.
China is the world's largest coal consumer. In 2020, coal-fired power plants generated 60.8 per cent of China's total electricity supply. The installed coal-fired power generating capacity of coal is 1,080 GW, accounting for 49 per cent of the total power generating capacity.
Its carbon emissions continued to rise last year despite the impact of the coronavirus pandemic. In 2020, its CO2 emissions rose 1.5 per cent compared with 2019, according to Crea.