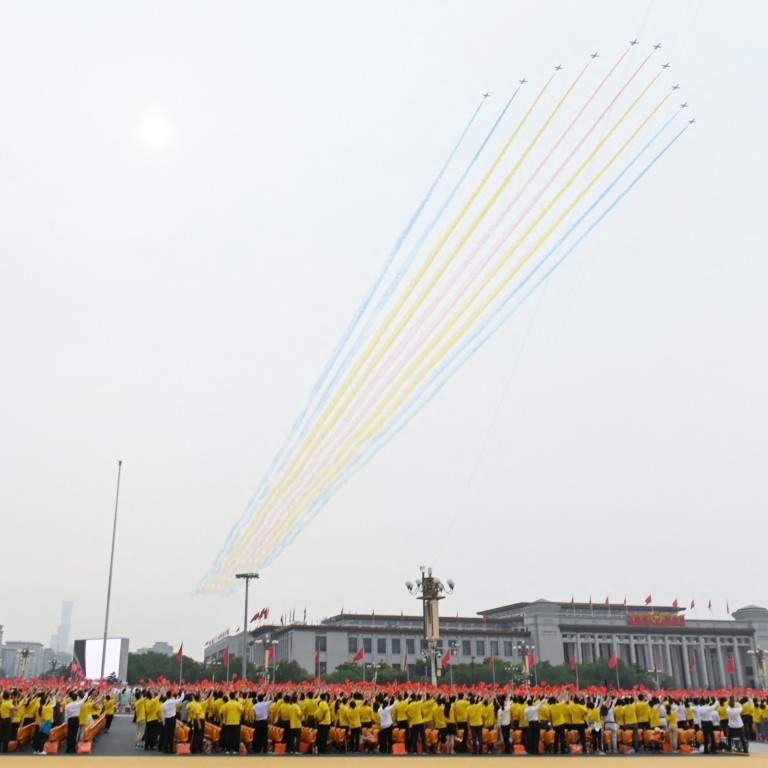 Communist Party centenary: key points from Xi Jinping's Tiananmen address
The president speaks for more than an hour, stressing the party's role in China's past, present and future
Xi underlines the party's ties to the people and its contributions to the nation's development
China's all-powerful leader Xi Jinping gave a spirited keynote address to mark
the centenary of the Communist Party
on Thursday in the capital, repeatedly sending thinly veiled warnings to hostile countries while lauding the party's achievements over the past 100 years.
Xi, head of China's state, party and military, spoke at length about the evils of feudalism and colonial intervention in China before the founding of the People's Republic in 1949.
Moving from history to the present, Xi roused the crowd by playing up this threat of foreign intervention, stressing that China would not be bullied again – or bully others.
"There is no gene in the blood of the Chinese people to invade others and dominate," he said.
Here are the key points from the event:
1. Present and absent
To highlight the unity and continuity of the party leadership, many former leaders appeared on the rostrum, including Xi's predecessor Hu Jintao and former premier Wen Jiabao. At 104, former Politburo Standing Committee member Song Ping was the oldest to attend.
However, the absence of former party general secretary Jiang Zemin, 94, and former premier Zhu Rongji, 92, prompted speculation about their health. Jiang's security chief Luo Gan, 85, did not appear at the ceremony either.
Most observers said health might be a main reason for the no-shows, given that some were no longer well enough to travel long distances and did not have the stamina to stand for a long time.
"Jiang and Zhu are both over 90, even if just one of them is not fit to participate, the other one might also want to stand down as they do not want people to focus their speculation on just one person," said Alfred Wu, an associate professor at the Lee Kuan Yew School of Public Policy at the National University of Singapore.
Deng Yuwen, a former editor of the party's Study Times newspaper, said: "Song Ping is so old and he showed up, [but] Jiang and Zhu not showing up is probably more to do with health rather than an expression of political discontent."
Frail and needing help to walk, Jiang was last seen in public at the funeral of former premier Li Peng in July 2019.
Zhu has rarely been seen in public in recent years.
Former president Hu, 78, was seen standing next to Xi on Thursday, though looking tired and with white hair.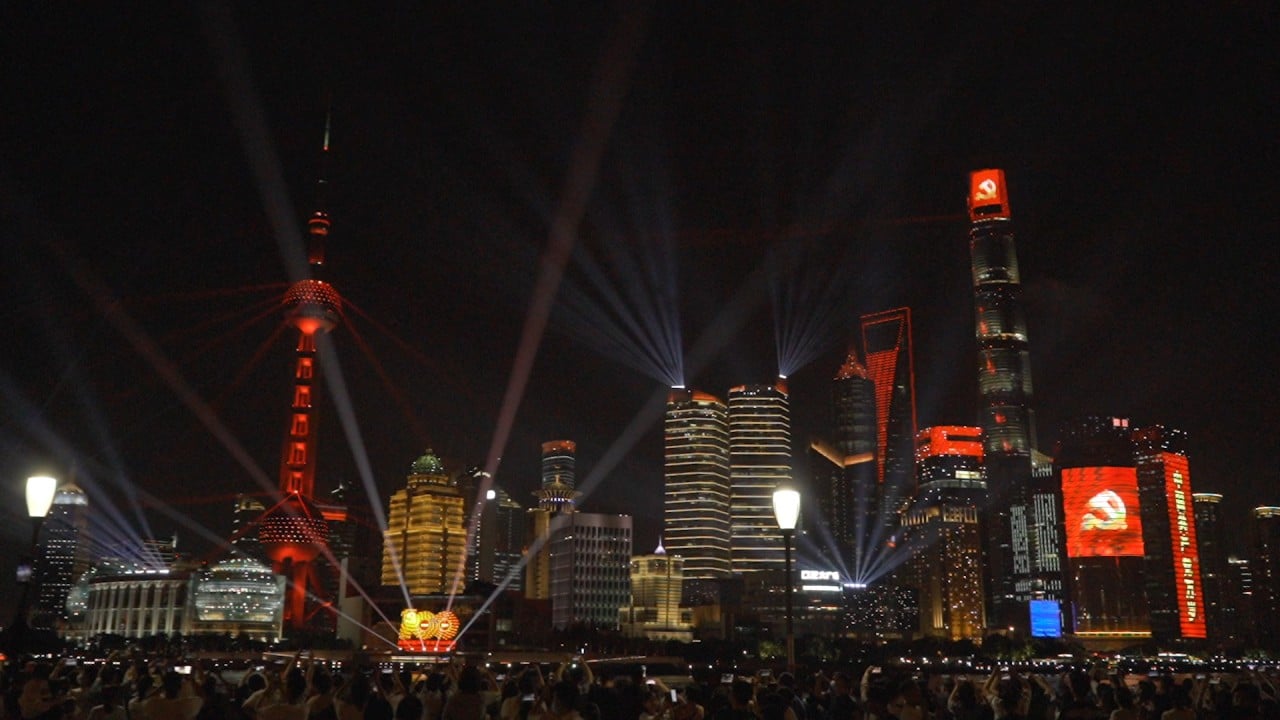 01:04
Shanghai light show celebrates Chinese Communist Party centenary
Shanghai light show celebrates Chinese Communist Party centenary
2. Party and national destiny
Another theme for Xi was the party's role in China's development and its rise on the international stage. He frequently coupled the party to the "Chinese people", referring to their struggles together and the need for the party's grip to continue.
"China's success hinges on the party," Xi said. "Any attempt to divide the party from the Chinese people is bound to fail."
According to Deng Yuwen the message was also a warning to US politicians who have described the hawkish turn in Washington's China policy as targeting the Communist Party, not the Chinese people.
"Xi's whole point was to collapse three bodies – the party, the country and the Chinese people – into a single whole," Deng said.
Political commentator Chen Daoyin said that tying the party's fate to those of the people and the nation was a bid to boost the legitimacy of his party's hold on power.
"The theme aims to boost people's political endorsement and sense of identity, giving the party the mandate," Chen said. "There was a lot of stress on the 'blood and flesh' relationship, in the party's language, between the party and the people."
3. Centenary goals
The triumphalism of Xi's speech has in many ways been carefully prepared several years in advance. The party's explicit goal of eradicating absolute poverty before 2021 was done to allow Xi to celebrate China becoming a "moderately prosperous society" on the centenary.
This theme of successfully completing an objective set for an entire century was also played up by Chinese state media in the days leading up to Xi's speech.
Xi frequently contrasted the state of China's political and economic situation a hundred years ago with that today, calling on the people to use the past century as a tool to study how China must navigate complex international waters ahead.
"By learning from history we can understand why powers rise and fall, looking back on the party's 100-year history you can see why we were successful in the past. This means we must act with greater resolve and purpose in staying true to our founding mission," he said.
Deng Yuwen said that the second half of Xi's speech was essentially providing a blueprint for the party's priorities in the century to come.
"Xi's plan for the next hundred years is the 'Chinese dream', which includes creating a United Front, party self-confidence, 'one country, two systems' in Hong Kong, and then the Taiwan issue. Xi is signalling the importance of these tasks for the future," Deng said.
4. Hong Kong and Macau
In his speech addressing Hong Kong and Macau, Xi has stressed the theme of wielding "comprehensive jurisdiction" over the territories.
"[We should] implement the central government's comprehensive jurisdiction over Hong Kong and Macau, implement the legal system and enforcement mechanisms that safeguard national security, protect the country's sovereignty, security, development, safeguard the overall stability of the societies of the special administrations, and to keep Hong Kong and Macau prosperous and stable," Xi said.
He has also said the principles of "one country, two systems" – the formula to rule the special administrations – and "Hong Kong people ruling Hong Kong, Macau people ruling Macau" should continue to be implemented in a comprehensive and precise manner.
The emphasis on security comes a year after the enactment of the national security law in Hong Kong following months of anti-government protests.
Lau Siu-kai, vice-chairman of the semi-official Chinese Association of Hong Kong and Macau Studies, said Xi's remarks showed that Hong Kong authorities needed to remain highly vigilant about any threat to public order and national security.
"Ensuring national security is a long-term project in Hong Kong," Lau said. "The national security law has only dealt with several kinds of security threats that have emerged in recent years … but Hong Kong is an open society and an international financial centre, and there could be threats when foreign countries attack our financial system, and when many residents remain anti-communist and pro-West.
"Xi also highlighted social stability, which means Hong Kong must be governed effectively, and have no repeat of the riots."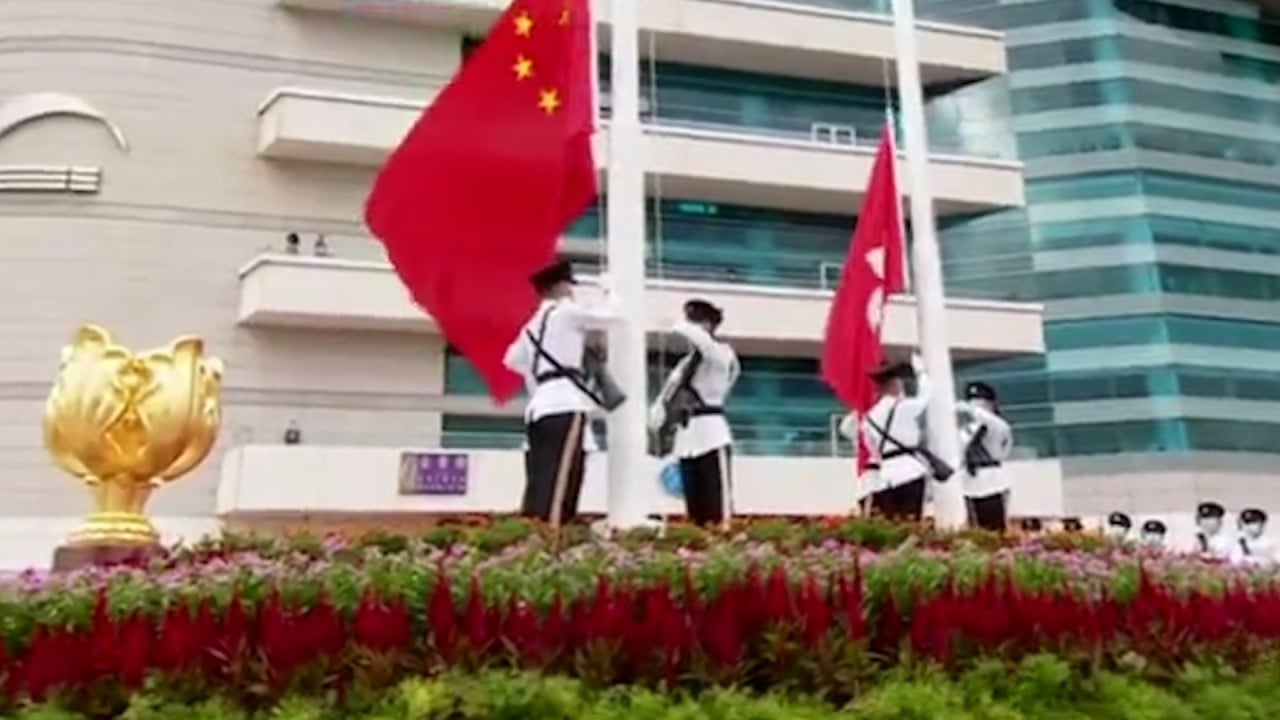 01:16
Hong Kong marks 24th anniversary of handover with flag-raising ceremony under heavy security
Hong Kong marks 24th anniversary of handover with flag-raising ceremony under heavy security
5. Message to the world
Xi offered both an olive branch and a strong warning to other countries as China's confrontation with the West grows.
"The Chinese people have never bullied, oppressed nor enslaved the people of other countries. They had never done that in the past, will not do that now, and will not do so in the future," he said.
But he also warned that the Chinese people would never allow any foreign forces to bully, oppress or enslave them.
"Whoever nurses delusions of doing that will crack their heads and spill blood on the great wall of steel built from the flesh and blood of 1.4 billion Chinese people".
China is increasingly at odds with Western nations, particularly the United States, on a range of issues, from the South China Sea, to
Xinjiang
, Taiwan and Hong Kong.
Xi said China was also seeking cooperation with the outside world, especially through its Belt and Road Initiative.
"The Communist Party of China will ... persist in cooperation, nonconfrontation, openness, seeking mutual benefit, and opposing a zero-sum game, hegemonism and power politics," he said.
6. Taiwan
Throughout his remarks, Xi stressed the importance of "national rejuvenation" – a goal he said included the "peaceful reunification" of Taiwan with the mainland under the one-China principle and 1992 consensus – a political formulation that agrees there is one China, but permits ambiguity over its meaning.
"All Chinese sons and daughters, including compatriots on both sides of the Taiwan Strait, need to work together and move forward in unity to resolutely smash any Taiwanese independence plots, and to collectively create a bright future for national rejuvenation," he said.
Lin Ying-yu, an adjunct assistant professor at National Chung Cheng University in Taiwan, said Xi's invocation of the 1992 consensus and peaceful reunification left space for improved cross-strait relations.
"This is in comparison to the narratives late last year, when Taiwan scholars on the mainland were openly discussing military reunification," he said.
But he noted that Beijing's understanding of the consensus was no longer Taipei's, given how much their relations had changed.
Shi Yinhong, a professor on international relations with Renmin University, said: "China has always been firm about its position to reunify Taiwan and preparations for reunification have hastened in Xi's era, but it does not indicate that there is a timetable."
7. Party dynamics
Xi called for tighter party organisation and urged Chinese youth to do their part in building the organisation.
He said the system needed to focus on building a high-quality team with political integrity and one that would be "clean and honest", a nod to his aggressive anti-corruption campaign.
"We must continue to carry forth our glorious tradition, maintain our red blood, and forever continue with our great party-building spirit," he said. "The achievements we have made over the past 100 years are the results of the united struggle of Communist Party members, the Chinese people and the Chinese nation."
This process towards the goal of "national rejuvenation" included efforts to continuously improve the party's leadership, the sinicisation of Marxist ideology and adherence to the founding principles of the party, Xi said.
Reporting by Josephine Ma, William Zheng, Sarah Zheng, Teddy Ng, Kinling Lo and Eduardo Baptista