Confession of jailed Chinese internet tsar goes on display in new Communist Party museum
Lu Wei, the former face of censorship in China, was jailed for 14 years for corruption in 2019
Chinese newspaper says his written confession shows the party's 'force and warmth' while the senior official was under investigation
The written confession of Lu Wei, China's disgraced internet tsar who once rubbed shoulders with Facebook founder Mark Zuckerberg, was put on display by Beijing in an exhibition dedicated to its efforts to fight corruption.
Displaying his confession is part of Beijing's efforts to show the human side of its
anti-corruption drive
, and offers a rare glimpse into what life is like behind bars for the former political star.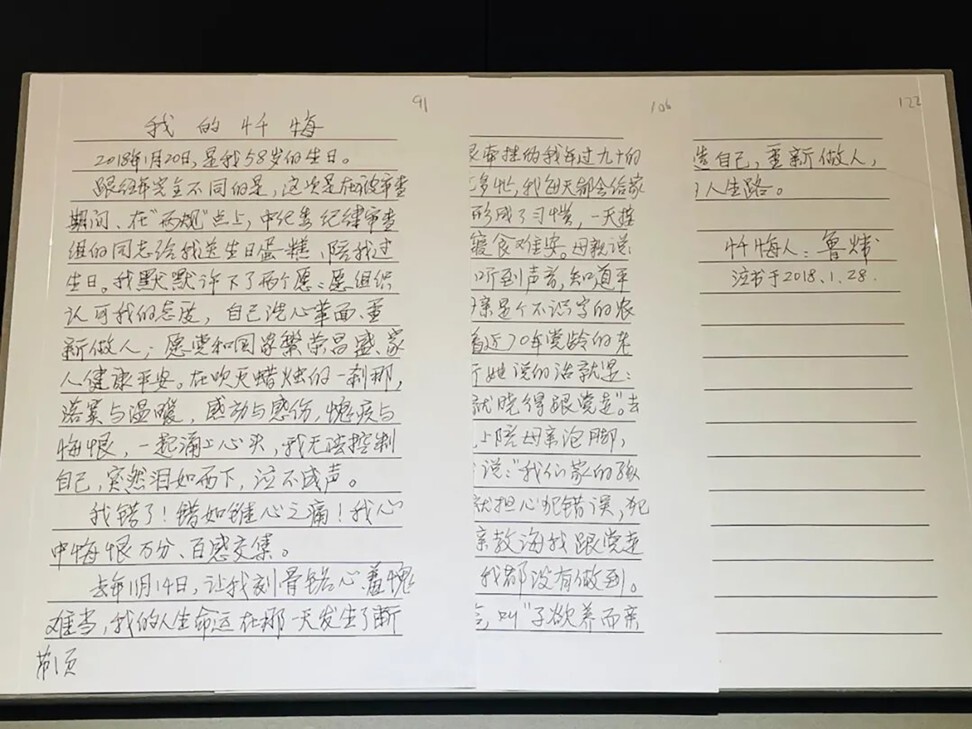 As Lu spent his 58th birthday under investigation by the Communist Party's secretive anti-corruption body in 2018, the investigators presented him with a cake, he wrote in his confession.
"As I blew the candle, a sense of loneliness, warmth, sorrow and regret rushed to my head," he wrote, according to the pages on display at the Museum of the Communist Party of China, which was opened in June to mark
the party's centenary
in July.
"I couldn't control myself and my tears fell like raindrops as I sobbed."
Details of the confession were first reported by a social media account run by Beijing Daily on Thursday.
Lu, the face of China's internet censorship, was mostly remembered for introducing Zuckerberg to President Xi Jinping, during Xi's trip to Seattle in 2015.
Zuckerberg later recalled that meeting – when he spoke to Xi in Mandarin with Lu standing by their side – as "a meaningful personal milestone".
Lu's confession, three pages of which were on display at the new Beijing museum, were written two months into his internal party discipline inspection inquiry.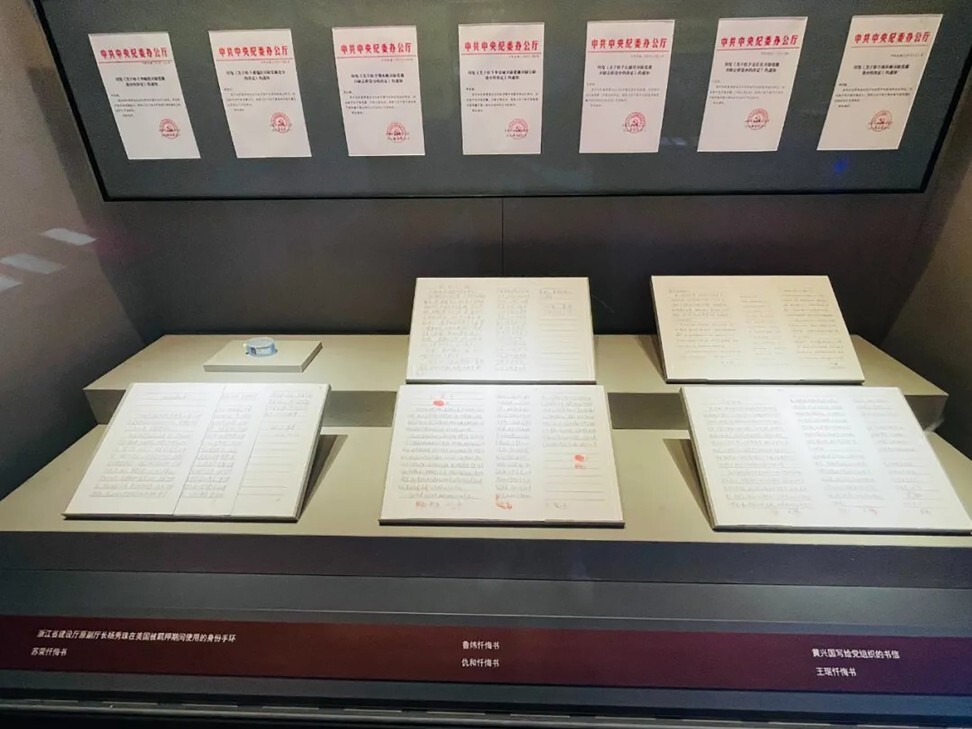 Convictions from the process have sometimes been widely criticised because the suspects are usually incommunicado and have no access to lawyers during the investigation. Evidence collected during such investigations, however, is usually readily accepted by Chinese prosecutors and courts.
The process remains a powerful tool for the party, especially under Xi, who rose to the party's top job in 2012 and rolled out a far-reaching anti-corruption campaign. More than 400 officials at a ministerial level have been placed under party investigations, according to the official count.
Not all of those investigations led to a criminal investigation, but there have been extreme cases where heavy penalties were handed out.
In a rare example,
Lai Xiaomin,
former chairman of a state-owned asset management company, was executed in January. The execution came less than two weeks after he was convicted of taking almost 1.8 billion yuan (US$278 million) in bribes.
In Lu's confession now on public display, he apparently pleaded for leniency.
"I made two wishes, one is that the party recognises my sincerity and I could start over again," he wrote. "The second is that the party and the country flourish in prosperity, and my family stays healthy and safe."
It is not uncommon for relatives of corrupt officials to be investigated in an anti-corruption inquiry, or be convicted for taking bribes.
In his confession, Lu dwelt on details about his family, and said his mother was an illiterate peasant. In other parts of the same document that were made public in a 2018 official display, Lu lamented that he had failed as a role model for his son, who was aged 30 at the time.
The display of Lu's confession, among others, seeks to reveal a tone of humanity regarding the secretive investigations. Giving Lu a birthday cake underlined the process's combination of force and warmth, said an article by the state-owned Beijing Daily.
When Lu was convicted in 2019 by a Chinese court, the court said Lu was afforded leniency for an honest confession about crimes that were not previously known by the authorities, and had returned most of his illegal earnings. Lu was found to have received 32 million yuan (about US$5 million).
Like most convicted former officials, Lu did not appeal.
This article appeared in the South China Morning Post print edition as: Jailed internet tsar's confession goes on display