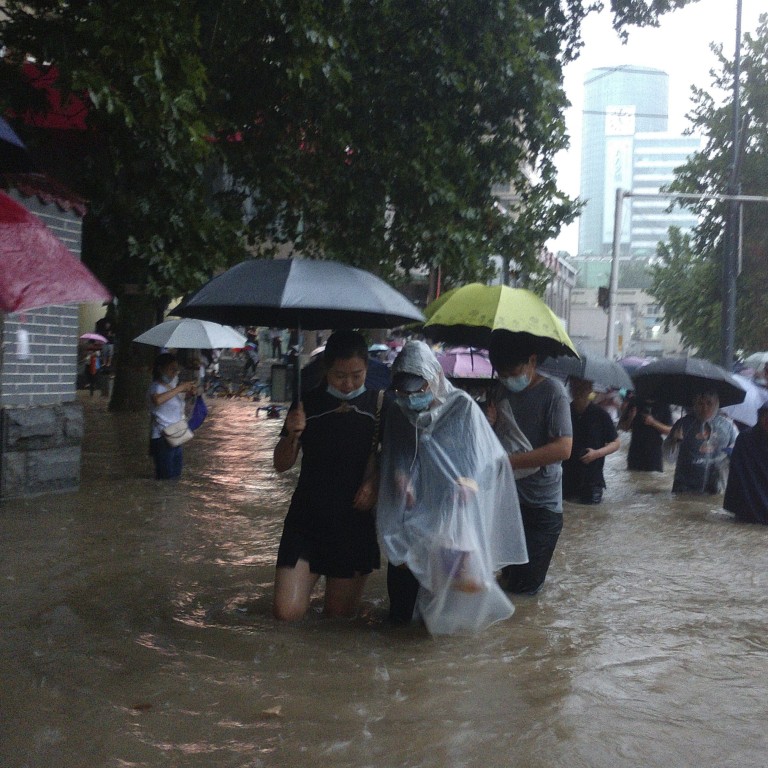 China floods: Zhengzhou tries to get back on its feet after heavy rains displace over 1.2 million people
At least 25 people in Henan were killed by the heaviest rain in decades, including passengers trapped in a rail tunnel amid rising waters
Authorities mobilise relief efforts while leading business and civil society promise to raise funds to help those afflicted
The Chinese city of Zhengzhou started the slow process of recovery on Wednesday after devastating floods that killed at least 25 people and displaced around 1.24 million.
The heavy rains, which started late last week, caused havoc across Henan province and almost paralysed Zhengzhou, the provincial capital, cutting off electricity and water supplies on Tuesday.
The worst-affected area in the city of around 12.5 million was between Haitansi and Shakoulu stations on Line 5 of the subway, where at least 12 people died when their train was trapped by rapidly rising floodwaters.
One WeChat user named Xiaopei posted a message that read: "The water inside the train is chest-deep. I can no longer speak, please help! SOS." She was eventually rescued.
The heavy rains also hit other parts of Henan, disrupting rail and other transport links across the province, where many areas are raising their emergency response levels.
In Gongyi, 80km (50 miles) west of Zhengzhou, landslides and floods were reported to have killed at least four people and some villages were left without power for more than 24 hours.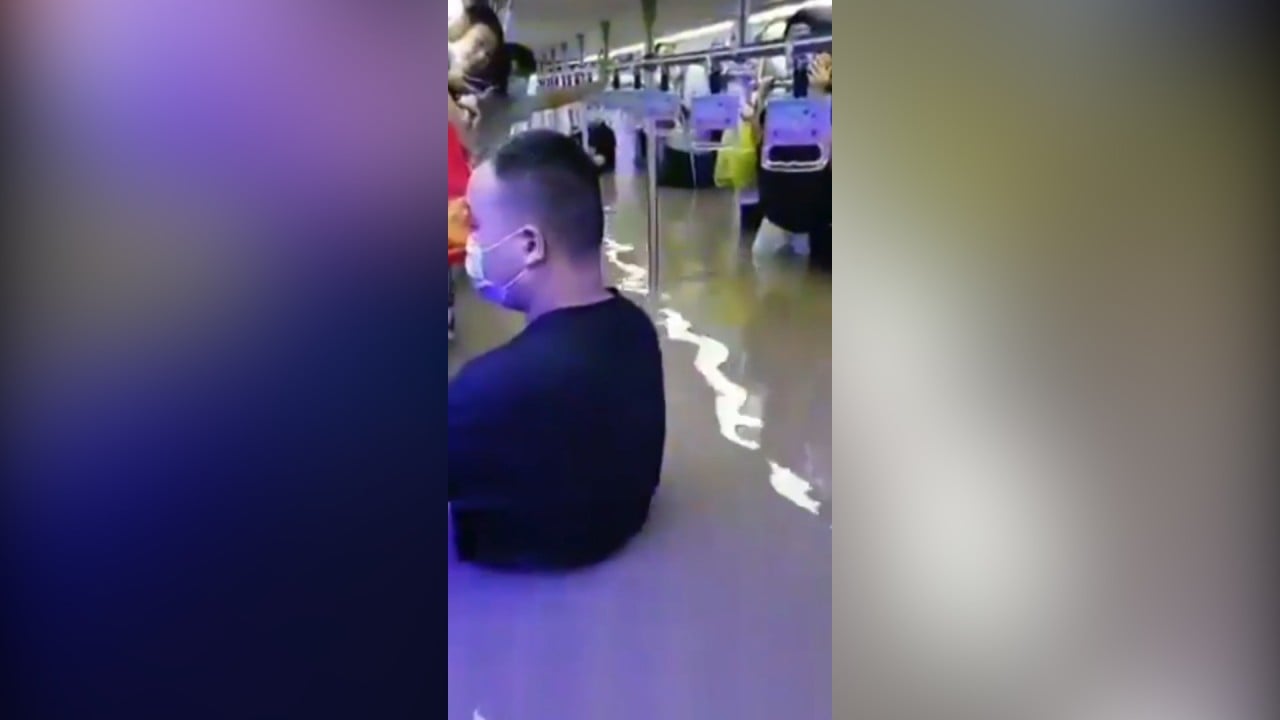 05:07
Subway passengers killed in flooding caused by heavy rain in central China
Subway passengers killed in flooding caused by heavy rain in central China
In-fa, which was 680km (422 miles) east of Taipei at noon on Wednesday, is expected to make landfall later this week in the eastern province of Zhejiang.
The typhoon combined with the Western North Pacific Subtropical High to create a stable airflow that carried large quantities of atmospheric water towards Henan, Chen said.
He admitted that while forecasters were expecting heavy rain in the province, they had not been able to predict the exact site of the heaviest rain because the "many uncertainties in extreme weather systems" made it hard to give an accurate forecast.
Meteorologists said it was the heaviest rainfall in decades.
Zhengzhou recorded 209.1mm (8.23 inches) of heavy rain in the space of just one hour. This compares to the 154mm that fell in 24 hours in the German city of Cologne, which has also been hit by severe flooding.
The city's meteorological bureau issued a red alert – the highest level – on Wednesday evening, warning that heavy rain would likely continue with more than 100mm expected to fall between 7pm and 10pm on Wednesday.
The rain also caused a major dam to start overflowing. Zhengzhou flood control headquarters issued a text message on Wednesday, warning residents of a "grave safety hazard" in the Guojiazui reservoir and telling them to evacuate the southwestern part of the city immediately.
A few hours later, China's Ministry of Water Resources said it had evacuated personnel working at the dam. Local media reports said mobile communications from the reservoir had become next to impossible because of poor signals and power cuts.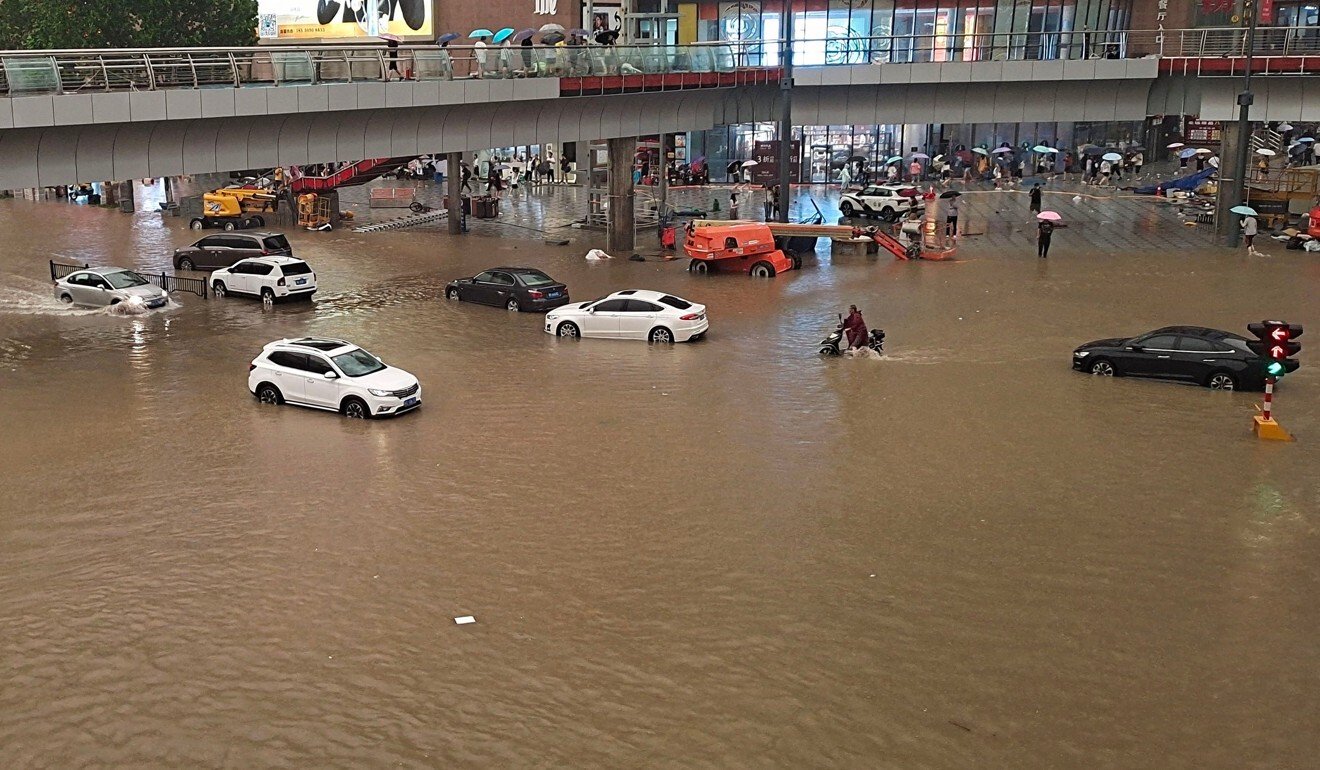 The central route of the country's South-to-North Water Transfer project to supply the drier regions of northern China passes through Guojiazui. The ministry said the project's main canal was safe, but added that warnings had been sent to Beijing, Tianjin and Hebei provinces.
The government body also said that heavy rains over the past four days had caused 46 rivers in 14 provinces to overflow.
Chinese President Xi Jinping urged officials at all levels of government to lead the recovery efforts and minimise the loss of lives and property, but also urged the local authorities to be mindful of the risk of a Covid-19 outbreak.
"Relevant departments in all regions should […] prevent the return of poverty due to disasters and 'a major epidemic after a major disaster'," he said, according to state news agency Xinhua.
The PLA's Central Theatre Command has sent some 3,000 military personnel to Zhengzhou while the Ministry of Emergency Management has sent 1,800 rescuers from seven provinces to Henan.
Foxconn Zhengzhou, the world's largest iPhone manufacturing facility, continued to operate, according to employees, who said Tuesday's late shift had largely been unaffected, despite cuts to power and water supplies in the city's downtown.
Workers in some sections were told to take Wednesday off, according to an employee named Wang but most were continuing to work, including the night shifts.
"Quite a few colleagues of mine have taken the day off, I guess some of them could not get out because of the deep water outside," he said. "Our dormitory is not affected either, and we are sleeping from last night's late shift, with the air conditioning on."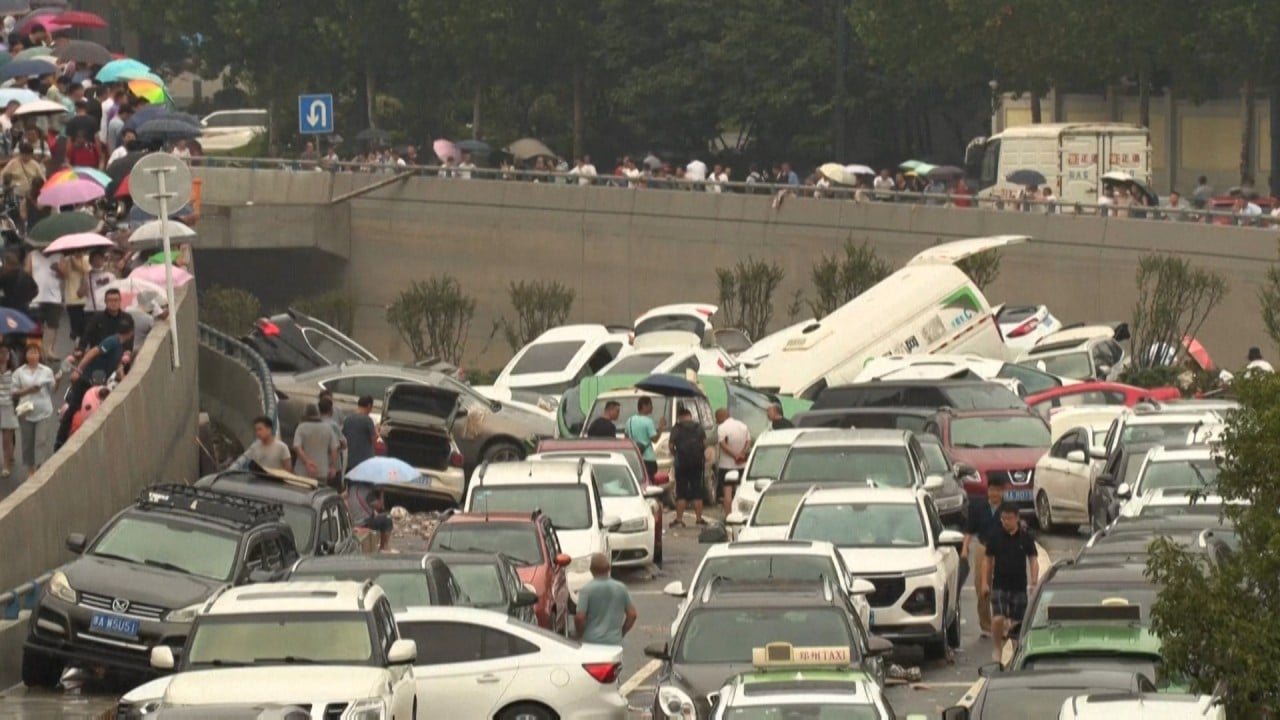 01:36
Flood aftermath: Piles of cars left on roads after deadly floods in central China
Flood aftermath: Piles of cars left on roads after deadly floods in central China
Pictures taken by Wang showed the dormitory area almost free of standing water, with water and electricity still running normally in the facility.
Apple chief executive Tim Cook posted on his Weibo account: "Our thoughts are with everyone affected by the flooding across Henan province, and the first responders helping people to safety. Apple will be donating to support relief efforts and reconstruction."
Alibaba, the owner of the South China Morning Post, has announced a 100 million yuan (US$15.4 million) donation to Henan, while its e-payments affiliate Ant Group will donate a similar figure. The foundation of the company's founder Jack Ma will donate a further 50 million yuan.
Social media and gaming giant Tencent, Beijing-based ByteDance, on-demand services platform Meituan and discount e-commerce company Pinduoduo have said they will each donate 100 million yuan.
Didi Chuxing, the ride-hailing giant currently facing cybersecurity review, has also announced a 100 million yuan donation and pledged additional resources.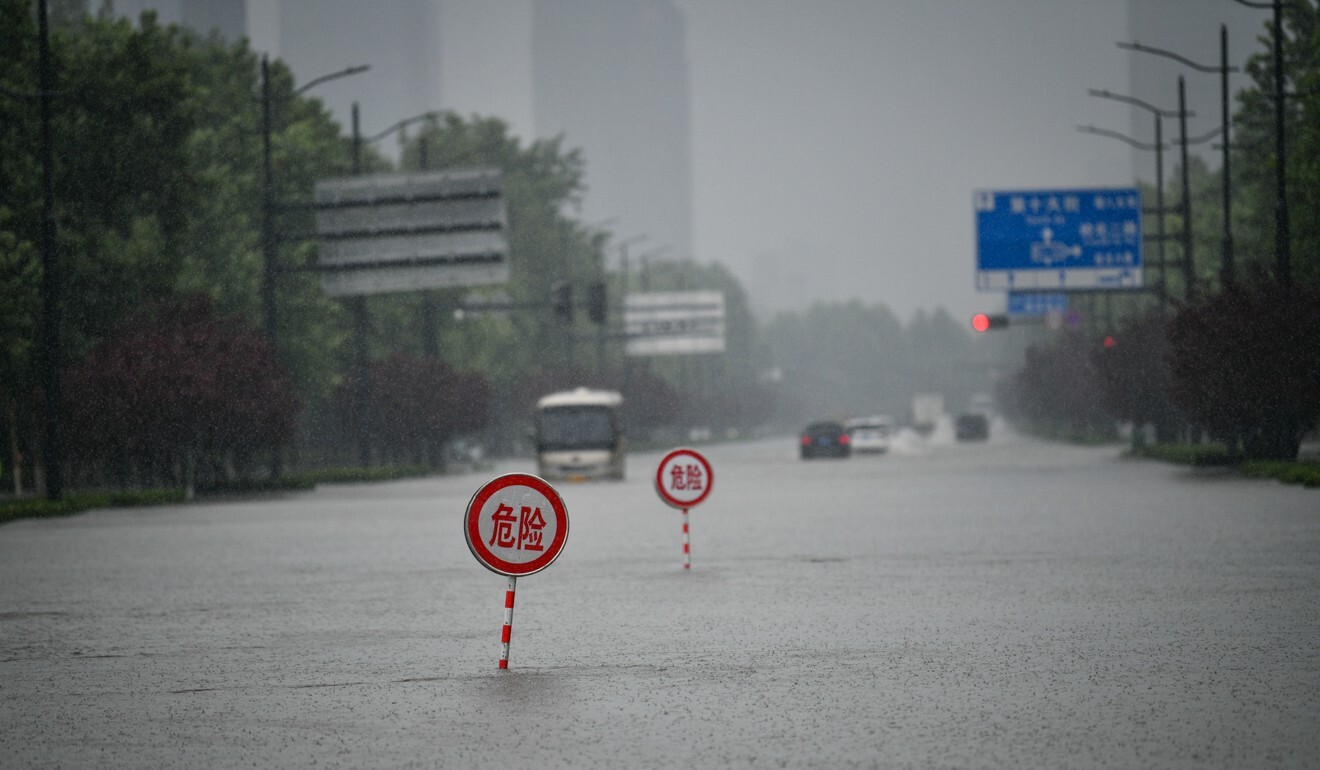 The rush of donations by China's Big Tech
, along with multiple corporate initiatives to help people and businesses in Henan, come as the country's technology firms are under scrutiny from both Beijing and society at large for putting profits before social responsibility.
As with past natural disasters, from the 2008 Sichuan earthquake to the first recorded Covid-19 outbreak in Wuhan, civil society has quickly mobilised to provide relief aid.
Government-affiliated charities like the China Foundation for Poverty Alleviation were some of the first to set up donation platforms for Henan.
Various political parties, business organisations and lawmakers in Hong Kong also said they would also raise funds for Henan, according to a post on Weibo by Beijing's liaison office.
Office worker Wen Yaoyao, 33, was on a business trip to the neighbouring city of Kaifeng on Tuesday afternoon, but went home early because of the heavy rains – a decision she believes saved her life.
Wen's daughter was collected from kindergarten by her grandmother on Tuesday afternoon, but it took them around four hours to get home – a journey that usually takes 20 minutes.
Wen said more than 20 children had been trapped at the kindergarten overnight, with teachers staying to look after them.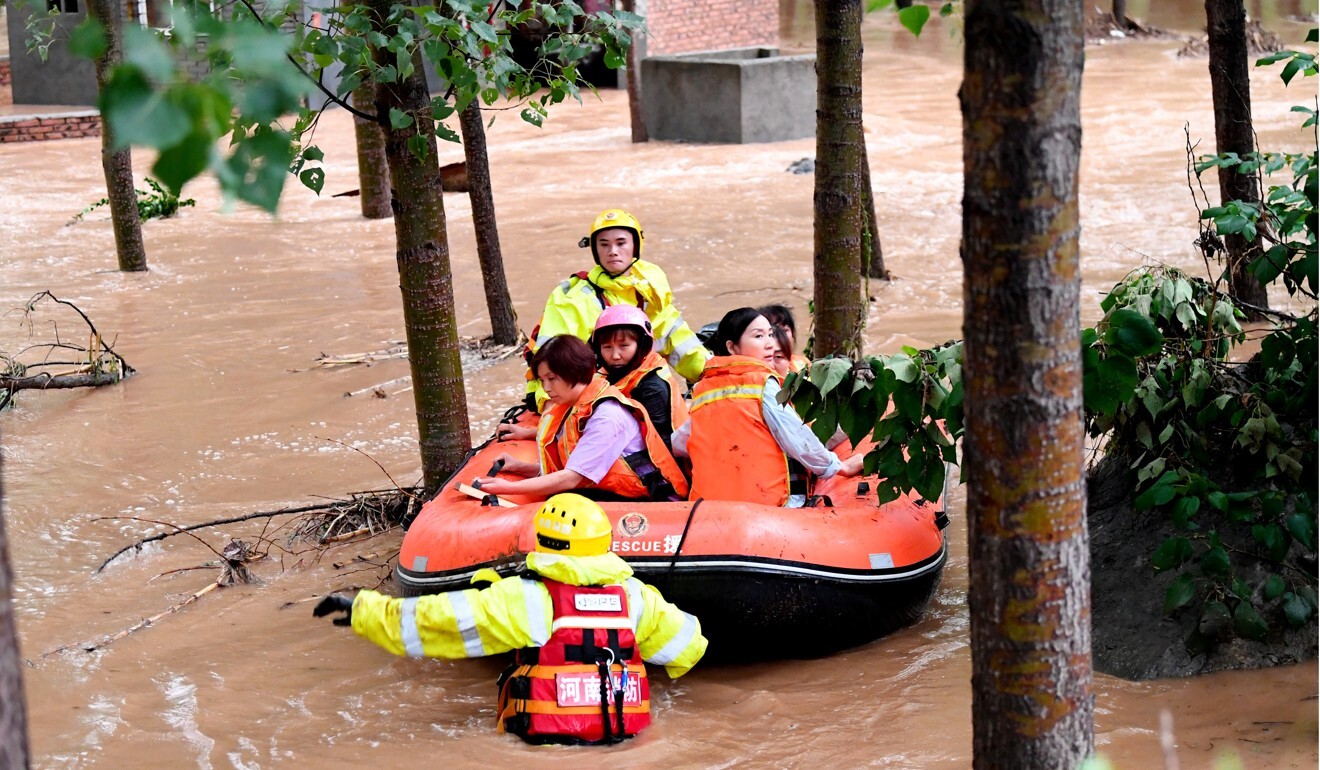 She said the family's power and water supplies were cut off on Tuesday night.
"We didn't expect it to rain so much … and I didn't stock up on food at home, so we ate my daughter's snacks last night.
"We saw yesterday's red warning for heavy rain yesterday, but everyone thought that it would be like other times – some flooding in the tunnels at worst. We did not expect it to be so frightening."
Zhao Keluo, 47, who heads an accounting firm based in Zhengzhou, spent the night in a hotel when he was unable to get home on Tuesday.
He said he had only been able to find a room at 2am and had to pay more than twice the normal price.
He later learned his wife had taken in a pregnant woman who had been stranded at a bus stop overnight.
"Because there was no notice of suspension of work and classes [from the government] yesterday, many people who were working were trapped," he said.
He also hit out at the local authorities for failing to prepare properly. "Our city administration, however, did nothing and they should be held responsible for such casualties and property damage," he said.
Additional reporting by Echo Xie and Stephen Chen
This article appeared in the South China Morning Post print edition as: Zhengzhou counts cost of flood