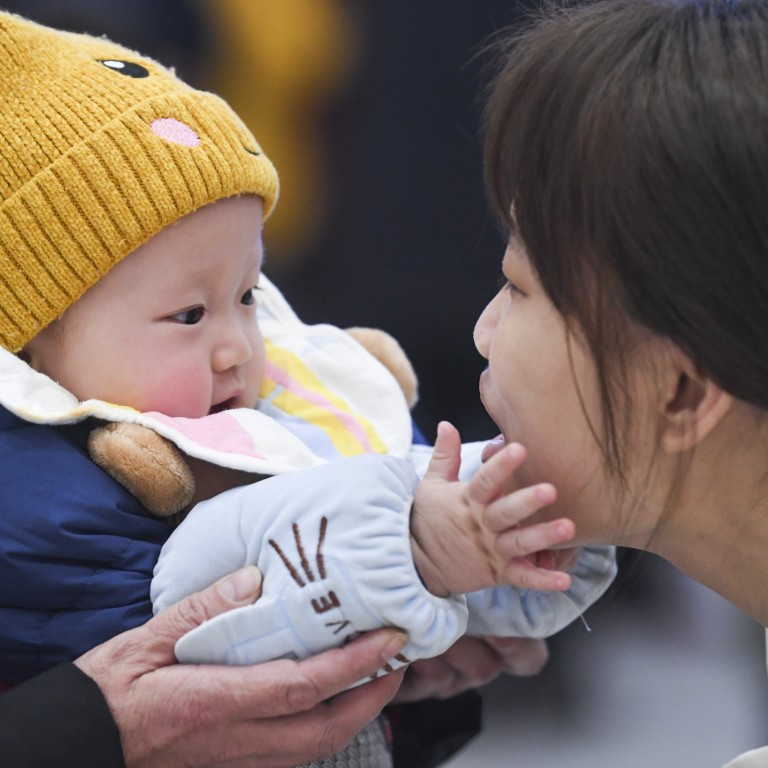 Chinese city offers subsidies to encourage families to have more children
Couples in Panzhihua, Sichuan province, will be able to claim a monthly allowance of US$77 for second and third children
It comes after Premier Li Keqiang pledges to ease the burden of childcare, saying population issue is 'crucial' to nation's development
A city in Sichuan province has become the first in China to offer subsidies to help families raise more children, as the country tries to boost the birth rate.
China announced a
major policy shift in May
, allowing couples to have up to three children – scrapping the previous two-child limit – amid concerns about its rapidly ageing population.
Authorities in Panzhihua, a city in the southwestern province, on Wednesday said parents would be able to claim a monthly allowance of 500 yuan (US$77) per child for a second or third baby up to the age of three.
They will also get access to free hospital maternity care and employers and state-owned companies in the city are being encouraged to offer childcare services.
The move comes after Premier Li Keqiang on Tuesday pledged to ease the burden of childcare to encourage more births.
"The country should improve the quality of … services, build an inclusive childcare system, and economic and social policies that cohere with family planning policies," Li said.
"The population issue is crucial to China's fundamental, overall and strategic development."
02:04
China expands two-child policy to three
China expands two-child policy to three
Beijing's latest relaxation of family planning policy is an effort to turn around a declining birth rate, but the cost and pressures of raising children could deter Chinese from having bigger families.
While the policy change has yet to be legislated, the National Health Commission
confirmed last week
that all mainland citizens can now have a third child. Couples must register with their local authorities and they will be able to get the necessary documents once the amendment is passed. Mothers having a third child will be entitled to 98 days of maternity leave.
State news agency Xinhua on Tuesday said the draft amendment to the population and family planning law would be submitted to China's top legislature for deliberation next month.
Vice-Premier Sun Chunlan said families would be offered more support, with tax deductions for the cost of childcare for children under three and more preschool services being considered.
"We should break away from ideas, policies and mechanisms that affect long-term balanced population development," she said. "We will support [parents] with a well-built system for childbirth services, and lower the costs for marriage, childbirth, raising and educating children."
The number of births
fell sharply in the first half of the year
, according to local government data, amid warnings of a looming demographic crisis. In Henan province, for example, the number of newborns fell 17.9 per cent from a year earlier to 411,000 in the first half. Meanwhile, the city of Jiaozhou in Shandong issued 3,238 birth certificates in that period, down 11.6 per cent from a year ago.
China's
latest census data
shows that the number of new births fell in 2020 for a fourth consecutive year. Some 12 million babies were born, down 18 per cent from 14.65 million in 2019 – a near six-decade low. The population is also ageing at an unprecedented rate, partly due to the notorious one-child policy that ran for decades and ended in 2016. Before then, a permit was needed to have a child, and those who violated the policy faced hefty fines and even forced abortions.