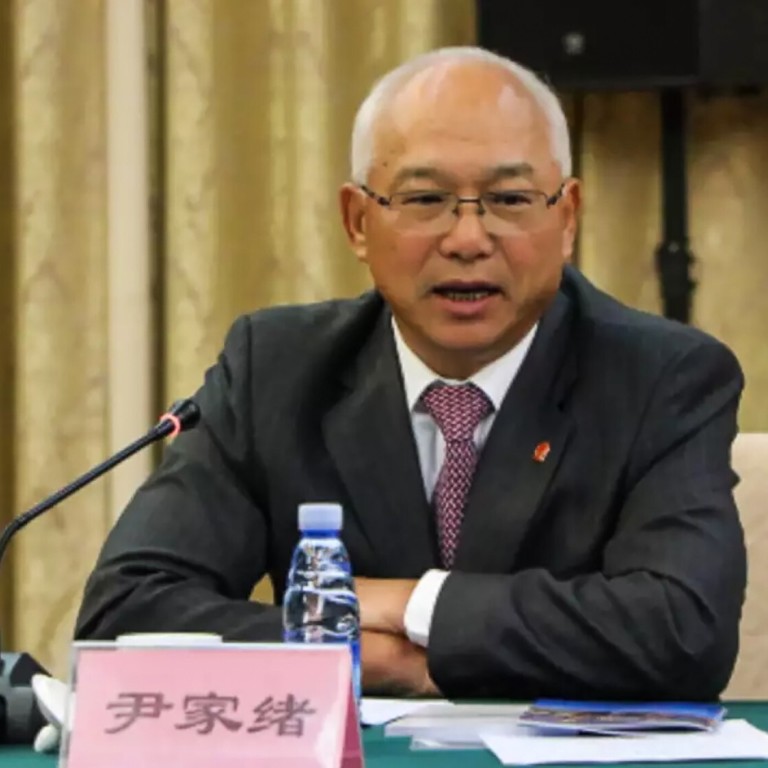 Former head of Chinese weapons giant to face corruption charges after formal arrest approved
State prosecutor intends to arrest ex-Norinco chairman and party secretary Yin Jiaxu, accusing him of accepting 'huge sums' of money and gifts
Yin is the second Norinco senior executive to fall from grace in Xi Jinping's anti-corruption drive with similar bribery accusations made against Hu Wenming
The arrest of a former chairman of one of China's largest weapons manufacturers on corruption charges was approved by China's state prosecutor on Monday.
In a statement, the Supreme People's Procuratorate said it had decided to formally arrest
Yin Jiaxu
 "on suspicion of accepting bribes and making illegal gains for relatives and friends in accordance with the law". Yin had been the party secretary and chairman of China North Industries Group Corporation (Norinco) until his sudden retirement in 2018, three years ahead of his official retirement age of 65.
The formal arrest came seven months after he was
put under an internal party probe
by the top disciplinary watchdog of China's Communist Party, the Central Commission for Discipline Inspection (CCDI), for "serious violations of discipline and the law", a euphemism for
corruption
.
He was formally handed over to prosecutors on September 30 after being expelled from the party and stripped of all official positions and benefits. In an official readout, the CCDI accused Yin of receiving "huge sums" of money and gifts, using his official capacity to benefit others and transferring the profitable business of the company to relatives and friends for personal gain, "resulting in huge losses in national interests".
The anti-corruption agency also said Yin was "obsessed with golfing" and had long held a golf club membership illegally.
Before rising to Norinco's top management position in 2013, Yin spent more than 14 years at Changan Automobile Co, a subsidiary of Norinco that manufactures passenger cars, minivans, commercial vans and light trucks, where he was regarded as key to the group's rebound from near bankruptcy in 1998.
One person who worked under Yin during his term at Changan Automobile said he was known for his determination and resolution, "even a bit headstrong", during his time there.
"He was very dominant in management. Everyone had to listen to him," said the source, who asked for anonymity.
Yin replaced Hu as deputy general manager of Norinco in 2010 and took over as party chief in 2014. Hu moved on to CSIC which oversaw the development of China's aircraft carriers, and he became CSIC party chief and chairman in 2012.
Hu was expelled from the party for taking bribes and abusing his power. He faced trial in February in a Shanghai court and is now awaiting sentencing.
"No doubt they have many internal rules and regulations, and their internal disciplinary agencies are known to be tougher than others, but these companies are also more opaque and less transparent."
Norinco supplies firearms, tanks and aircraft to all branches of the People's Liberation Army and armed police force. A report in February by the Stockholm International Peace Research Institute ranked it as the eighth-largest arms company in the world and the second largest in China after the Aviation Industry Corporation.
The group is involved in various projects linked to the defence sector, including ground support infrastructure for the BeiDou Navigation Satellite System, China's answer to GPS navigation.
In 2020, Norinco's annual revenue stood at 19.6 billion yuan (US$3 billion) in domestic and export markets, up 10 per cent from the year before, according to its website.
This article appeared in the South China Morning Post print edition as: arrest of weapons chief approved