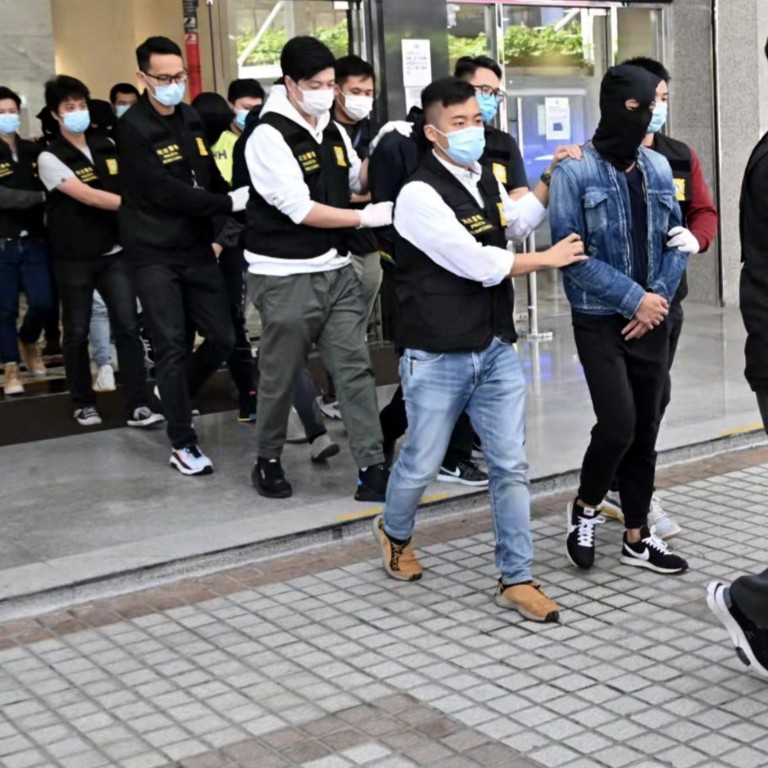 China targets online casinos in war on illegal gambling, authorities say
Operators are using internet platforms to connect gamblers, casinos and proxies, head of mainland prosecutor's office says
Macau police had arrested Suncity casino junket boss Alvin Chau Cheok-wa over alleged illegal gambling platform and encouraging mainlanders to bet online
Chinese prosecutors have indicated they are targeting
online casinos
after a growing number of operators allegedly used internet platforms to get around the country's laws against gambling.
Miao Shengming, head of the first prosecutor's office at the Supreme People's Procuratorate, said on Monday that illegal gambling had evolved in the internet era.
"Criminals used the internet technology, such as software and platforms, to connect gamblers, casinos and their proxies," he told a press conference.
Operators of online casinos attracted customers across China, with some having hundreds of thousands of members, he said.
It follows
Sunday's arrest
in
Macau
of Alvin Chau Cheok-wa, head of Suncity Group, and 10 other people for alleged involvement in an illegal gambling platform outside the city and encouraging mainland Chinese to bet online. An arrest warrant had been issued for Chau two days earlier by mainland authorities.
Chau is accused of leading a syndicate that opened online gambling platforms abroad and arranged for Chinese nationals to gamble, lending them large sums and providing clearing services through an underground bank.
Suncity Group is the largest of Macau's casino junket operators – middle parties that bring in gamblers who wager large sums, offering loans, transport and accommodation.
In mainland China – where all gambling except in state-run lotteries is banned – opening casinos or arranging for Chinese nationals to gamble abroad can incur a fine and up to 10 years in jail.
Gambling is
permitted in Macau
but tourists must have a visa to enter. The economy of the special administrative region, neighbouring Hong Kong, is heavily reliant on casino revenue.
Casino stocks trading in Hong Kong fell on Monday, including Sands China and Wynn Macau, with MGM China down 10 per cent.
Miao said 255,850 people involved in 98,069 cases had been charged with "opening casinos" from 2018 to September this year, of which 63,238 were prosecuted between January and September this year in 25,140 cases.
"The vice of gambling still exists in certain areas and therefore there are more related crimes there," said Zhang Xiaojin, from the Supreme People's Procuratorate.
"At the same time, because of stronger actions against dark and evil elements, and cross-border gambling, cases have increased and prosecutions have also increased [since last year]."
The office said in July that the crime of opening casinos accounted for over 80 per cent of all gambling prosecutions since 2019.
"After the coronavirus pandemic affected casino businesses, operators of a foreign casino moved their physical casino online and arranged for people in mainland China to game via video conferencing, and recruited Chinese nationals abroad as online gambling proxies," Zhang said of one case.
Covid-19 has slashed the number of gambling tourists – mostly from mainland China – travelling to Macau. The city's gaming industry brought in 296 billion patacas (US$36.9 billion) in 2019, before the pandemic, but fell to 64 billion patacas last year, according to Macau's Census and Statistics Service.
Chinese authorities have long accused those who gamble unlawfully of destabilising society and the economy, and causing other crimes including kidnapping and murder.
"As traditional gambling moves online, casinos are opening in the guise of games of chess and cards for great profits, harming our country's economic security," Miao said, adding that Chinese using casinos abroad and online were harming "our country's civic image".
Qu Xinjiu, a professor at China University of Political Science and Law in Beijing, told Communist Party mouthpiece People's Daily that Chau's arrest specifically concerned mainland residents being attracted to gamble and Macau's gambling industry was not under threat.
"Public security agencies fought a gambling group outside mainland China that lured mainland residents into gambling," Qu said. "This was to safeguard China's economic security, social stability and national image. It was not targeted at the normal operations of the gaming industry in Macau."