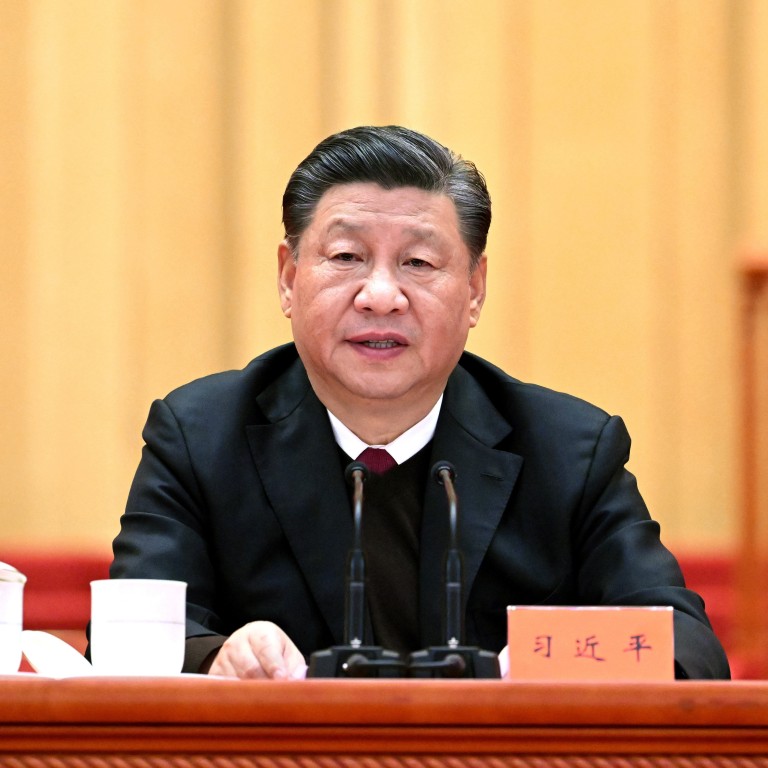 'Hit back when criticised on human rights': Xi to officials
New book includes 2014 speech to party leaders instructing them how to respond to criticism from Western countries
Publication coincides with latest clash on values between Beijing and the West with competing virtual summits
Chinese officials should "resolutely hit back" whenever confronted by the West on
human rights
, President Xi Jinping instructed China's ruling elite in 2014, a new book has revealed.
In a February meeting that year, just 11 months into his first term as state president, Xi told about 170 ministerial-level officials that there were plenty of problems in the West.
"When Western leaders talked to me about human rights, I always said there's no such a thing as best human rights, only better human rights," he said.
"By saying that, I mean of course China's human rights need development but you also have lots of problems on human rights, too."
Xi said that, regardless of China's development progress, its human rights conditions only had to meet the country's own standards, not the West's.
"We are good as long as we meet China's own standards, and we don't need to look to the standards of the West or care about how they judge us. Facing Western countries' finger-pointing over China's human rights, [we] must resolutely hit back!"
The remarks – from a speech at the opening of a five-day study session at the Central Party School on February 17, 2014, were made public in a book released early this month, titled Collected Remarks by Xi Jinping on Respecting and Protecting Human Rights.
The book included a quote by Xi from a 2013 meeting that sums up his vision of human rights: "Development is the key to solving all our country's problems."
Published by the official Central Party Literature Press, the book's release coincides with a push for Beijing's own narrative on human rights, in the face of increasing pressure from Washington and its allies who wrapped up a two-day democracy summit on December 10.
China's leading diplomats have accused Washington of creating an ideology divide with the summit, convened by US President
Joe Biden
, and attended virtually by 110 invitees, including leaders from major developed countries.
China was not invited, but the self-ruled island of Taiwan, which Beijing regards as its own territory, was on the invitation list. A day before the summit began, Beijing hosted its own "South-South Human Rights Forum", attended virtually mainly by academics from developing countries.
In a congratulatory letter to the forum, Xi argued that the practice of human rights should be diverse, and that people of all countries should choose their own paths of human rights development.
In the face of accusations that Beijing is committing genocide against its Muslim ethnic minorities, Chinese diplomats have also been aggressively defending the country's policies, including on
Xinjiang
and Hong Kong. They reject criticism by Western governments as an excuse to curb China's rise.
Many of China's diplomats have given lengthy presentations about the history of discrimination and abuse of indigenous peoples in countries like the US and Canada, and the heavy death tolls of the Covid-19 pandemic in major developed countries.
The release of Xi's remarks, to the Communist Party's top academy nearly seven years ago, was probably intended to show that his views on the issue were long-standing, according to Kerry Brown, director of the Lau China Institute and a Chinese Studies professor at King's College London.
"The quote is probably being issued now to show that Xi had this view before it became much more vocally expressed, and before events like [former US president Donald] Trump and the political issues in Europe with divisions there," he said.
"China's lack of trust and respect for the West and its values systems has been growing since the great financial crisis of 2008, and the political divisions and general decline of Western confidence has only deepened this."
Brown said Xi's remarks suggested there was no sense of inferiority among the party leadership over the human rights concepts of Western countries.
And he added that, with Beijing's deep conviction that all such criticisms from the West were political tools, it was becoming more difficult for Western countries to prove their values.
"[The West] has to prove these [values] in the way it behaves and how it develops going forward. That, and that alone, will make China rethink the current position it has," Brown said.
Richard McGregor, a senior fellow for East Asia at the Lowy Institute in Sydney, agreed. "Mr Xi's quote is an eloquent summation of Beijing's foundational position on human rights – namely that the West has nothing to teach China on the topic and any criticism requires a political response in reply," he said.
"That applies in Hong Kong, just as it does in
Xinjiang
and elsewhere."