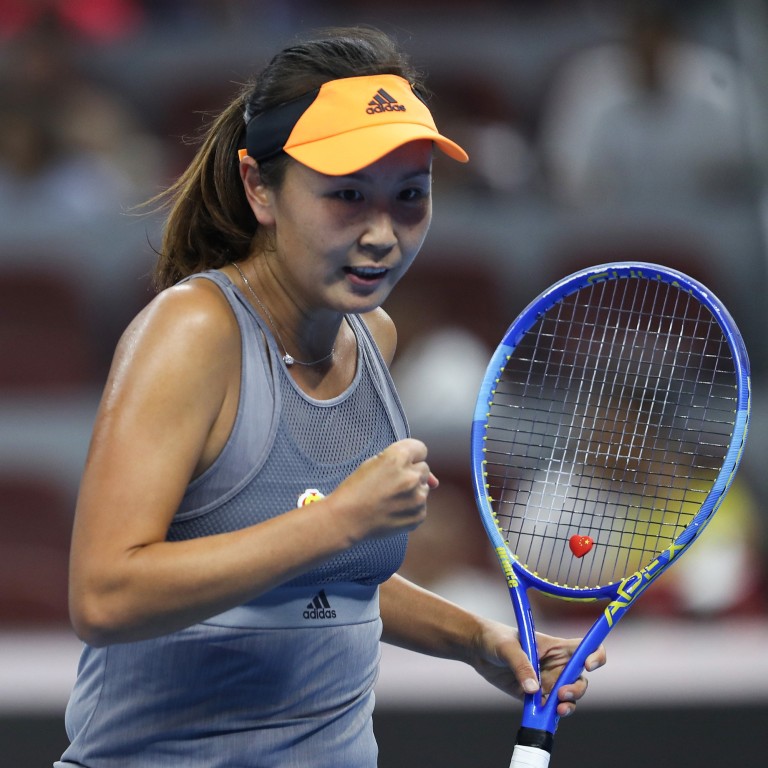 WTA 'not satisfied' by China tennis star Peng Shuai's sex claim denial
Women's Tennis Association says the former doubles champion's media interview has not addressed its concerns about her well-being
Peng says she is fine and there has been 'a lot of misinterpretation' from the public about 'a private matter'
Chinese tennis star
Peng Shuai's
appearance at a Shanghai event on Sunday has not satisfied the
Women's Tennis Association
, which said its concerns about her well-being had not been addressed.
The WTA said in a statement it would continue to call for a "full, fair and transparent investigation – without censorship – into her allegation of sexual assault".
Peng, 35, attended a cross-country skiing event on Sunday where she told a Singaporean newspaper she was fine and that her allegations of sexual abuse had been a "misinterpretation" of a private matter.
In addition to the video interview with a journalist from Lianhe Zaobao, she was also seen talking to Chinese basketball star Yao Ming.
The tennis star did not deny writing a post on social media platform Weibo in November, in which she made allegations of sexual misconduct against retired former vice-premier Zhang Gaoli, but said it was a private matter which had been misinterpreted by the public.
"I've never said or written that someone had sexually assaulted me. I want to strongly emphasise this point. About the Weibo [post], it's a private matter. There seems to have been a lot of misinterpretation from the public," she said in the interview.
The international community's concern over Peng's safety and her apparent silencing by the Chinese authorities following the allegation fuelled calls to boycott the Beijing Winter Olympics. It also led the WTA to suspend its tournaments in mainland China and Hong Kong.
Peng also addressed concerns about the legitimacy of an email from her to WTA CEO Steve Simon last month, received before the association pulled its tournaments in China.
She said she had written to Simon in Chinese out of her own free will, but her English was not strong enough to translate it. The English text of the email released by Chinese state media CGTN was a translation of her Chinese email, and was accurate, she said.
The tennis player spoke slowly and carefully during the interview, sometimes pausing, and asked the interviewer several times to repeat the question before answering.
Peng said she has been at home in Beijing and has been free to come and go. When asked if she was being surveilled, she said no, and asked why would anyone be surveilling her.
State-linked tabloid Global Times journalist Chen Qingqing shared a video on Twitter of Peng chatting with Yao Ming, and a supposed friend of Peng's, Ding Li, posted photos of the athletes smiling for the camera in Shanghai.
The contradiction between Peng's current stance and the claims made more than a month ago in her original post has raised concerns that she was pressured into recanting her original post.
Wang Yaqiu, a senior researcher for China at the NGO Human Rights Watch, suggested in a Twitter post on Monday that the interview looked staged and was not believable.
"So, after 48 days, Peng Shuai unexpectedly encountered a journalist from a pro-Beijing newspaper and then casually answered her questions about an event that [garnered] international attention," she wrote.
"Wow, so natural, very real, everyone now believes it. Congratulations, the CCP!" Wang's tweet continued.