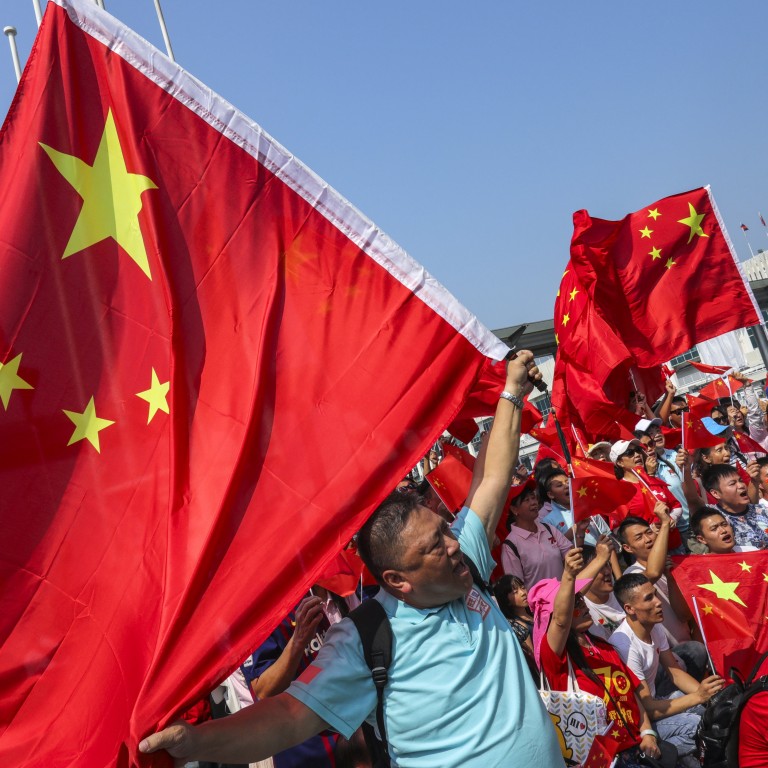 Ultra-leftist voices are making themselves heard in China, but at what cost?
Bloggers and commentators are riding a wave of nationalism by attacking intellectuals and corporate targets in China as well as emblems of the West
Observer predicts the radicals are convenient while Xi Jinping seeks a successful 20th party congress but their usefulness will expire once he consolidates power
First, China's ultra-left opinion leaders battled outspoken media, liberal intellectuals and NGOs, then foreign governments, corporations and moderate liberals. But lately they have found new ideological opponents to take on.
Leftist bloggers are targeting private tech firms, entrepreneurs and capital markets, as well as misbehaving celebrities, in combative essays pushing a socialist agenda in the name of patriotism. Ultra-leftist sentiment riding on the rising tide of nationalism is gaining popularity on the Chinese internet.
However, analysts warn that leftist tendencies that build on irrational and misguided policy interpretation could threaten China's progress of reform and
opening up
if left unchecked.
"After opposition voices were wiped out, they began to target moderate liberals. When even moderate liberals are hard to come by these days, they created new enemies, such as Chinese private companies," said Fang Kecheng, assistant professor of journalism at the Chinese University of Hong Kong.
"The recent attacks targeting Lenovo is the unsurprising consequence of an online hate machine in China. They are run by businesspeople who profit from manufacturing and disseminating viral content by cooking up conspiracy theory and emotional content, such as nationalism," Fang said.
The leftist comments were widely shared on social media platforms and tacitly encouraged by propaganda officials. Commentators such as Sima Nan and Li Guangman found their fan bases grew by the millions, setting off viral discussions and a chilling anticipation that ultra-left socialist values were making a comeback in China and threatening the survival of private entrepreneurs.
In Li's piece, which was republished by major state news websites, he accused China's domestic markets of being dominated by capitalists and "sissy-boy celebrities".
But it did not ease the ideological tension.
Fang said state media was reluctant to criticise the radical voices coated in Chinese Communist political correctness, and enjoyed huge support among the broader population.
Rana Mitter, professor of modern Chinese history and politics at the University of Oxford, said leftist commentators were more difficult for the Chinese party-state to suppress because their viewpoints were consistent with that of the CCP.
"This makes it harder directly to say they are mistaken, since they argue for values that are essentially a return to Maoist socialism, which the party still endorses as historically valid, whereas it actively rejects liberalism," Mitter said.
"Chinese socialism has always had a tension between market liberals and advocates of a more command-driven economy. If the former voice is lowered and the latter is stronger, then there is a danger that market reforms will not go ahead to the extent needed for modernisation," he warned.
Deng Yuwen, a former editor of Study Times, a paper run by the party's top academy, said widening wealth gaps and corruption arising from China's reform and opening up gave oxygen to the ultra-leftists who dreamed of a return to the Mao era.
"Strengthened ideological control across all sectors in society and a crackdown on liberalism also contributed to a public perception that China is shifting to the left in recent years," Deng said.
"This is not an entirely wrong judgment. But on the wider spectrum, there is still a huge difference in where we are now to Mao's ultra-leftism. It is simply impossible for China to return to a Maoist society with class struggle, when private corporations were nonexistent," he added.
In the third historical resolution adopted by the Communist Party in its 100-year history, the party leadership reiterated its official verdict of rejecting the Cultural Revolution that plunged China into a decade of chaos and violence from 1966.
If this was not a clear enough indicator, Xi was cited in an article published by Communist Party journal Qiushi, or Seeking Truth, this month saying commentaries over key events, agenda and figures must align with existing conclusions made by the party.
Zhan Jiang, a retired professor of journalism and communications from Beijing Foreign Studies University, said the ideological tensions created could lead to uncoordinated development in politics and the economy.
"We have come to a decisive time and a gambit to see whether the state sector advances and private sector retreats," Zhan said.
"The leftist voices might be loud for now but they are not as influential as they really seem. Just because we are not hearing from other censored voices, it does not mean the ultra-leftists represent the official voice," he added.
Many analysts also noted that the ultra-leftist commentators were perceived as opportunists.
"As far as I understand, this is purely a business story. It does not serve China's national interests. It only serves the interests of Sima Nan and their companies," Fang said.
But Lawrence Reardon, an associate professor of Chinese politics with the University of New Hampshire, believes the leftist commentators hold the moral high ground as Xi draws on their conservative ideas to strengthen party-state legitimacy.
"Such people are always opportunists. The key is to understand Xi was using these commentators to emphasise the legitimacy of the party state and its common prosperity agenda," Reardon said.
A Beijing-based political analyst who declined to be named, citing sensitivity of the matter, said many of the ultra-leftist opinion leaders remained opportunists riding on popular ideologies.
"Sima Nan is one of them who does not really subscribe to socialism," the Beijing-based academic said.
Reardon noted that Xi could be using the leftist views to soften the blow of his "common prosperity" agenda and to gain support.
"Private businesses are now under attack, as the party state strengthens state-owned enterprises by granting them greater access to financial credit and strengthening regulations against private businesses. The current underlying dynamic is, 'the state sector advances while the sector retreats'.
"The radicals are only useful while Xi is attempting to have a successful 20th party congress and controlling the oligarchs. Once Xi consolidates full control, he will toss aside the radicals," Reardon said.