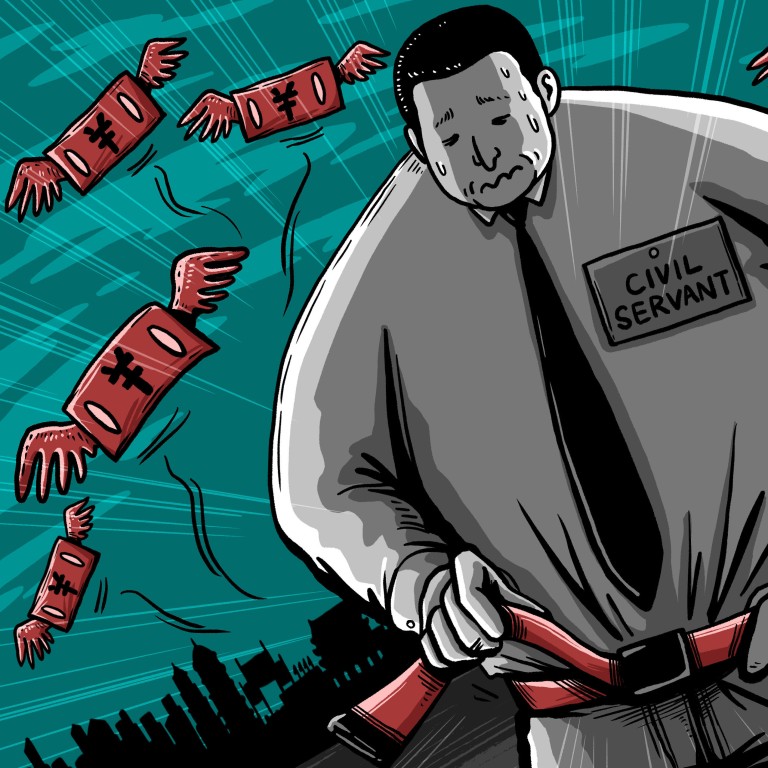 China's civil servants ordered to tighten their belts
Local governments across the country are cutting back on a range of perks and bonuses as part of a drive to reduce costs
Some public employees have seen their monthly pay packets fall by up to a third
For Timothy Tian, like millions of other Chinese civil servants, the forthcoming
Lunar New Year
promises to be an austere one as government workers face the toughest round of belt-tightening in a decade.
Even if Covid restrictions allow it
, the city government worker from the eastern province of Zhejiang cannot afford to travel after his monthly pay packet was cut by about 2,000 yuan (US$315) to 5,000 yuan.
"The total pay cut is about 25 per cent and I am not expecting much of a year-end bonus given the circumstances," Tian said, referring to repeated warnings from China's top officials that further belt-tightening is needed for civil servants.
Like most civil servants, Tian's basic monthly salary is topped up by a number of perks and performance bonuses, which are now being cut back.
Noting that China had lowered taxes and fees by as much as 8.6 trillion yuan since 2016, Li said the process must continue so the government could give more benefits to businesses and energise the economy.
According to the latest government statistics available, China had 7.1 million civil servants by the end of 2015.
But even civil servants in some of the country's richest and most developed areas such as Shanghai, the east coast and the south, are feeling the pinch.
A civil servant in the economic powerhouse of Guangdong province said that he and many colleagues across the province had seen their pay packets slashed.
"Yes, there was belt-tightening. From what I've heard, many face a 20 to 30 per cent haircut," the Guangdong civil servant said, speaking on condition of anonymity.
"The cuts mainly apply to non-salary benefits like housing subsidies.
"Since pay rates for civil servants are not uniform across Guangdong province, the amount may vary from city to city."
The base salary for civil servants is low – even top-ranking ministerial officials draw less than 9,000 yuan a month, while the most common departmental level officials, who form the backbone of administrative cadres, earn about 5,000 yuan each month.
But this is topped up by a number of perks, including subsidies for housing, transport, education, telecommunications, childcare and medical benefits, plus year-end bonuses that are not disclosed to the public.
The most painful aspect of the latest cuts is that some civil servants have been asked to "surrender" bonuses they have already received.
Tian said some government departments in Zhejiang last month gave employees 11 months' housing subsidy in advance, only to order them to return the money this month.
Last June the city of Nanchang in the eastern province of Jiangxi asked workers in the city's water resources bureau to return their bonuses within days, while the neighbouring city of Dexing also ordered the city's teachers to do the same, effectively halving their annual take-home pay.
As monthly basic salaries for schoolteachers range from just 2,000 to 4,000 yuan a month, many complained that there was no way to pay back the performance bonus in time.
A main driver behind this unprecedented belt-tightening is the
worsening condition of local government finances
, which have faced a double whammy from the Covid-19 pandemic and falls in revenue as a result of the sluggish housing market, according to Alfred Wu, an associate professor at the Lee Kuan Yew School of Public Policy at the National University of Singapore.
Wu, who has published several studies on Chinese civil servants' pay, said: "The actual income of China's cadres has little to do with their performance and responsibilities, which only determine their basic pay, but has a lot to do with the financial situation of their work units and regions.
"With more provincial or municipal governments in China in the red, they are now left with less money to pay for the various perks for the civil servants."
Before his recent belt-tightening message, Premier Li sounded the alarm in his 2020 annual government work report to the country's legislature, the National People's Congress.
Citing "unprecedented" economic challenges caused by the pandemic, he called on governments at all levels to cut spending, and halve "non-urgent and non-essential" expenditure.
Despite a promise that the central government would provide more funding to local governments to help with the shortfall, only one of mainland China's 31 provinces and municipalities – Shanghai – achieved a budget surplus as of November last year, according to a tally of provincial financial reports by the Post.
As many as 18 provinces, mostly in western, northern and central China, recorded a deficit bigger than their total income, with Tibet leading the deficit table with 177.6 billion yuan, over seven times its revenue.
In an article published last month, Lin Caiyi, an economics professor at Fudan University in Shanghai, estimated that local government debts stood at 30 trillion yuan as of October last year, averaging over 21,000 yuan for every Chinese citizen. There are also hidden debts from government special financing vehicles that Lin's calculations did not take into account.
Wu said local government finances had worsened in recent months because of Covid-19.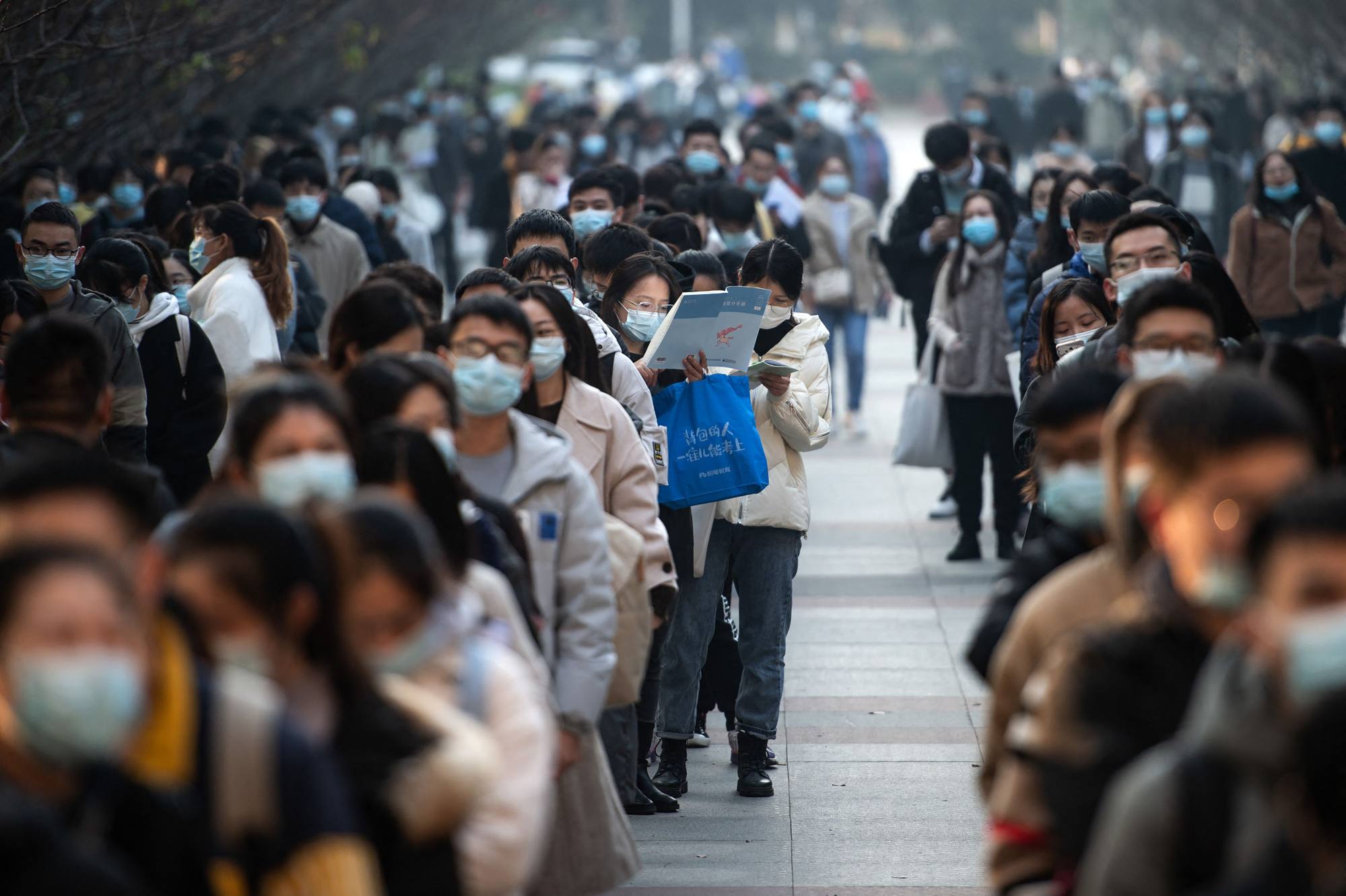 "While the lockdowns have [hit] economic activity, many provinces and cities, under a strict national zero-Covid policy, have to purchase huge amounts of test kits to conduct multiple rounds of exhaustive tests on all its residents, along with spending on vaccines, PPEs etc."
A health official in northwest Gansu province confirmed this. He said the province had spent "tens of millions of yuan" on test kits and other necessary medical equipment to contain an outbreak in October, with "some hospitals owing millions yuan to suppliers".
"We need to wait for the money from the central government," the Gansu official said.
In June last year the Communist Party and State Council, the country's cabinet, ordered a crackdown on "non-compliant" civil service perks.
While the specific content of the "Notice Regarding Rectification of Non-Compliant Allowances and Subsidies of Civil Servants" is an official secret, official news reports suggested the notice gave specific details of perks that violated state rules and gave a deadline for resolving the situation.
Despite the pay cut, Singapore's Wu said civil servant jobs remain as a top career choice for graduates, because China's job market had undergone major changes in the past two years amid an economic slowdown and regulatory tightening.
"An increasing number of young Chinese workers are giving up jobs in the private sector, especially those in the once highly sought after internet business sector.
"They prefer a more stable career in the public sector, where there are still many perks including education for their children, medical benefits, and most importantly, the social status and connections that come with the jobs."
Last year the number of candidates taking the civil service entrance exams topped 2.1 million, almost a third more than the 1.6 million who applied the previous year.
Tian said: "With so many cutbacks in the private sector, I think a stable government job is better for now. I have not heard of anyone who is quitting their civil service job despite all the complaints about cuts in perks and subsidies."