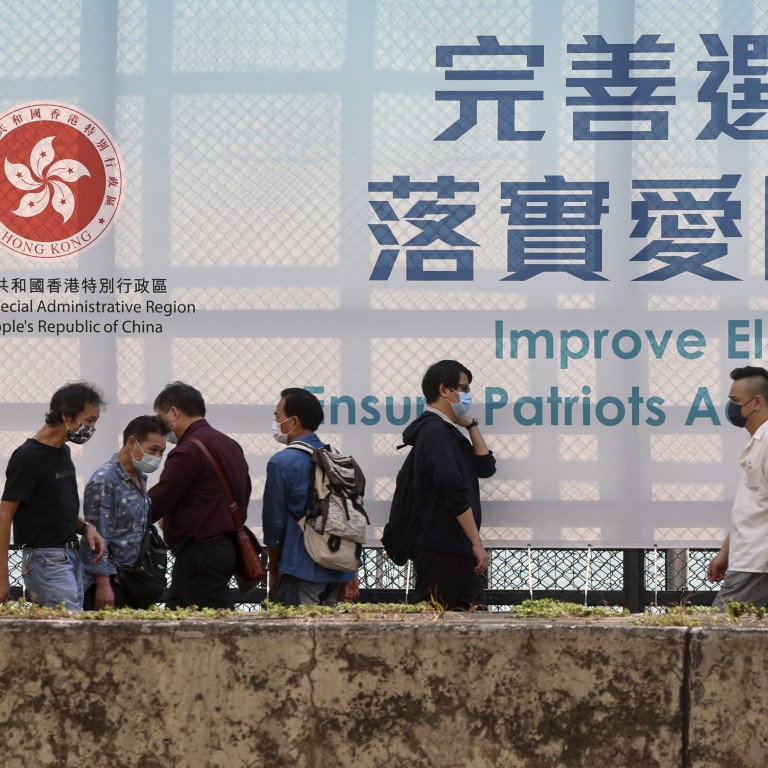 Western-style democracy 'would doom Hong Kong to chaos', Chinese officials say
Wang Zhenmin says socioeconomic problems would never be solved if the city adopted a US or British approach
Hong Kong must not lose order or peace because of democracy, he says
Hong Kong will be doomed to chaos if its political system cannot ensure patriots are firmly in charge, former and serving mainland Chinese officials said in Beijing on Tuesday.
Wang Zhenmin
, head of the Institute of State Governance and director of the Centre for Hong Kong and Macau Studies at Tsinghua University, said socioeconomic problems in the city would "never be solved" if it followed a Western democratic system.
"If Hong Kong imported the American or British style of democracy, we can imagine what Hong Kong would look like today and in the future: the chief executive would naturally be one of their people, with legislative and executive power, and even the governance over Hong Kong would be completely lost to them," Wang told a forum hosted by the semi-official Chinese Association of Hong Kong and Macau Studies.
He said that if Hong Kong pursued that path, there would be repeated social upheaval and the political scene would be all "about elections".
Wang now also heads the national security affairs department of the Hong Kong and Macau Affairs Office of China's State Council, the Post has learned.
The event comes a month after
Hong Kong's Legislative Council elections
, the first since Beijing's order that
only patriots could contest seats
. Most of the opposition camp's former lawmakers or activists have either been jailed or remanded in custody for their participation in the 2019 anti-government protests or for activism, while some have fled overseas or quit politics.
The election attracted a record low turnout of 30.2 per cent and saw the pro-establishment camp sweep all but one seat.
On Tuesday, the speakers doubled down on Beijing's line that the overhaul had made the city "more democratic".
"Under 'one country, two systems', Hong Kong's democracy would not be Western-style, nor would it be mainlandised. This would be a new Hong Kong-style capitalistic democratic system," Wang said, referring to Beijing's post-1997 governing principle over the city.
Xu Ze, former deputy director of the Hong Kong and Macau Affairs Office, said that "both positive and negative experiences" in Hong Kong since the handover had "proved that if Hong Kong's democratic system cannot ensure the city is governed by patriots, Hong Kong is destined for chaos".
"This was the conclusion the general secretary has come to after more than two decades since Hong Kong's handover," he said, referring to Chinese President Xi Jinping.
Xu, who is now the president of the Chinese Association of Hong Kong and Macau Studies, said the main reason for past chaos in Hong Kong was the lack of societal consensus on major political and legal issues.
"Among the stakeholders who enforce the Basic Law, and the so-called social elites, there were various biases and misconceptions about one country, two systems," Xu said.
"Some people even spread fallacies that deliberately twisted the special administrative region's foundation and constitutional order. These offered weapons of thought for the anti-China destabilisers to create trouble, and its great adverse impact was proved in Hong Kong's colour revolution," he said in a reference to
the 2019 protests in the city
.
In his speech, Wang said Beijing would continue to direct Hong Kong's democratic development, to ensure that the system could safeguard security, governance and the people's livelihoods.
"We must not lose order or peace because of democracy … but we must not adopt a democratic system that does not monitor [those in power]. Criticisms that mean well remain necessary," he said.
"Under one country, two systems, Hong Kong's democracy can have a wide political spectrum, but we must firmly say no to the kind of democracy under which the government can no longer govern."
On the sidelines of the forum, Tian Feilong, executive director of Beihang University's law school's One Country Two Systems Legal Studies Centre, said universal suffrage for the election of Hong Kong's leader and lawmakers remained a goal as promised in Hong Kong's mini constitution, the Basic Law. But the city had to meet certain requirements first, he said.
"With the implementation of the national security law and the election overhaul, the fixes to Hong Kong's systems are still ongoing. Some of the other aspects of governance in Hong Kong are still awaiting to be reformed, like in education, media, and in culture," Tian said.
"These are all conditions that would be necessary for universal suffrage … Society has to be given space and time to rethink and participate."
"There is still a long road ahead for all parties in the Hong Kong society to genuinely accept and understand the changes made under the concepts of one country, two systems' and 'patriots ruling Hong Kong'."