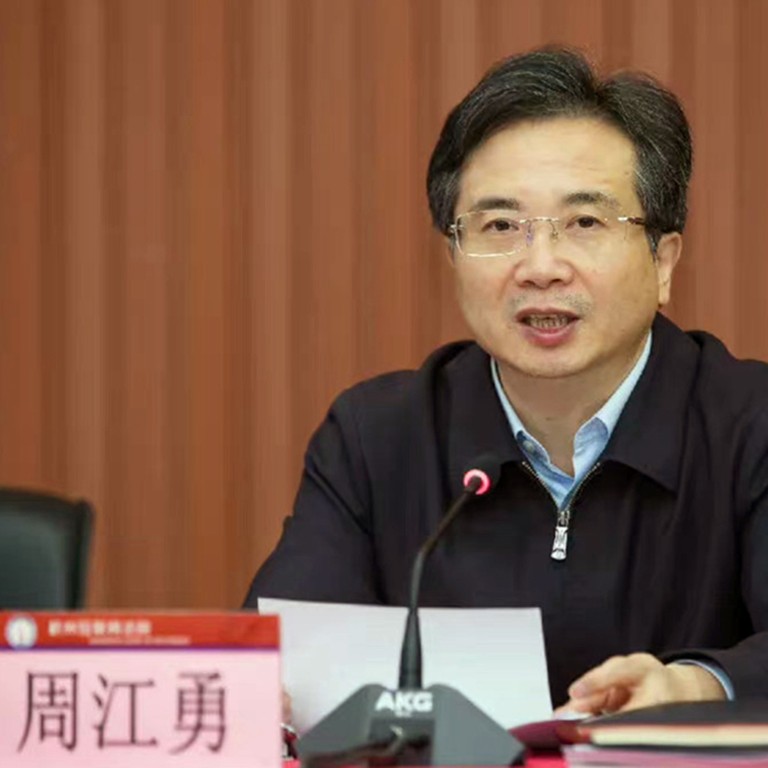 China's Communist Party expels ex-chief of e-commerce hub Hangzhou in corruption probe
Zhou Jiangyong, former party chief of Hangzhou, accused of disloyalty to the party and colluding with private companies to support their 'disorderly expansion'
It comes a week after Zhou was featured in a five-part state television series about corruption
The former
Communist Party
chief of Chinese e-commerce hub Hangzhou has been expelled from the party and accused of supporting "disorderly expansion" of private companies.
A party corruption probe into Zhou Jiangyong, announced in August, has been concluded and he will be handed over to prosecutors, the Central Commission for Discipline Inspection (CCDI) said on Wednesday.
The expulsion comes a week after Zhou was featured in a five-part state television series about
corruption
, aired to coincide with an annual meeting of the CCDI, the party's top anti-graft body.
Zhou, 54, has been accused of disloyalty to the party and colluding with private companies to support their "disorderly expansion", according to the CCDI.
"Disorderly expansion" is a phrase that President Xi Jinping has used during a sweeping regulatory crackdown on China's powerful tech giants.
Zhou was accused of being influenced by businesspeople and promoting party officials closely linked to their companies.
The disciplinary watchdog also accused Zhou of engaging in "family-style corruption" by helping people to secure government contracts and tax rebates in return for "huge amounts" in bribes to him and his relatives.
Previous state media reports had claimed that his younger brother, the similarly named Zhou Jianyong, acted as a middleman. The sibling received bribes, according to the CCDI on Wednesday.
"The nature [of Zhou Jiangyong's crime] is serious and it created adverse impact," the commission said. "He should be dealt with sternly."
In the documentary, screened last week by state broadcaster CCTV, the elder Zhou was accused of using his power to provide funds, land and equipment for his brother's petrochemical company, and to help his brother escape criminal punishment for polluting the environment.
Zhou also in 2017 helped his younger brother's digital company U-City United to win subway mobile payment system contracts in Ningbo and Wenzhou, it alleged.
After Zhou became Hangzhou's party chief in 2019, some private investors bought a portion of his brother's company at "an obviously unreasonably high price" with the aim of courting the elder Zhou, according to the programme.
The CCDI also said on Wednesday that He Xingxiang, a former vice-president of China Development Bank, had been expelled from the party for "serious" law violations including the misuse of financial approval rights, which it said had created major risks and "extremely huge losses" for China.
A political scientist at Nanjing University, who refused to be named, said that Zhou's downfall had influenced the promotions of party officials in Zhejiang – of which Hangzhou is the provincial capital – in the latest reshuffle.
"No one from Zhejiang's economic centres, such as Hangzhou, Ningbo and Wenzhou, was promoted in the latest round of provincial reshuffling," they said.
"The reason is certainly the ongoing anti-corruption storm in Zhejiang after the downfall of Zhou Jiangyong in August. While many people might be implicated by the investigation, it would be wise not to promote anyone from there yet."
After Zhou's detention in August, Hangzhou launched a campaign in which more than 20,000 officials were asked to report their family members' connections with the private sector, according to the CCDI.