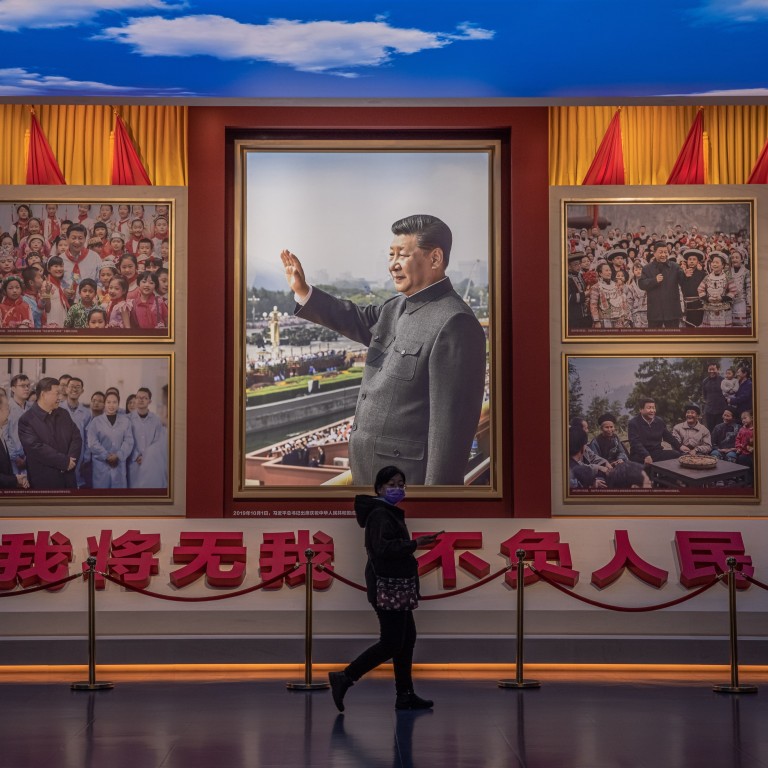 Chinese president outlines big role for private capital – as long as it's on a regulatory leash
Capital must be monitored to ensure it aligns with common prosperity goal, Xi Jinping says
Speech comes as economy makes hard weather of coronavirus outbreaks
Chinese President Xi Jinping has highlighted the importance of private capital to development as the country tries to rally an
economy battered by the coronavirus
and regulatory storms.
But he also told a Politburo meeting on Friday that capital must be monitored to ensure that it did not undermine the Communist Party's vision of
common prosperity.
"By its nature, capital pursues profits, and if it is not regulated and restrained, it will bring immeasurable harm to economic and social development," state news agency Xinhua quoted him as saying.
"Attention should be paid to ensure economic development is inclusive and the primary distribution [of income] is fair.
"We will unswervingly follow the road of common prosperity for all the people," he said, referring to efforts to tackle social and economic inequality.
He said China should encourage all types of capital to drive technological advances, market growth and improvements to the quality of life.
But investors should be "educated and guided" to practice China's core socialist values and "walk the right way", Xi said.
More action would be taken against corruption and to promote fair competition in capital, particularly against corrupt behaviour driving disorderly expansion of capital and "a monopoly of platforms".
The speech comes as the leadership attempts to revive the economy and reach an ambitious annual growth target of "
around 5.5 per cent
" – all while maintaining its zero-Covid approach.
In a quarterly meeting on Friday, the Politburo showed signs that leaders might be keen to loosen their tight controls on internet firms, calling for stability in the capital market and concrete measures to boost the platform economy.
They also said the leadership would respond actively to the concerns and appeals of foreign investors grappling with the fallout from fresh coronavirus outbreaks and lockdowns over the last month.
The economy has also been buffeted by successive regulatory efforts to rein in private capital since late 2020, with crackdowns on tech giants, off-campus tutoring firms, property developers and wealthy celebrities.
There were also concerns last year about the threat of a forced transfer of wealth from rich entrepreneurs and investors to low-income groups, as the "common prosperity" drive rose up the political agenda.
Soon after, the government pointed to "weakening expectations" as one of the "threefold pressures" facing the Chinese economy.
It also identified recalibration of common prosperity and capital regulation as two of the big issues for 2022.
On Friday, Xi said China had a diverse range of capital – from state, to private and foreign – and the roles of these investors in driving China's economic advance must be "fully approved".
"We will promote the sound and common development of all kinds of capital and give full play to its role in developing productivity, creating social wealth and increasing the well-being of the people," he said.
Xi said China would improve protections of property rights, review competition to eliminate market barriers, level playing fields for all investors and open wider to the world to attract more international capital.
Chinese capital would also be encouraged to go abroad, he said.
Still, he stressed the need to "regulate and guide the healthy development of all types of capital" with a "red and greed" traffic light scheme and have tighter scrutiny of the market.
"It is necessary to strengthen supervision and law enforcement against monopolies and unfair competition," he said.
Xi also called for modernised governance over the capital sector to improve coordination of regulation on finance, foreign investment, competition and security.
"[We] should accurately detect the key areas and key objects that may bring systemic risks … to address and defuse risks at an early stage," he said.