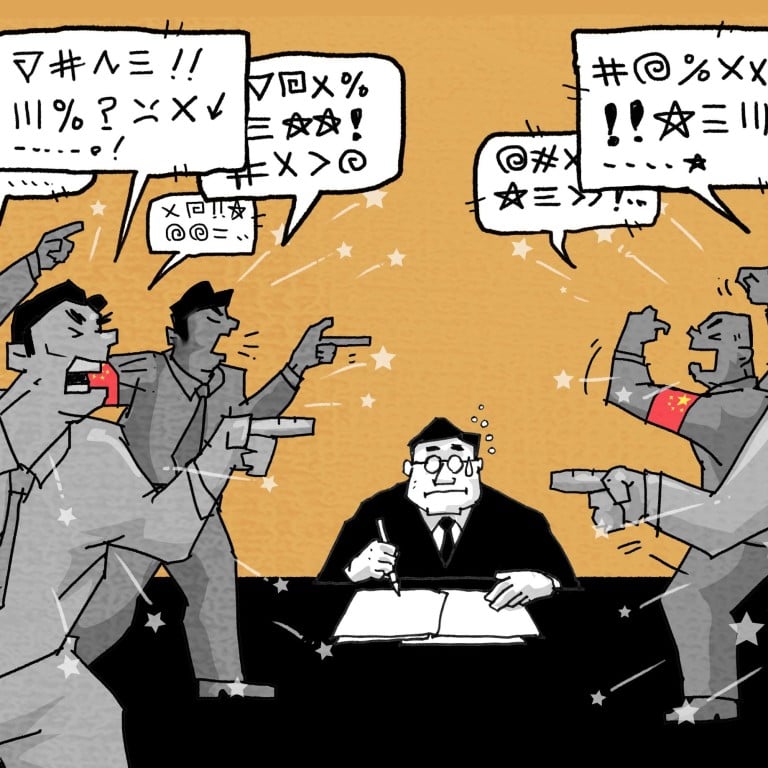 The cloud of anti-Western nationalism hanging over China's Communist Party congress
From Ukraine to Covid-19, nationalist takes are dominating public debate online
Leaders will have to take them into account as they prepare for the five-yearly gathering in autumn, observers say
Generations of modern Chinese rulers have taken pride in China's political system, touting its ability to transcend the ideological divides and partisanship that have plagued Western politics.
Deng Xiaoping urged China "not to argue" so it could focus on economic growth. Hu Jintao called on the country to
bu zheteng
, or not to rock the boat with ideological debates.
But that approach is being tested this year with a polarised – and in many cases, ugly – debate on Chinese social media, on topics from the
Russian invasion of Ukraine
and the virtues of
China's zero-Covid policy
, to the efficacy of some kinds of traditional Chinese medicine.
Regardless of the issue, the discussions are invariably hijacked by one nationalistic question: does the outcome betray Chinese interests and benefit Americans?
"There are nationalistic voices that are against everything – against the US is good, and are for anything that the US is against," said Gu Su, a political scientist at Nanjing University.
"Many of the discussions are not about the actual rights and wrongs but only about picking a side between enemies and friends."
The congress is a five-yearly political set piece expected to take place this autumn.
If precedent is a guide, work should have started by January to define the key strategies for the next five years to come.
And it will be comprehensive. In 2017, Xi took three hours to spell out those strategies, including building an assimilated sense of the Chinese nation across different ethnic groups as well as the further integration of the party and the state.
This year's gathering will take place amid what Beijing refers to as unprecedented turbulence in the international community, with uncertainties unseen at home and beyond its borders.
That turbulence has fanned nationalistic sentiment, which will be felt at the top, according to observers. No longer will it be enough to tell people not to rock the boat.
"This sort of nationalism has been there for years, and in the long run, it will inevitably form pressure on decision-making on the top level," Gu said.
On the issue of Ukraine, the debate on Chinese social media is less about the war itself and more about Beijing's rivalry with Washington, according to an analysis led by Maria Repnikova, an associate professor in global communication at Georgia State University.
In the analysis, published in The Atlantic in March, Repnikova noted an increasing convergence of nationalistic voices from ordinary internet users and the official narrative.
"It is always difficult to separate the organic sentiments from state-led ones on social media in China," she said. "I think it's a mix of top-down and bottom-up forces."
In terms of messaging from the top, there has been years of build-up of combative language against the West in official statements from Beijing.
In early March, for example, Chinese Foreign Minister Wang Yi blamed Washington, in some cases by name, for conflicts and tensions in Ukraine, the South China Sea, Afghanistan and the Middle East.
That same month, defence ministry spokesman Wu Qian called the United States the "biggest source of chaos in the world".
Even fault for domestic issues such as economic growth are framed in terms of American sanctions or US decline.
Those perspectives flow through to state media, affecting the views of the public.
A survey by the US-based Carter Centre in April found greater exposure to national state media and social media in China were associated with a higher level of support for Russia.
In all, 75 per cent of the respondents agreed that supporting Russia in Ukraine was in China's national interest. Respondents with a higher education also show the same inclinations, though on a less significant level.
Liu Yawei, senior adviser with the Carter Centre's China Focus programme, said the public sentiment was mainly caused by China's media environment.
"If China's state media had more extensive coverage of the war in Ukraine and if dissenting voices on China's position towards the war were allowed in both state and social media platforms, the public opinion on the war will change," Liu said.
An open letter from March – soon censored too – was signed by more than 200 Tsinghua University alumni who called on the university to strip Russian President Vladimir Putin of an honorary doctorate awarded in 2019.
The debate on Shanghai's Covid-19 response is just as polarised and US-focused.
The city is grappling with the biggest outbreak of the disease since the end of the first wave in 2020, and many have called for home quarantine for Covid-19 patients.
The official policy is for all people who test positive, regardless of disease severity, to be treated at makeshift hospitals and supporters of the approach have pushed back hard, with some blaming the grim conditions on Shanghai's high level of acceptance of "Western ideas".
One of those supporters is Shu Chang, an influential blogger under the name of "Guyanmuchan".
In mid-April, Shu told her 6.4 million followers on Weibo that doubts about the efficacy of Lianhua Qingwen, a type of Chinese herbal medicine used by the Chinese authorities to treat Covid-19 patients, was propagated by US drug company Pfizer. She offered no support for her claim.
Liu, from the Carter Centre, said these kinds of public opinions might limit Beijing's own choices and could be costly if not stopped.
"Widespread censorship has created such a warped public opinion space it is capable of paralysing what decisions the Chinese government can make on the foreign policy front," he said.
"If this artificial public opinion manufacturing process is not stopped it may force the Chinese government to make decisions that will drag down its economy and hurt its growth capacity."
Repnikova said the party always "has nationalistic sentiments in mind in thinking through its policies, both domestic and international". "This includes the context of the upcoming party congress."
This year, the party has sought to directly seek public input for the congress by inviting internet users to comment on entries at a handful of state-run news outlets, the first time it has done so.
Most comments, selectively published by those state media outlets, voiced support for policies Beijing is driving, ranging from stepping up the party's control of society to restricting children's screen time on electronic devices.
Gu, from Nanjing University, argued that Chinese leaders in the past had dealt with worse pressures of nationalism but were perfectly able to tune those down.
"There was criticism that the leaders were selling China out when it first opened up," said Gu, referring to Beijing's policy to open the country to foreign investment after Mao's death. "But once they made up their mind, nationalism wasn't really a problem."
Gu also cited the example of the US bombing of the Chinese embassy in Belgrade in 1999, which resulted in the deaths of three Chinese nationals.
Hours after the tragedy, which Washington insisted was a mistake, president Jiang Zemin told Chinese leaders that Beijing clearly still needed to deal with the US and continued its efforts to join the World Trade Organization.
But national resentment about the incident persists to this day.
Chinese foreign ministry spokeswoman Hua Chunying brought it up just hours after Moscow launched its military aggression against Ukraine on February 24.
"Nato still owes the Chinese people a debt of blood," she said.