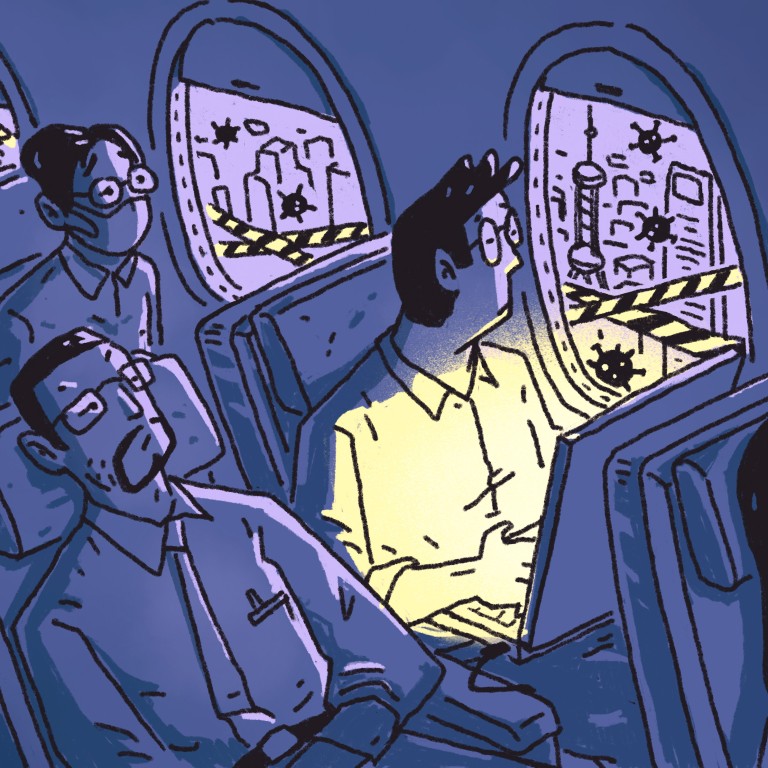 China faces zero-Covid lockdown brain drain with visa inquiry spike
Emigration consultants say applications for US, Canada and Australia have soared, with interest strongest among tech professionals
The sector is key to the country's ambitious plans to become a science and technology superpower within the next two decades
A surge in the number of Chinese professionals looking for emigration opportunities in response to China's strict
zero-Covid
measures could affect the country's
ambitions
to become a science and technology superpower.
Emigration consultants in China have seen a rise in enquiries in recent months, with a noticeable spike since the end of March when outbreaks of the Omicron variant emerged in
Shanghai.
Residents of China's wealthiest city have spent nearly two months in lockdown, with reports of deaths and people unable to get proper medical treatment triggering waves of anger and anxiety.
In the capital Beijing, a smaller outbreak this month has led to less restrictive measures, with frequent mass testing and a shutdown of transport and businesses in specific areas of the city.
According to an estimate from Japanese financial services conglomerate Nomura Holdings, about 373 million people in 45 cities across China have been under some form of lockdown since April.
There are no hard statistics indicating how widespread interest is in leaving the country, but the keyword "immigration" jumped 400 times in the past month, according to the Baidu Index, which covers multiple social media platforms. A similar increase was also evident on the WeChat platform.
Any large-scale exodus of professional talent would deal a blow to China's timetable to become a leading world power in science and technology within the next 20 years, laid out by President Xi Jinping at a high-level meeting in September.
Xi said an expansion of the country's talent pool and ability to attract foreign professionals was key to China's technological self-reliance and national rejuvenation.
He singled out Beijing, Shanghai and the Greater Bay Area – which includes Hong Kong and Macau – as the primary areas to focus on and called for the development of world-class research and laboratories and innovation platforms across China.
The talent push is also an important part of China's competition with the US, which has imposed visa restrictions on Chinese students and technology exports.
Guo Shize, a partner at Ying Zhong Law Offices in Beijing, which specialises in immigration and overseas study consultancy services, said his firm has seen a doubling of interest since the end of March, with a shift from high-net worth individuals to more technical professionals.
"We haven't taken a break over weekends because of the sharp increase of clients in the past month, and I received four requests this morning – all from clients with a professional skills background," he said.
"Affected by the epidemic, professional talents feel a greater sense of insecurity and an uncertain future damping their hope of future income and development."
Guo said more clients were interested in the United States' EB-1 visa – for individuals with extraordinary abilities in science, arts, education, business and athletics – ahead of the EB-5 investment category, the previous front runner.
"Many of my clients are engineers with big IT firms such as Huawei, technology company entrepreneurs and pharmaceutical industry executives," he said.
Business demand has also been strong for Hong Kong-based Famed Star Group's office in Guangzhou, an advanced manufacturing hub and a linchpin of the
Greater Bay Area.
The company, which specialises in emigration services to North America, has seen a 60-70 per cent increase in inquiries from southern China about high-level talent visas compared with the same period last year.
"Most people inquired about the EB-1 visa in the US, the Express Entry visa in Canada, and the Global Talent Independent programme in Australia – those are generally the most favoured immigration channels for young Chinese talent," said company chairman Jack Ho.
"Of course, these [programmes] have very high requirements [for the applicants] regarding age, education and work achievements."
All these programmes are aimed at professors and researchers in the sciences, arts, education, as well as elite athletes, multinational business managers, executives and other highly skilled professionals.
Meanwhile, the economic and psychological impacts of the lockdown had accelerated the decision of many highly skilled people to find a way to leave, Ho added.
Among those preparing to emigrate is Shanghai tech director Rutina Liang and her husband, also an IT engineer.
Liang, who is in her early 40s and has worked for a number of China's tech giants, said the Shanghai lockdown was not the only factor but it had accelerated their decision.
"The impulse [to migrate] has been there since last year and I can say it is common among us – the tech professionals – especially those who work in the internet and education-tech sectors," she said.
"I am really scared. I have never felt so insecure [in family safety and asset security]."
Liang said the harshness of some of the pandemic control measures, with their infringements on people's freedom and security, had prompted professionals like herself to review their options, including moving overseas.
"I have benefited from the boom of internet business in China in the past decade and I'd never thought of emigration until now, and I hope that my profession and experience will give me the opportunity to live abroad if there are significant political and social changes in China in the short term," she said.
Shanghai's lockdown was also behind another couple's decision to leave for Canada. The husband, who worked in the film industry, said he opted for a new home mainly because of China's tight censorship environment, but the closure of Shanghai because of Covid-19 had been the last straw.
The man, who did not want to be identified because of the issue's sensitivity, said his wife had at first been hesitant to leave, but they had made up their minds because of the lockdown.
"The only news available was about what the [lockdown] policies required us to do and there was little about what was actually happening, especially … to elderly people and in hospitals. This is really unacceptable to us," he said.
On the morning he left Shanghai, along near-deserted roads because of the lockdown measures, "I suddenly had a feeling of being uprooted", the man said. But the mood changed as soon as he boarded the plane.
"Some people asked if they could have two meals, and they were all from Shanghai. The flight attendant also asked me if I wanted an extra Coke," he said.
"Shanghai's lockdown was really a milestone in the changing times … even though people may not be speaking out loudly, they definitely feel something [is wrong]," he added.
Frankie Lau, a computer science engineer in California, said strong demand for engineering staff in the US means many employers are willing to offer starting salaries from US$200,000, but he warned young people in China to weigh their options carefully before making the move.
"They need to understand that American society has become very political and it is no longer what it used to be and this has a significant impact, especially for Chinese engineers," he said.
"Covid and the general hostile environment against Chinese are driving people away and engineers may have more choices since we are generally better off financially and may be more resourceful.
An engineer with Juniper Networks, a California IT networking company, said young Chinese like him are having second thoughts about returning home from the US after graduation.
"When Donald Trump was in power, people were still swayed. Take me as an example – that's when I started thinking of leaving the US after graduation and go back to Asia," said the engineer, who declined to be named.
"My original plan was to return to China after graduation but now I tend to seek opportunities in Singapore because I feel that individuals are so helpless under the state apparatus and individual rights are not respected (in China)," he said.
"I know many people who share my view and they also plan to leave the US but they would not return to China."
According to the Paulson Institute's think tank MacroPolo, China is the largest source of top-tier researchers in the artificial intelligence sector, accounting for 29 per cent of AI undergraduates.
The same report, compiled from the think tank's Global AI Talent Tracker, found 53 per cent of all top-tier researchers in the sector are immigrants or foreign nationals working in a different country from where they received their undergraduate degrees.
The US still has a significant lead in top-tier AI research, with nearly 60 per cent of first-rate researchers working for American universities and companies. More than two-thirds earned their undergraduate degrees in other countries.
Whether the spike in emigration inquiries will lead to a longer-term exodus of talent from China remains to be seen, but it threatens to derail plans to meet and eventually beat US tech dominance.
Speaking at the September meeting, attended by the top echelons of the party leadership, Xi stressed that the country's overall competitiveness was derived from its skilled personnel. "National development depends on talent, and national rejuvenation depends on talent," he said.