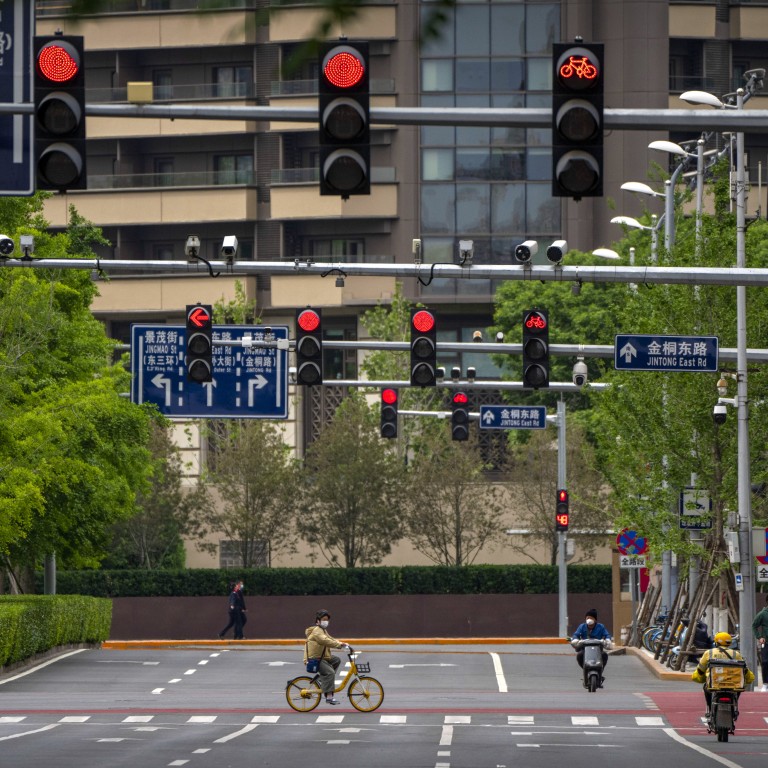 With focus on economy, China underlines stabilising force of GDP growth
Premier Li Keqiang's instruction to 'exhaust all measures' to stabilise economic growth contrasts with previous emphasis on quality over speed
Analysts warn that slowing growth caused by the pandemic will lead to a rise in a range of social issues
Premier Li Keqiang's warning of a
potential contraction
in the economy – delivered on Wednesday to more than 100,000 officials across China – underlined the central role of economic growth in maintaining social and political stability.
Li's instructions to "exhaust all measures" to stabilise the economy was also Beijing's first admission that China may miss its growth target of
"around 5.5 per cent"
laid out just three months earlier.
It was a sharp contrast to previous official rhetoric, which has emphasised social equality and the quality of economic growth over speed.
An analysis of China's state media shows that since at least 2014 President Xi Jinping has repeatedly stressed that GDP is not the country's "ultimate goal", describing it as important, but not the sole measure of progress.
Over the years he has emphasised a range of other indicators, including green development, common prosperity and carbon reduction.
Beijing abandoned an
overall GDP target
for the first time with last year's 14th five-year plan, giving a commitment instead to merely keeping average annual growth "within an appropriate range" and setting annual targets based on actual conditions.
According to Zhao Xijun, deputy dean of the school of finance at Renmin University of China, Beijing's pivot to development goals beyond GDP was made in a stabilised economic environment, but times had changed since Covid-19.
"The slowing of economic growth means unemployment, reduced incomes, lower consumption, possible market depression," he said. "It will lead to a series of issues, other than economic ones [and] greatly affect social and economic stability."
Stability is a key concern in this very sensitive political year, with the Communist Party's national congress expected to take place in the autumn.
Officials around the country have repeatedly pledged to create a "favourable social environment" for the meeting, when Xi is expected to stay on for a third term – the first party leader to do so since Mao Zedong's death in 1976.
Last month, Central Political and Legal Affairs Commission party chief Guo Shengkun outlined
a range of risks
ahead of the congress, including Covid-19 outbreaks, threats to financial stability, downward pressure on economic growth and inflation.
"As the economy slows down, some deep-rooted problems will emerge," he said. "Once economic and financial risks are not properly handled, it's extremely easy for them to spill over to social and political areas."
In his video conference, Li urged all local authorities to roll out "as many as possible" practical measures of a 33-point stimulus plan outlined by Beijing on Monday to safeguard 150 million market entities, regarded as the bedrock of the economy and employment.
He also called on both the central and local governments to use all available funds to secure jobs and help those who are struggling most.
Mercator Institute for China Studies chief economist Max Zenglein said the 5.5 per cent GDP growth target was aimed at tackling a looming rise in unemployment, with 10.76 million university graduates set to enter a sluggish labour market – a jump of 1.6 million on last year.
"It's the biggest jump in years and that creates pressure. Then you have this politically sensitive year where it would look challenging for the party if you have a weak, softening labour market. This is really the core driver at the moment for the growth target," he said.
Han Wenxiu, an official at the Central Financial and Economic Affairs Commission, told a briefing earlier this month that the party expected downward pressure on the economy and urged local officials to both prevent the pandemic and stabilise the economy.
Economist Tianchen Xu, with the Economist Intelligence Unit, said economic growth would not be China's single objective, with the hard constraints of zero-Covid unlikely to be overridden, given Xi's tight grip on power.
"That adherence to zero-Covid will weaken the effects of any new support measures introduced by the government this year," he said.