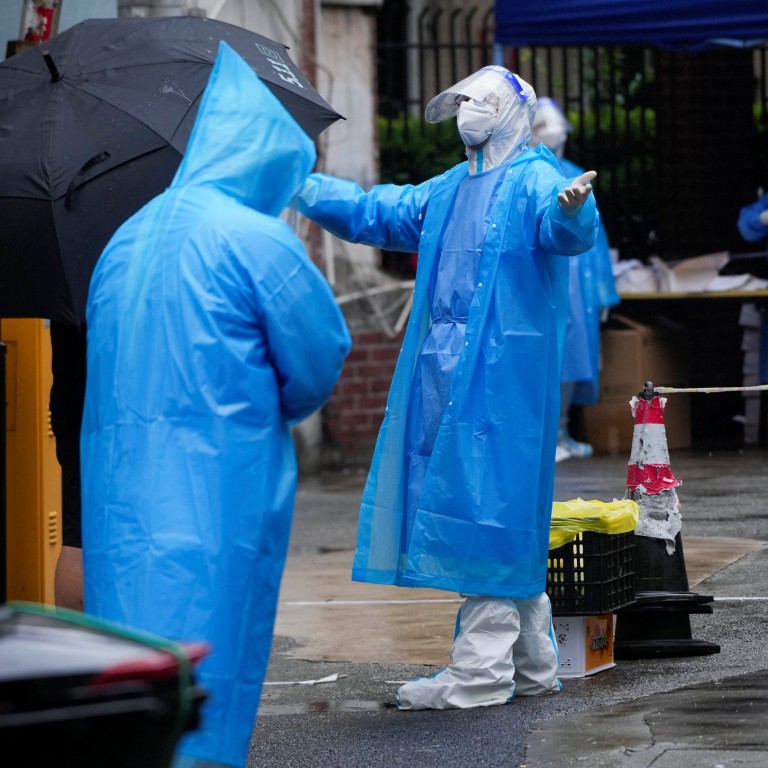 Can China find zero-Covid wriggle room to beat GDP slowdown?
Months of lockdowns and frequent mass testing are depleting local coffers but there are no signs of a shift from pandemic controls
Authorities are caught in a balancing act as they try to control outbreaks and keep economic growth going
After a difficult two months,
Beijing
online food distributor Zhang Jian is struggling to make ends meet, affected not just by the Omicron outbreak in his home city but also
Shanghai's lockdown
.
Zhang, who imports frozen foods, has an empty warehouse in Shanghai, where shipping has been unable to arrive, while a drink he distributes as a general agent is stocked in Tianjin but cannot be delivered because of travel controls.
"We are struggling right now and we cannot really do anything but wait patiently for such restrictions to be lifted. I am looking forward to a normal environment for us to travel for business, have access to warehouses and deliver goods as scheduled," he said.
"We have office rent and salaries to pay. It's not about making money now but making ends meet."
Zhang's troubles are repeated across the country and highlight China's dilemma of how to stick with its strict zero-Covid policy while keeping economic development going.
The impact on the economy is so worrying Premier Li Keqiang has urged lower ranking bureaucrats to "complete the task of economic and social development" while sticking to strict pandemic prevention and control measures.
Li's unprecedented national teleconference on Wednesday, with 100,000 officials, reinforced the pressure Beijing is putting on local authorities to prevent economic growth losing momentum.
Experts said the concern over GDP growth and the burden on local coffers from zero-Covid could prompt some fine-tuning in China's pandemic response.
"There will be some sort of flexibility, possibly on the frequency of testing or adjusting the quarantine period, but it is not settled yet," Gavekal Dragonomics analyst Cui Ernan said.
There have already been some adjustments in control measures since March to make them more "scientific and targeted". Quarantine for inbound travellers and people who may have been exposed to the virus has been shortened from 21 days to 17.
There are also reports that Beijing is considering a further relaxation, in response to appeals from investors, to a 7+7 policy for international arrivals – seven days in a hotel followed by seven days of health monitoring at home.
Sticking with zero-Covid has become a political priority, with President Xi Jinping repeatedly stressing that there will be no change in policy, since a wave of Omicron outbreaks started in late February.
But the costs of a zero-Covid approach are depleting local government coffers, a factor that could lead to further tweaking and fine-tuning to minimise the economic disruption.
"At the moment different parties involved in Covid-19 control are still at a state of finding a balance as the current wave of outbreaks declines to a near end," Cui said.
The responses deployed by local governments include earlier lockdowns, mass testing and regular frequent testing for early detection – even after outbreaks subside – as well as wider quarantine restrictions.
Rapid antigen tests are approved for quick detection, but only the more expensive nucleic test is regarded as an official diagnostic tool. More cities are demanding residents give proof of a negative result – usually within 48 hours – before they can enter public venues.
Beijing ordered at least seven rounds of testing for 20 million of its residents in the past month as it battled an outbreak without resorting to formal lockdowns, but some districts have ordered more than a dozen rounds.
The testing is provided free, but costs about 3.5 yuan (50 US cents) for pooled arrangements and 16 yuan (US$2.40) for individual tests.
According to Cui, the deep pockets needed to sustain frequent, large-scale and free testing could prompt a more down-to-earth approach. The national healthcare security administration has already demanded local governments stop paying for tests with public insurance and use their own funds instead.
The possibility of renewed outbreaks makes further wriggle room uncertain. Imported cases of the more transmissible BA.4 and BA2.12.1 Omicron sublineages have been identified in Guangdong and Sichuan provinces and could trigger another wave of infections.
"Past experience showed it took about one or two months before finding the new variant in imported cases and a community outbreak," Cui said.
"The coming month will be very important to watch for such outbreaks and how [they] will impact the responses and the cost."
Cities are also under pressure to avoid outbreaks ahead of the crucial
Communist Party's national congress
in the autumn. Domestic border controls are increasingly common, dampening hopes of a rebound for travel, tourism and retail, and they can vary across the country.
Zhu Huachen, an associate professor with the school of public health at the University of Hong Kong, said clear, universal guidelines from the central government would clear doubts and promote domestic travel.
"We see different levels of restrictions because lower level government officials are afraid to take responsibility," she said.
"The central government [could] give everybody a clear playbook so that everybody knows what is to be expected. No one would need to shift responsibility and it will help the public follow the protocol to promote the flow of people within the country."
While there is no clear trajectory for economic recovery yet, local governments are looking for ways to cushion the impact of Covid-19 controls and keep the economy moving.
Several provinces that have been traditionally relied on tourism – including Guizhou, Yunnan, Jiangxi and Hubei – are luring tourists back with consumption coupons. More than 20 provinces and cities have issued coupons to boost spending on purchases such as cars and electronic appliances.
Zhang Zhiwei, chief economist at Pinpoint Asset Management, said the main concern for investors was the lack of discussion about zero-Covid as the key constraint on the economy, and the policy's economic cost and collateral damage.
"We don't see how the government will handle this constraint, and without resolving this I think it will be really challenging to achieve the growth target," Zhang said.
Additional reporting by Ji Siqi