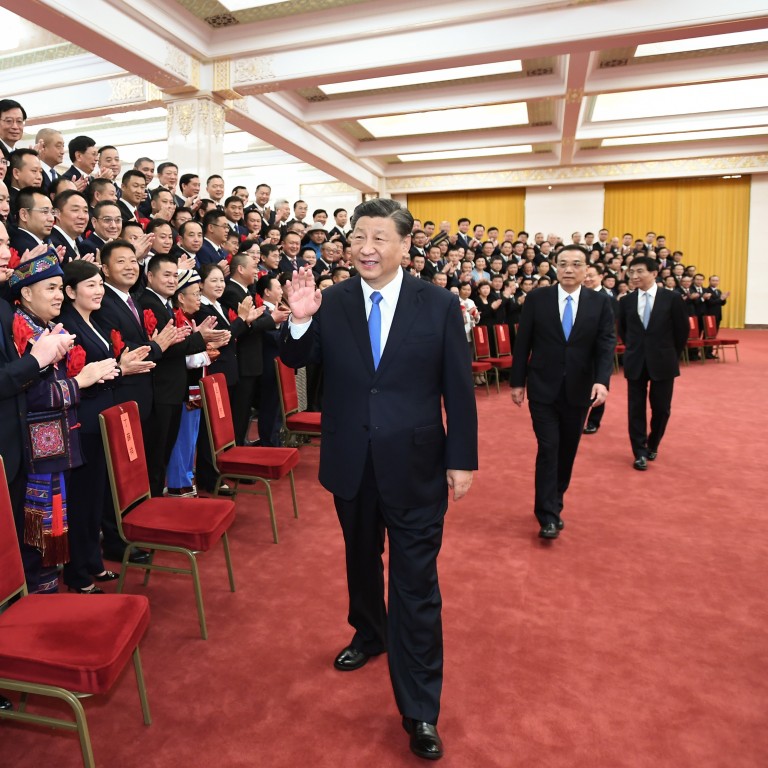 Xi Jinping invokes China's past to rally confidence in its future as country vies with West
Chinese president tells Politburo that the country has long gone along a different path to other civilisations
Xi puts spotlight on work of archaeologist who concluded the country's history went back more than five millennia
China's president has urged top officials to look to the country's history as a source of confidence, saying the nation had long walked a "different path" from other civilisations.
"Chinese civilisation … is the unique spiritual identity of the Chinese nation, the root of Chinese culture and the spiritual bond that links the Chinese people around the globe," Xi told the 25 members of the party's decision-making body.
"In its long history, the Chinese nation has … walked a different path from other civilisations.
"[We should] have a profound understanding of the 5,000-plus years of history of the Chinese civilisation to enhance historical awareness and cultural confidence in the pursuit of national rejuvenation," state news agency Xinhua quoted Xi as saying.
The message was underlined at the meeting on Friday with a report from Wang Wei, a researcher with the Chinese Academy of Social Sciences.
Wang is best known for heading a 14-year research project to determine how far back Chinese civilisation extended.
The project was an attempt to settle a long-running debate about whether that history was 5,000 years old or dated back just 3,300 years to the oracle bones of the Shang dynasty, the earliest written records.
In a paper in 2018, Wang and his colleagues said archaeological evidence supported the conclusion of more than 5,000 years.
They said there was evidence of significant development of civilisation about 5,300–4,000 years ago in ruins in the provinces of Zhejiang, Hubei, Shanxi, Shaanxi and Henan.
"The key features that China had become a civilisation include the significant development of agriculture and handicrafts, a clear division of labour, obvious social stratification … and the emergence of the state," he said.
Xi said Wang's project had led to remarkable achievements but the results were preliminary.
"The programme to explore the origins of the Chinese civilisation has made a Chinese solution to the definition of civilisation. It made an original contribution to the study of the origins of world civilisations," Xi said.
Xi has spoken before on the importance of archaeology to the understanding of China's past and present.
In a Politburo group study session in 2020, he said archaeology deserved more attention as a way to deepen people's understanding of Chinese civilisation and foster their confidence in Chinese culture.
References to cultural confidence and confidence in the country's path, theory and system were also added to the party's constitution in 2017.
Xie Maosong, a senior researcher at the National Institute of Strategic Studies at Tsinghua University, said cultural confidence was like "a civilisational root" for the Chinese path and system.
"The Chinese nation's rejuvenation is not simply a demonstration of economic strength but ultimately the renaissance of its civilisation," Xie said.
He said archaeological research played an important role in the nation's identity by showing the formation and development of the Chinese nation and civilisation.