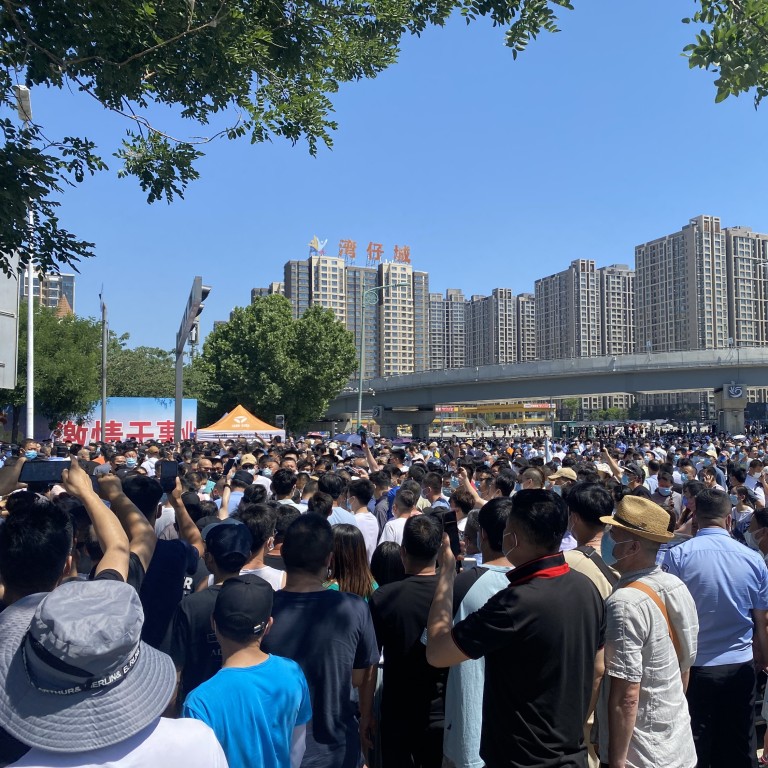 Covid-19 controls eased after protest in commuter town near Beijing
Thousands of residents said to have gathered in Yanjiao demanding to be allowed back to work in the capital city
Deputy mayor and police chief says they can now go to Beijing if they meet the requirements and 'no one will be quarantined'
Chinese authorities have apparently eased restrictions on a commuter town near Beijing after the latest show of public anger against
Covid-19
controls.
Thousands of residents gathered in Yanjiao, Hebei province on Wednesday to protest over measures that have made it difficult for them to enter Beijing in the past two years.
The town is located on the eastern outskirts of Beijing, about 35km from the city centre. Many people choose to live there because it is cheaper than Beijing, and about 100,000 residents need to make the daily commute into the capital.
But since the pandemic began, towns like Yanjiao have been subject to some of the toughest controls in China. Yanjiao residents have been unable to enter the capital for months this year even though there have been few cases in the region.
One resident at the protest, who gave his surname as Ma, estimated that 2,000 to 3,000 people had gathered near a checkpoint in the town. People entering Beijing used to go through security checks there – now it is where virus-related checks take place.
"People were demanding to be allowed to go back to their workplaces [in Beijing] and for the lockdown measures to be lifted," he said. "I was surprised to see so many people there – men and women of all ages. It was actually quite moving – after all, this is a very reasonable request."
Yanjiao's latest lockdown was imposed in late April, when a new outbreak emerged in Beijing's Chaoyang district, which neighbours the commuter town. No one had been allowed to enter Beijing from the town since then.
But Huang Xuejun, deputy mayor and police chief of Sanhe, which includes Yanjiao, told the protesters the restrictions would be eased and they could now go to Beijing as long as they met the city's pandemic control requirements. He said they would be able to return to Yanjiao if they could show a negative test result from the last 48 hours.
"No one will be quarantined after coming back. No commuter pass is required," Huang said, according to video footage posted on social media and confirmed by protesters.
Yanjiao authorities had introduced a "commuter pass" mobile app in April before the lockdown, requiring proof that a person lived in the town and worked in Beijing. Commuters had to show the pass and a negative test result from the last 48 hours to enter Beijing.
Video footage circulating online also showed protesters urging police to release two men they had arrested at the gathering.
It comes after several recent protests in Beijing over draconian Covid-19 restrictions. A protest at Beijing Normal University last week resulted in authorities
allowing students to return home
after campuses in the city had been closed for weeks.
Ma, who works for a media company in Chaoyang, said Yanjiao had been sealed off multiple times since January. It was locked down from late January to early February because of an outbreak in the neighbouring city of Tianjin. That was followed by a month-long lockdown in March when cases were found in the nearby city of Langfang. It was shut down again in May because of the Beijing outbreak.
"Yanjiao has had less than five cases in each outbreak but we've experienced longer quarantine times than hard-hit areas like Jilin or Shanghai," he said.
Another resident, surnamed Qin, who works for a gaming company in Beijing's Changping district, said he had only been to the office for one month out of the past five months.
"I work in the internet industry so I can work from home, but many people from the service sector are now unemployed," he said. "The renters have left – Yanjiao is no longer suitable for commuting."
Beijing health authorities on Wednesday said the pandemic control situation remained stable but there was still the risk of a resurgence. Beijing has reported 1,773 locally transmitted cases in the latest outbreak since April 22.