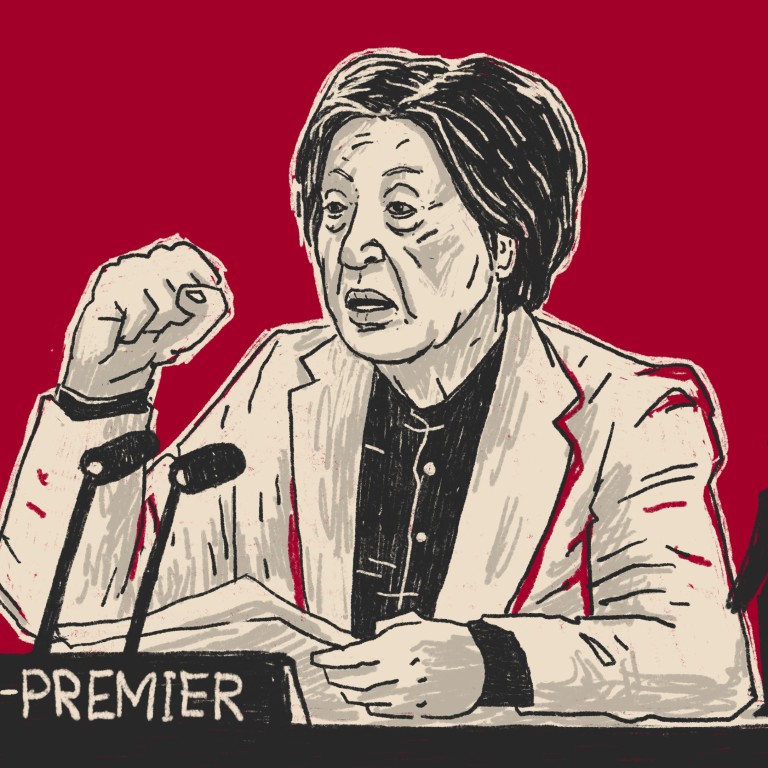 Who can fill the shoes of China's Iron Lady Sun Chunlan on Politburo?
For two years she has ruled the country's Covid-19 response with an iron fist, but at 72 the vice-premier is expected to step down at this year's party congress
But with few women climbing the leadership ladder, it is uncertain if Sun's successor will be female
The Communist Party of China will undergo a major leadership shake-up at its party congress in the second half of 2022. In
this series
, the South China Morning Post looks at what the party's next generation of leaders might look like.
China has groomed many female athletes to bring home Olympics gold and trained women astronauts for its ambitious space programme, but without a similar political pathway, the ruling Communist Party may struggle to find a woman who can fill the shoes of Sun Chunlan.
For the past two years, she has spearheaded China's fight against the coronavirus pandemic, starting in Wuhan where the world's first battle against the virus was fought.
Sun is the country's only female vice-premier, a position which carries a seat on the all-powerful Politburo. At 72, she is already beyond the usual retirement age of 68, and is widely expected to step down in the autumn, at China's most important political event.
Observers said whoever is picked to succeed Sun at the Communist Party's 20th national congress – where a major leadership reshuffle is on the cards – will have big shoes to fill.
The Covid fighter
As the Omicron variant continues to challenge China's Covid-19 defences, so does Sun's almost non-stop inspection tours across the country.
She hammers local officials into closely following Beijing's "dynamic zero" policy, which relies on draconian measures including mass testing and lockdowns.
When a massive fifth wave of outbreaks brought Hong Kong's medical system to its knees, it was Sun who marshalled the mainland resources to the rescue.
In January 2020, Sun – whose portfolio includes education, sports and culture – was the first national leader to take a team of Beijing officials to Wuhan, the pandemic's ground zero.
With no vaccines available, and scant scientific knowledge about the exact nature of the threat, Sun was in command of the tens of thousands of medical workers who were mobilised from across China to support the overwhelmed local doctors.
She spent three months in the city, supervising the world's first major citywide lockdown in a massive quarantine effort that later became a turning point in the country's fight against the virus.
'Decisive, relentless with an iron fist'
As a Politburo member, Sun has the full weight of the party leadership behind her in the fight against Covid-19. She is also a formidable taskmaster.
One official who worked under her supervision during last year's outbreak in the northeastern province of Jilin, described her style as "decisive and relentless, with an iron fist".
"She is very stern. In a meeting, she told us very bluntly that 'If you want to do your job, do it properly. If not, you can resign now, give me your letter.' The whole room became dead silent," said the official, who declined to be named.
"Pumping her fist, she told us to swiftly and firmly implement the policies. She also warned us that she would come again and check on our work. Anyone found to be slack would face serious consequences."
Big shoes to fill
Past norms indicate Sun's successor is likely to be one of the nine women serving alongside her on the party's Central Committee, but none has credentials that approach hers.
Before her promotion to the Politburo, Sun ruled as party boss, first in Dalian, the port city in Liaoning province, then Fujian province on the coast, and finally in the northern municipality of Tianjin.
Next, she ran China's vast United Front Work networks, the party apparatus aimed at winning over influential people outside the party, including in the overseas Chinese communities, to shore up overall support to the party's causes, as well as extending its influence overseas.
"Who is going to 'hold up half the sky' in the 20th party congress? It is not clear now as none of her potential [successors] come close to Sun's extensive administrative experience," said Gu Su, a political scientist at Nanjing University, invoking party founder Mao Zedong's famous slogan on the importance of women.
A front runner is Shen Yiqin, 62, party chief of Guizhou province in southwest China since November 2020 and the only woman with a top provincial party position.
But unlike Sun, with her experience in different regions and roles, Shen has spent her entire political career in Guizhou.
Shen has worked her way up from the rank and file, taking on various leading roles in the party and government, especially in propaganda, security and the party school, and became Guizhou's first woman governor in 2017.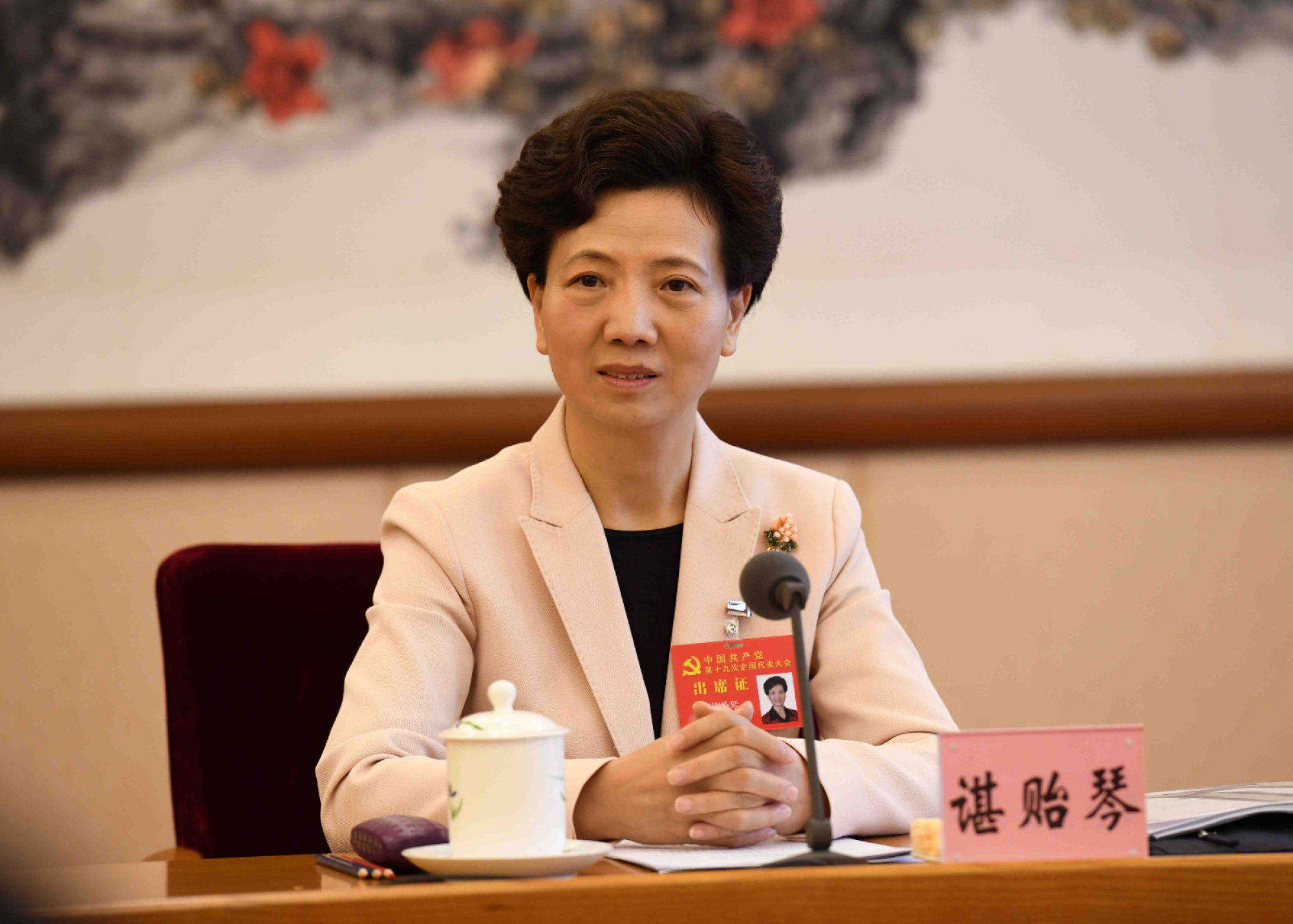 In her favour, Shen has worked under at least three senior national leaders during their stints in the province – Li Zhanshu, head of China's legislature, Politburo member and Chongqing party chief Chen Miner, and Zhao Kezhi, state councillor and public security minister.
Her Bai ethnicity is also likely be an advantage, with the representation of ethnic groups as well as women an important factor in promotions.
Another candidate is Yu Hongqiu, 62, the only woman serving among eight deputy secretaries on the party's top anti-corruption watchdog, the Central Commission for Discipline Inspection.
Yu took up her current disciplinary role last year, after working for decades in party-controlled trade unions.
Limited talent pool
There is only one other female Central Committee member in a top regional post, the Inner Mongolia government's chairwoman Wang Lixia, 58. But, as an alternate member of the policymaking group, she is seen as an unlikely candidate.
According to Gu, there are "no hard and fast rules", and it is possible there will be no woman in the next Politburo.
"From 1987 to 1997, there were no female members or alternate members in the politburos of the 13th and 14th Central Committee. So there are precedents if [the leadership] decides to go for an all-male Politburo," Gu said.
"We cannot rule out the possibility that the party's decision makers want Sun's successor to get more experience and more rotation before promoting her to Beijing."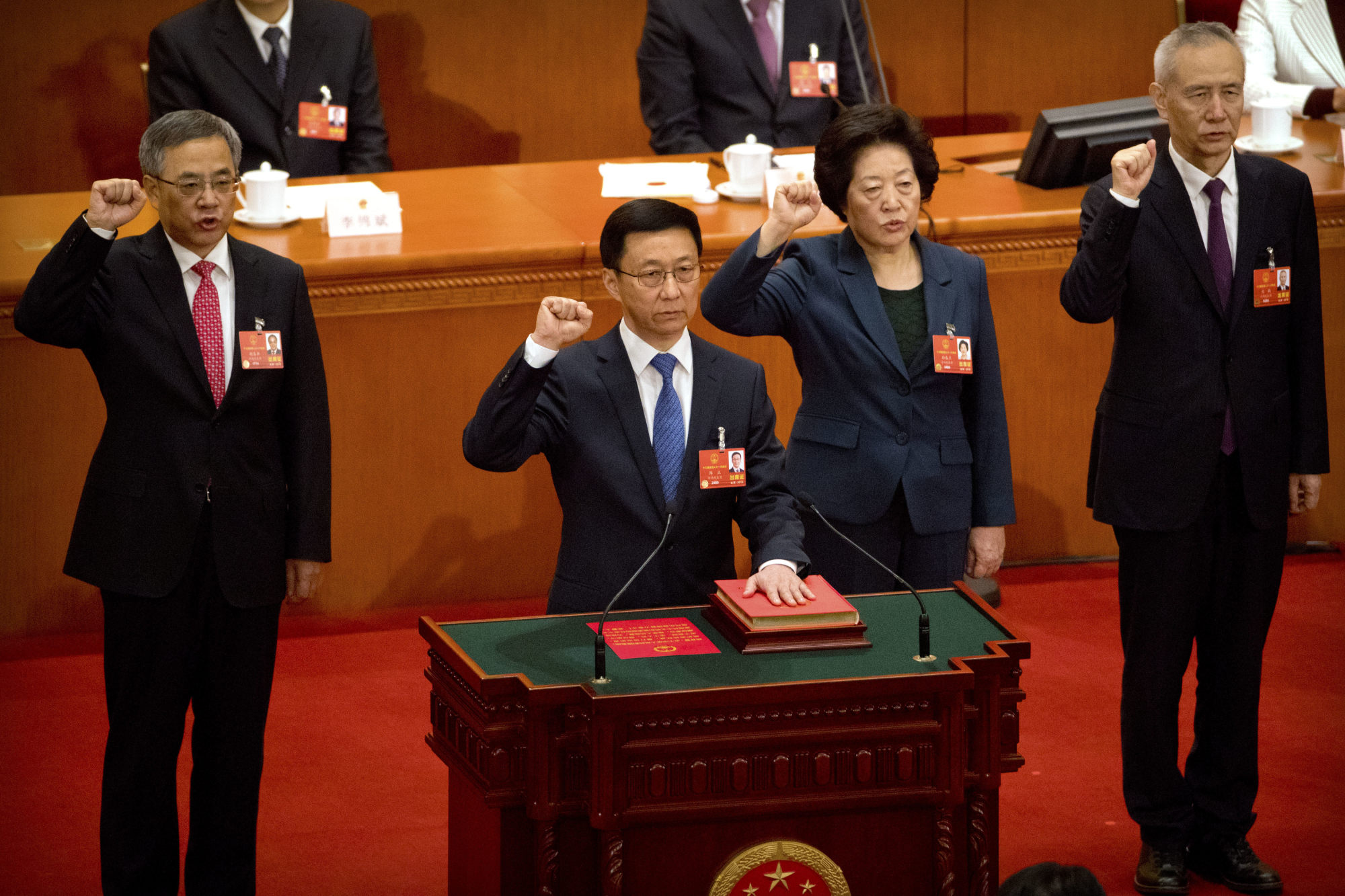 Gu said that although there had been an "unspoken party consensus" since 2002 to have at least one woman on the Politburo, many such conventions, even the retirement age, may not apply in the Xi era.
While she acknowledges that "for most decision makers [in China], gender-based considerations do not matter", Liu Hanzhang from Pitzer College in the US, suggests otherwise.
"I feel that the Central Committee would want one female Politburo member if there were no particularly intense interests or factional struggles," said Liu, an assistant professor in political studies.
Glass ceiling
Since the founding of the People's Republic of China in 1949, the Politburo Standing Committee – the party's innermost core of power – has been a men's club. And only eight women – including Sun, who was appointed in 2012 – have made it to the outer circle of the wider Politburo.
Three were wives of party founders and prominent figures in China's revolutionary era – Mao's wife Jiang Qing, Ye Qun, wife of Mao's former deputy Lin Biao, and Deng Yingchao, who was married to well-respected former premier Zhou Enlai.
In 1975, a female textile worker from Shaanxi was elected to the Politburo as an alternate member. At 37, Wu Guixian also became China's first female – and so far youngest – vice-premier.
Three powerful female officials were to follow her into the Politburo, including former
vice-premier Wu Yi
, the "iron lady" best known for her roles in trade negotiations and the fight against the 2003 Sars outbreaks.
Wu Yi was preceded by former vice-premier and central bank president Chen Huhua, an alternate member from 1977-1987, and succeeded by Liu Yandong, a former vice-premier in charge of education, culture, health and United Front Work, who served as a Politburo member from 2007-2017.
Pitzer College's Liu said the glass ceiling in China's politics is a result of its top-down patriarchal political system, with little room for influence from the public or outside the party.
Unlike the US, which saw a record number of women elected to Congress in the 2018 midterm elections after the #MeToo movement, China has no avenue for social movements to influence politics, she said.
Where's the equality?
Official statistics show gender inequality becomes more acute at the higher levels of the power hierarchy, despite the hailing of equality as one of the party's key achievements.
Female politicians are typically placed in less prominent jobs at lower levels, which makes their track record look weak compared to their male counterparts.
Women make up 49 per cent of China's 1.4 billion population, but less than one-third of the party's more than 95 million members are females.
A tally by the South China Morning Post shows women hold just 30 of the full and alternate 370-plus seats of the 19th Central Committee, and the percentage drops to a paltry 4 per cent in the Politburo.
Liu also noted that, at county and municipal levels, women make up only about 5 to 8 per cent of the total leadership, with the vast majority in deputy roles.
In 2010, the foreign ministry's female vice-minister Fu Ying addressed the issue at a forum on women and urban development in Shanghai.
Despite great strides in advancing gender equality, the thinking that women are inferior continued to stymie female political participation, she said. "For many women, their sky is still low and their wings and furs are still thin."
According to Liu, who received her PhD in political science from Columbia University, the equality advocated in China since the Mao era has been mainly confined to giving both genders the same space in the public sphere, but has not extended to political selection.
"To put it bluntly, everyone has the right to serve the country, but it does not mean they are treated equally. Women's participation in politics at the grass-roots level has been on a certain scale, but in most cases, they are not part of the leadership group," she said.
"So while more [Chinese] women are now becoming aware of their rights, it is difficult to make changes in elite politics in a timely manner."
Liu said the absence of women at the highest levels of decision-making "inevitably leads to a lack of women's perspective in many macro policies, to the detriment of women's rights".
"The root of the problem is that even if there are more women decision-makers at the top, they do not have the structural incentive to speak out for women because doing so does not necessarily bring them political benefits."